The ATOMI Alpha electric scooter – feature packed but does it go the distance?
The ATOMI Alpha electric scooter boasts a range of up to 25 miles and a short list of features not found on many scooters such as breathing underlighting, turn signals, and a built in combo lock to prevent your ride from being walked off with. It folds for easier transportation and features one of the easier folding mechanisms I've run across.
TL;DR – fun scooter, minor issues, updated more issues (updates at bottom)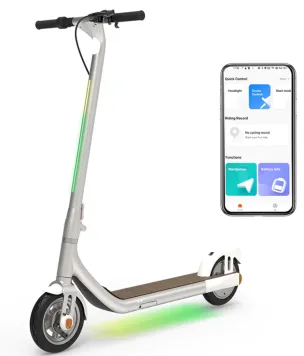 ATOMI Alpha electric scooter specs
650 Watt brushless motor
9″ anti puncture tires
265lb/120kg rider max weight (works with more)
Ambient light bars
10Ah 18650 battery 36v / 360 Watt hour
2A charger
30kph/18.6mph top speed
LCD display
Turn signals
Disc brakes
Bluetooth connectivity / app
Rear suspension/shock absorber for smoother ride
Taking the ATOMI Alpha electric scooter on the road – first rides
Unboxing and setup consisted of plugging in a 4-prong? waterproof connector and screwing in two screws. It wins the easiest scooter I have worked with by one screw. The unit came with most of a charge so I hit the parking lot at my work and did some quick testing, but our parking lot was a bit small to attempt to get up to speed and I wanted to start this out fully charged so after putzing around and determining that it indeed was a scooter I set it on the charger for the night.
From what I remember it took about 3 hours before the smart plug said it stopped charging, but that's after putzing around in the parking lot for a while and No real idea what it started from.
Armed with a full battery the next day I took it to the greenway in Metrocenter and decided to give my first ride to the death of the battery, an hour, or whichever came first. I reached 10.6 miles before the unit was next to inoperable. Before you freak out on that less than 25 mile number, that's over maximum weight, sport mode, and on a course that took the Shell scooter we reviewed and dropped it from 20 mile range to 8 miles.
Doing the math the ATOMI Alpha scooter performed 1.06 miles per amp hour on my tests with about 280 pounds on it (15 over its limit,) and our old standard Shell Scooter performed between 0.78 and 1.05 miles per amp hour. Funny how an amp and an electric motor tend to be the same from scooter to scooter when tested in the same conditions.
It's late, should have converted those to watt hours as they're both the same voltage but evidently I have the dumbs… 360 watt hours vs 280 watt hours.
I suspect if you're 140lbs you're looking at about 21.2 mile range on sport. I do not doubt 25 miles is possible with the right weight and mode, I am not the former and don't enjoy scooting on the latter.
While it has a 650 watt motor, larger wheels tend to cause a lower acceleration on the low end and a smoother top end. The larger wheels also offer a much smoother ride than I've been used to. This is the first scooter I've been on other than a rental that goes over train tracks without me thinking I'm going to dive into the pavement. Needs more torque on hills though.
The features
Light show – it's pretty. It will get you noticed, can be configured, turned off, and I have no real comments on it other than it's easier to configure in app than on the scooter.
Turn signals – completely not intuitive. Motorcycles have had it right for decades, seems like putting a standard motorcycle thumb switch would have been better than a haptic-less button above a haptic-less button. You will get it, but man, even putting a bump or something on these would make it significantly more useful.
The turn signals have no audio indicator that they're on, nor that they've turned off. This is a problem as you can accidentally leave them on and not notice. The only visual feedback is on the top of the LCD screen and we'll discuss that below.
LCD screen – I suspect this is the same LCD screen I've seen in five other units, but somehow the ATOMI Alpha has the worst placement of it for someone who's above 5'6″. I highly suspect if you're shorter than I am that this is more usable, but with how I stand and the angle of the screen the top line is cut off. This, unfortunately is where the turn signal indicator is.
In daylight the screen is next to invisible unless you're shorter than me / look at it right.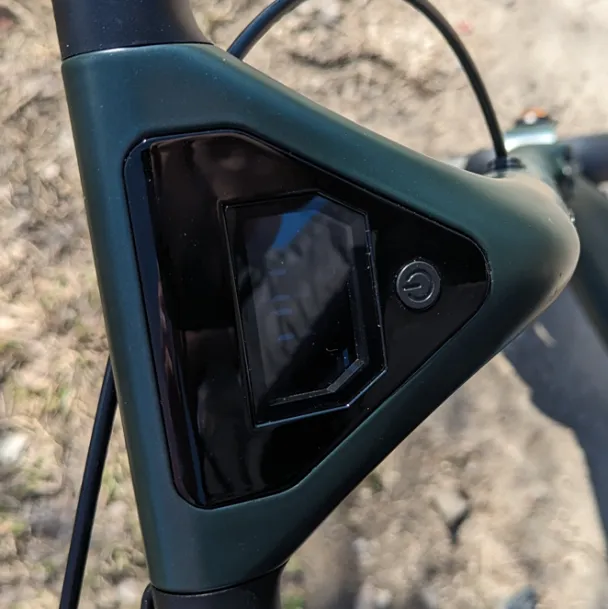 The screen looks great at night and when it's darker, which is when this scooter really shines. I can almost see the turn signal indicators when it's dark, but meh.
Coming from the motorcycle world and bunches of deaths attributed to false signaling, or turning your signals off when you think you're turning them on, I'm not thrilled with the signals.
The lock – It's a lock. If you forget the combination the manual says you'll have to send it in, and when I talked to the support they said that there's no guide to removing this and you need to send in the whole scooter.
While you can't lock the thing without the right combo, you need to make sure to set a combo before you put the scooter in range of miscreants.
Some questions I had
As my practical use cases involve range, an example is scooting to work from home and scooting home from work, I asked how one went about getting a second charger for the ATOMI Alpha electric scooter, because I actually need one. ATOMI does not have one listed on their website, and my adapters and chargers do not seem to work. I was told that's coming. That means at the moment it's a fun toy, but not something I could actually use as I need 14+ miles for a round trip over hilly terrain that's going to drop the distance. Right now this is a one way ride for me.
Alternately I asked if they had add-on battery packs like every commercial scooter company appears to have strapped to the main pole. They don't make an add on battery, and when I asked who produced the battery I was not given an answer (probably going to pop it open to find out).
The battery bar doesn't accurately reflect charge on the display, there's no way to calibrate it. Sort of have to guess. Same as the others.
Building the scooter club
I've got two kids and have been teaching them to scoot. I've got a coworker scooting too. I've been riding at top speed on this vs a 90 pound and 70 pound kid on others. This scooter is the smoothest ride I've run across so far (feel free other companies to send smoother scooters I evidently now need two more for my gang,) but it's also the heaviest I've worked with – I mean, rentascooters are heavier, but you're also not picking them up and trying to place them gently in a car.
Coming in at 36.3lbs/16.46kg this thing is a workout for pasty motorcycle-riding blogging nerds like me. Checking in it appears it's only 5.9lbs heavier than my next electric scooter but dang.
It probably wins on time it takes to take from storage position to locked and ready to go. They claim about 3 seconds… I'm not going to dispute that I probably do it in 5-6 seconds but I'm not rushing. It is the only scooter my kids can fold, but it's also the only scooter too heavy for them to handle… eh, it's not for them.
The bad times, or Paul nitpicks on something he likes
Let's start this section with I like the thing. It's flipping fun. Some of this is nitpicking, and as regular readers know I tend to shoot myself in the foot on making commissions off of reviews if I don't explain this, but I feel my job is to present you with a lot of what's wrong or annoying and if it's going to bug you – don't get it. I'd rather lose a commission than feel like I glammed up something with problems.
As with most scooters I've played with the last 10-20% of the battery the performance is terrible. I think I've only scooted on one that I know for sure gave you a performance countdown. When batteries are drained you'll have a working scooter but it gets weaker and weaker. Make sure to take that last 25% listed battery bar as "I better not break down somewhere where I'm going to have to haul a 36 pound dead weight home."
While I do not look at the display much, it's not visible in the daylight if you stand forward and are 5'11/71 inches/180cm. My height, daylight, and the turn signal indicators mean I do not use them. The turn signal indicators on the main display are on the top line, and I do not see the top line unless I crouch.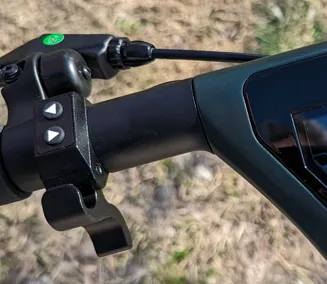 At under 20 miles the main matt started peeling up. What's interesting here is the back may not be peeling as I don't think there's any way it can actually lay flat.. think there's a screw this was laying over. This has had no effect on anything, but it doesn't look great. Pictures below were taken at 11.1 miles total on the scooter, so end of my first draining ride I am guessing. Needs glue.
Them's the brakes – I'm not used to left handed braking. My motorcycle is right handed, the other two scooters I have access to both have right hand brakes. The scooters I've ridden are right or dual brakes. This is a me thing, but I want either dual or the ability to move 'em. Just a preference thing I would guess. May also be that motorcycles are right hand throttle and forward brakes and I've taken enough safety courses to have right braking in my nerves.
The app, top connector, display, all remind me of… well, most other Bluetooth enabled scooters. Other than the lights and that it actually works every time, there's not a lot different from say the Shell scooter we reviewed. Unlike the Shell app, the ATOMI Alpha electric scooter app works every time. The app is only really needed if you forget how to control the light show or want to see the odometer.
I mean, you can watch your speed in the app… I think… I do not recommend this however. It also has a slightly more detailed battery indicator, but it's not particularly accurate. It's a pretty good guess until that last 20%.
The instructions – I read the instructions. Let's start with the table of contents telling what page numbers have what, and then none of the pages being numbered… you know what, let's just say they exist and I've got notes for whoever wrote them. Nothing in there I believe is required other than knowing the button press numbers to do various things such as the underlighting.
Hang it all – the way the handle folds, it causes the beam to be slightly off center. This is by design. At least with my storage and hanging methods, it's defeated them as it's now slightly wider than other scooters, it's a bit off balance so my J-hook hangers aren't even. Eh… I'll find a different way to store it but that being wider and the poles at an angle do make for new challenges. I forgot to take a picture of it folded, but you can find one on The Gadgeteer's review of it if you want to see it before I take a pic of it in the morning.
Overall
Good scooter, serious visibility issues on the screen which I tend to think you don't need, brand doesn't seem to have it all together yet as a second charger seems like an obvious thing to sell, extremely smooth ride with the tire/shock combo, and overall fun but no user serviceable parts or instructions that indicate you can do anything other than send it back for this that or the other. Fairly normal customer experience in other words.
Looking at +-$50 on Amazon for current pricing and it's not at the front of the pack, but it's not far behind and seems to have features the others don't.
I really enjoy it, otherwise I wouldn't nitpick it for this long. I've spent a lot of miles on this between endurance/battery drain and teaching my kids on other scooters how to scoot.
You can grab the ATOMI Alpha Electric Scooter on Amazon or on the ATOMI website. Note that we'd get a commission on the Amazon link unless you go and search it out, we don't on ATOMI's site.
Updates
Yesterday I took my oldest out scooting and my youngest out biking. About three minutes in I heard click click click and it sounded vaguely like I had a nail in the tire… Nope it was the air stem on the tire beating against the turn signal which was now hanging down and slightly to the right.
The turn signal is now dead, if you look closely you can see the black wire has disconnected. There's no damage evident on the tail light as to why it popped off.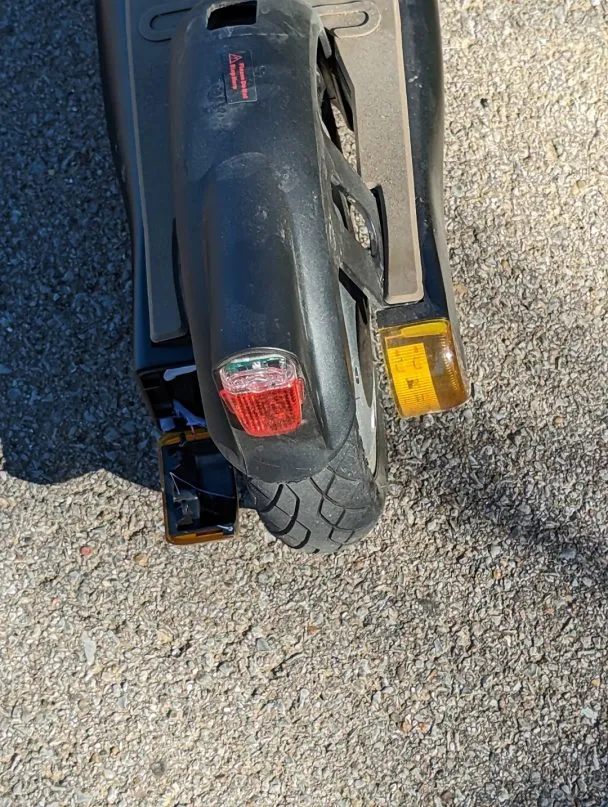 The tail light just completely fell off when I put the unit back in the car.
I'm not sure if it's related or not but a week later (should still have had over 50% battery) I went to use the scooter and it's dead. It won't charge, doesn't indicate it's pulling any wattage off the charger.
Unit is dead. I've got a support ticket open and PR is also shipping a replacement. Probably a battery… most likely scenario.
And final update on this review – the battery of the original one appears to have died. I shipped it back and they shipped a different one to me. Keep your packaging folks, bad batteries happen to the best of them. I'll be doing a follow up review of the next one which seems to be a slightly better build quality and link it here when I get it done.
ATOMI Alpha electric scooter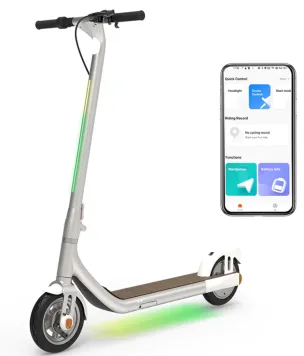 The ATOMI Alpha Electric scooter brings a lot of features and a large battery to the table, but are you willing to eat it?
Product Brand: ATOMI
Product Currency: USD
Product Price: 549.99
Product In-Stock: InStock
Pros
Colorful lighting allows you to really be seen at night
Attempts at turn signals as a safety feature
Large battery and powerful motor get you further
Cons
Needs a bit more torque
Turn signal switch and indication it's on are both lacking
Display nearly unreadable in daylight, top part difficult to see if you're over 5'8