InfiRay P2 Pro Thermal Camera – a small high performance thermal camera
I was sent the Android version of an InfiRay P2 Pro Thermal Camera to play with and at the end of a couple of weeks of testing, I'm impressed. Thermal cameras aren't new, we've covered them since at least five years ago, but historically they've been slow and bulky and that's just not the case with the P2 Pro.
They claim the InfiRay P2 Pro Thermal Camera is the world's smallest thermal imager. Whether or not that's the case it's so small it becomes… problematic. keeping up with this wonderful piece of technology becomes like trying to keep one coin safe somewhere. It does come with a carrying bag, but the bag is comically small and looks more suited for carrying small amounts of drugs than it does a thermal camera. This is a product I wish had invested in a nice carrying case.
The resolution is 256×192 and that's a lot in terms of a thermal imaging sensor. It also has a fairly high FPS which is something that other thermal sensors I've played with seem to be lacking. This isn't a necessity, temperature doesn't change from 2 FPS to 18 FPS, but the smoothness is noticeable.
It is by far the smallest, fastest, highest resolution camera I've played with, so let's talk about what I don't particularly like here in the Android version of the thing.
Paul nitpicks the InfiRay P2 Pro Thermal Camera
I already mentioned the case options… The InfiRay P2 Pro Thermal Camera is hard to keep up with.
The next issue is the USB-C plug is short. I tried this on four phones with cases and it worked in none of them with the case on. They do include a USB extension cord, but that's another thing to keep up with. Making the USB-C plug just slightly longer would make it fit. It doesn't fit even with my thin cases. FLIR had a pretty cool extension ability with their USB-C, but that's not even required, just a longer plug to account for cases.
And just to be clear, the plug the P2 Pro has is standard, but what's not standard is that a phone case will connect with the unit pushing it out just enough to not make contact. This was on my Pixel 7, S21 Ultra, S9, and Note 8. When cased none of them would work without an extension cable and it's just not needed.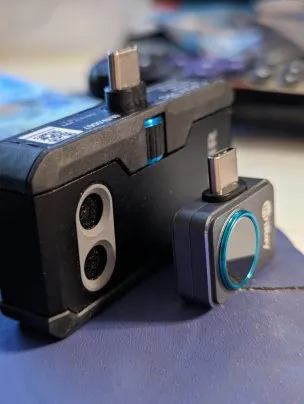 As you can see in the above picture the USB-C part is the same but FLIR accounted for cases by having a base that pushed the camera out and away from the phone body.
The software on Android occasionally will launch and just not connect to the camera. You have to force close the app and then it works fine. It's fixable, you can deal with it, but it's not perfect and they need to fix that. That's been on my Pixel 7 Pro, and my kiddo's Galaxy S9 and my S21 Ultra. So it's not just one phone type it's having trouble on, those are two flagship devices. Not huge, but software needs fixed.
Walking around the office
I didn't have any motherboards laying around I was working on or e-gadgets to showcase the InfiRay P2 Pro Thermal Camera with. That would have been cool, so I wandered around the office looking for heat spots. Long story, but the short of it is we look for random hotspots now due to having our perfectly legal in 1995 electrical wiring superheat at a junction box recently.
You can see a little of the software and different views in the video above. I didn't have any electrical malfeasance or anything of interest happen in the last couple of weeks testing this, will add something if I manage to do something cool with it.
Sometimes on colds nights I would check out and make sure the mourning dove chicks were warm enough, and I checked the house for any new unexpected thermal leaks, but it was a remarkably less than great testing opportunity.
I did wander out one night and notice some heat spots in the grass that I believe were rabbits. Possibly portals to hell with how the image looked, but probably rabbits.
But I didn't have anything short, catch on fire, surprise me in any way about its thermal components, so testing was weaksauce. The camera performed great, and the higher FPS and resolution is quite remarkable.
-FIN-
While it has a couple of annoyances, the InfiRay P2 Pro Thermal Camera is hands-down the best thermal imaging USB plug in camera I've ever had.
You can purchase an InfiRay P2 Pro Thermal Camera on Amazon or the manufacturer's website. If you're on an iPhone make sure to go for the iPhone version. It appears you can also save about $50 if you don't need the macro lens.
InfiRay P2 Pro Thermal Camera
The InfiRay P2 Pro Thermal Camera may be world's smallest high performance thermal camera, but even if it's not it's leaps and bounds ahead on resolution and frames per second.
Product Currency: USD
Product Price: 349.99
Product In-Stock: InStock
Pros
Small, lightweight
Phone powered
High FPS
Resolution
Cons
Too small
Android plug doesn't account for slim phone cases
Price