Cansonic UltraDash Z3+, 1000 miles in, solid.
One year ago I was given the Cansonic Z3 to test, and this year I was given the Z3+ which is a pleasant and logical upgrade to an exceedingly good dash cam. As with the previous generation it features two cameras that record independently at 2K resolution each, and adds the ability to add a third 2K camera. This version adds Wi-Fi so you can view and save video on your phone without pulling the SD card and putting it into a computer or an adapter.
TL;DR – near perfect, some minor annoyances but I don't think they're going to bug you.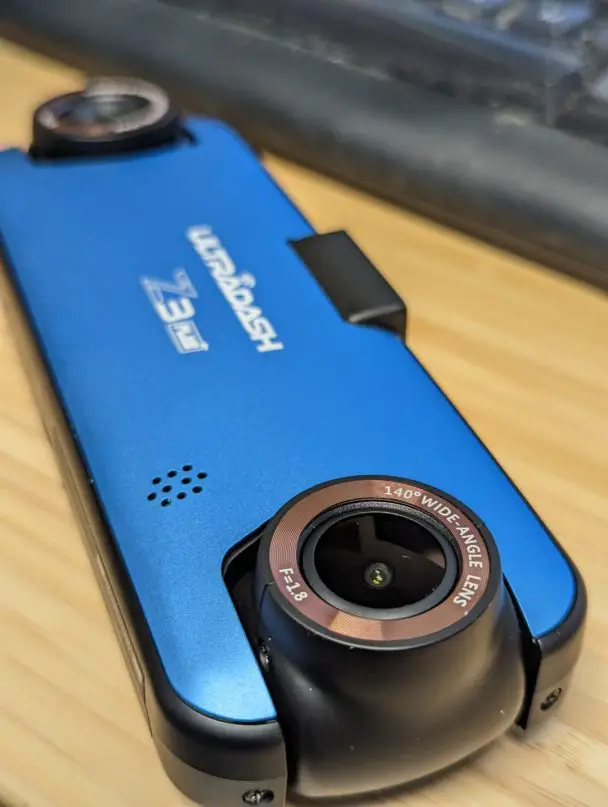 The UltraDash Z3+ comes standard with a 12 volt plug, but you can purchase a wiring kit if you want the unit to run 24/7 on battery and have features like parking mode, or if you just don't want to dedicate your power outlet to it. I have a power outlet splitter in my car so this is not an issue for me, but I might add in a wiring harness some day just to clean up the mess of wires I have hanging around.
Obviously I'm a fan of this thing or it wouldn't have survived a week in my car. It's a nice solid upgrade to the Z3, and the logical evolution of the UltraDuo from 2017.
Unlike the last review, nothing particularly interesting happened the past couple of months while I was testing this out. No crashes, sasquatch, anything more than a jerk or two not knowing how to turn in a double turn lane. Maybe a speeder or two. The UltraDash Z3+ did its job unnoticed except when I wanted to pull video or take it out of my car.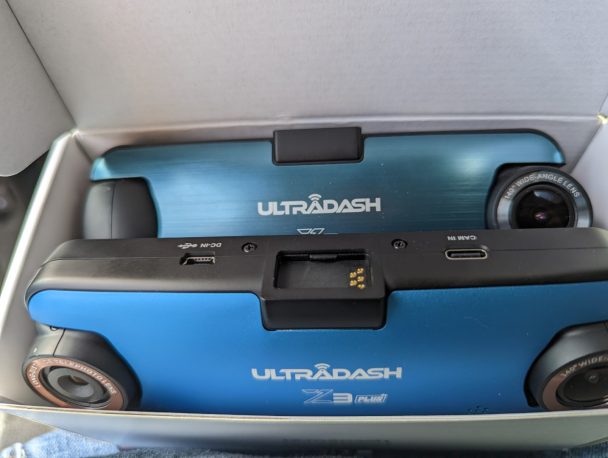 The Cansonic UlraDash Z3+ comes in two versions – standard and commercial. This is a review of the Standard edition. The commercial version has a different lens on the right and allows you to watch the interior of the car.
It's great, I really do love this product, but let's nitpick on some things.
Paul nitpicks the Cansonic UltraDash Z3+
Error handling
The faulty media error handling of the Cansonic UltraDash Z3 series leaves something to be desired. I'm not sure what needs to happen when you've got a bad SD card but rebooting the device over and over again is not it. I had a bad SD card. It was not what was supplied to me, but a 256 gig SD high endurance SD card that had less than 400 hours on it. This seems to be how every Cansonic device I own handles bad media – it just reboots, and then reboots, and then reboots. It looks like the device is defective but it's bad media.
There just needs to be a better way to inform the driver that the media in the dash cam is bad.
Storage requirements
Video being stored is about 100 meg per minute per camera. 108,830KB, or about 1.8 MB/S per camera. 14.4Mbit/s. Videos vary a few kilobytes, but not much. This feels a bit overkill for a 2K stream. Especially when sitting still staring at a brick wall and driving use the same bandwidth. Maybe there's a reason on this but I'd rather see some VBR action where sitting with no changes because you're stuck at a traffic light uses significantly less storage than when you're actually moving. A little more processing power, but less data being written to the card which would extend the media's life.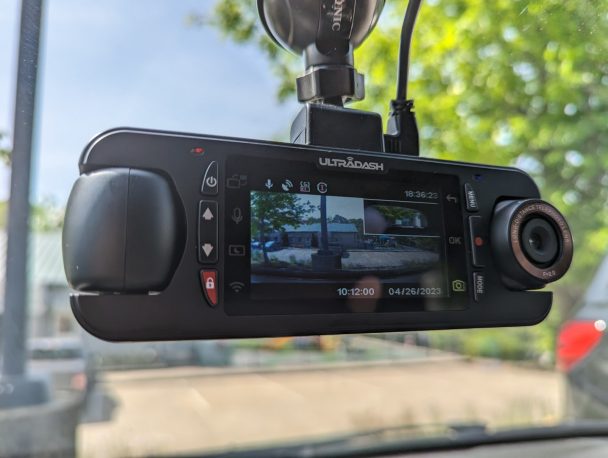 Adding a third camera in the mix is going to take that to 5.4MB/s media writes and that's going to strain the SD card quite a bit. I'm pretty sure you can VBR without a loss of quality and drop that significantly.
Then again, with how cheap media is these days this probably is not a concern.
App name
If the app were named "Cansonic Dash" or "Dashcam viewer" or something that indicated that it was for that device I would have no problem with it. What we have is an app called "iQ Viewer". I don't plan on using this app very much, but if I'm stopped by a cop let me tell you pulling dash cam footage to prove I didn't run a red light is stressful enough without trying to remember the name of an app by Cansonic to connect to a Cansonic product names the UltraDash Z3+.
iQ Viewer is a terrible name, the app icon is just a giant Q, which considering the words "cansonic ultradash Z3+ dashcam dual camera 2K recorder" don't contain the letter Q you might not immediately get.
Q is part of their logo. In that way the "iQ" makes sense. For some reason the O in Cansonic is written as a Q with a man bun in the graphics, but that Q doesn't appear anywhere I see on the camera. You'll just have to know that.
This could be resolved by naming it the Cansonic iQ Viewer, Dashcam iQ, or literally anything that remotely is associated with something that's not the weird Q in the logo.
Commercial vs Standard
The only difference I can note between commercial (Uber / Lyft / Taxi) and standard editions are the lens on the right camera. That's the only thing the specs even list as the difference. It seems like it would be a simple matter to put a lens attachment onto a standard to make it a commercial or vice versa.
I'm not against how it is, but I feel an opportunity for an all-in-one is missing.
A 14 hour trek
Here's video of three days and 14 hours of driving from Nashville to Gatlinburg, around the area, and back. This came from 800+ one minute video recordings I stitched together into a massive 14 hour video, then sped up to make it about 20 minutes long. I did not include the rear camera in this video because 1) my kids kept popping up, 2) it took about an hour of stitching and rendering just to make the front video work. Take a look at my Z3 review and it's the same basic view with higher resolution.
Things to note – there are at least two instances in which the video is out of sequence for one minute. In both cases the dashcam had the wrong time. I highly suspect that the issue here is it gets the time by calculating where it is on earth by GPS and then taking one of the GPS's time. In both cases it was a one minute segment and then I guess it figured out the right time.
The 800+ minutes here were stitched together ordered by filename (which includes the time) so that's what that it.
Speeding up the video by 4000% and rendering it for YouTube has dropped the quality a bit. It gained artifacting when it hit YouTube. Not sure what's up with that.
The weird texture of the lower portion stuck out to me for weeks until I realized it's my dashboard reflected.
With access to the source material (you're welcome to the not sped up 14 hour 90 gigs of data version if you want) I'd give about a perfect on video and other than the two GPS hiccups, same on execution.
The software (Android)
I don't have a major problem with the software other than its name. I'll point out a couple of things that happened here and why I think they happened.
You'll notice I connect to the UltraDash Z3+ WiFi and then it still says the camera is disconnected. I don't think the Android OS is passing off the connection until such point as it pops up a window saying "there's no internet, do you still want to connect?".
I highly suspect if you have less than a 256 gig card the thing will be significantly faster. I have a fully filled 9-day-old SD card. Yeah, lot of driving past week. You probably don't need a high endurance 256 gig SD card unless you're doing reviews which include multi-day driving videos.
You're probably not going to use the software much, it does what it needs to do for playback. Might be nice to have settings in there so you don't have to mess with the Dashcam, but it works.
Wrap-up
The Cansonic UlraDash Z3+ is a reasonably priced high quality and well featured dashcam that does almost everything I want a dashcam to do – I hold out perfection to be automatic unloading of all recorded video to a system on a home network when back in range, but that's just me.
If you're using the standard edition with the look through the back window camera, probably no reason to consider purchasing the add-on camera. I suspect this is aimed at the commercial crowd so they can record the interior and what's happening outside.
Whether you're looking to prove your innocence, post dashcam videos of idiots in cars to YouTube, or spy on the teenager's driving habits, this thing rules.
I'd probably go with the commercial version with the third camera added if you're spying on kiddos however.
The Cansonic UltraDash Z3+ is available on Amazon and the manufacturer's website. If you're wanting the full package I'd suggest getting the commercial (view interior,) the C1, and the wiring kit.
The links here to Amazon make us money. If you don't want me to make 3-6% on the thing just go to Amazon or Cansonic and search for it.
Cansonic UltraDash Z3+
The Cansonic UltraDash Z3+ is an improvement on the UltraDash lines bringing 2K resolution recording per camera, front and rear views, and the ability to add a third 2K camera. WiFi is also standard now allowing you to view Dashcam video on your phone without using an SD card adapter
Product Brand: Cansonic
Product Currency: USD
Product Price: 199.99
Product In-Stock: InStock
Pros
Wireless connectivity
High quality 2K per camera video
Two adjustable cameras for front and rear simultaneous recording
Just works
Cons
App name is completely forgettable
Commercial and standard versions seem like an attachable lens would allow one to be both
Error handling on bad media leaves something to be desired