SK hynix Beetle X31 USB SSD review
SK hynix has long made storage media and SSDs. We reviewed the S31 SSD back in 2019 and as SSDs went, it was impressive. The Beetle X31 is their first outing into external connected devices and it impresses as well.
The manufacturer claims about the Beetle X31 are 1000MB/s read/write, good heat dissipation, and DRAM buffering…. although I cannot find out how much buffering is available.
I put it to the test on my Pixel 7 Pro, and the benchmark app I was using registered slightly under 1000MB/s, but I don't have a lot of faith in an Android phone's capabilities to prioritize external media performance. So I took it and did the standard CrystalDiskMark tests in my windows box…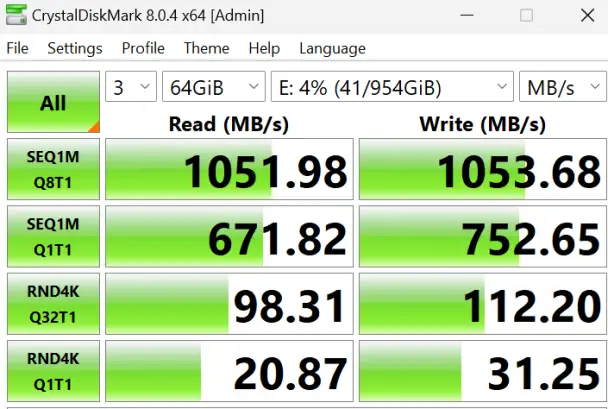 And The SK hynix Beetle X31 consistently exceeded sequential read and write speed claims by 50+ MB/s.
A little video editing exclusively on the drive, some random copy dumps, in all cases the drive performed ever so slightly above expectations.
I will note that I did change Windows settings to allow disk caching on the drive to "Better performance". This is something that used to have to be done on any drive to get above a very limited speed.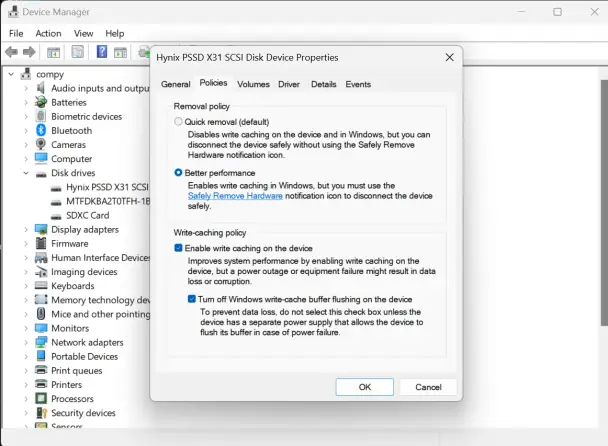 With the defaults that Windows ships with (optimize for quick removal) this tops out at a little over … odd, it does better with Quick Removal on every metric. Perhaps a reboot is required to switch buffering back off. I don't know. Let's just say this part confuses me.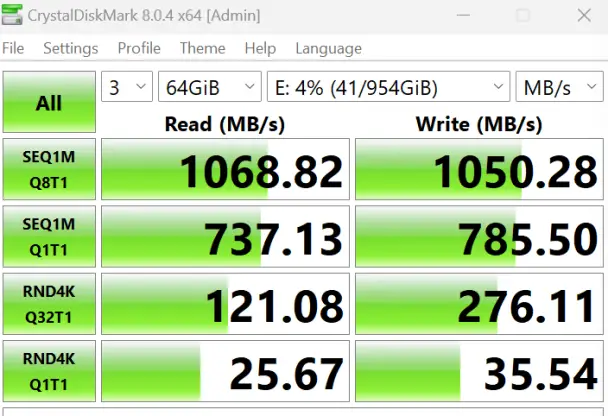 The SK hynix Beetle X31left money on the table
They call this the SK hynix Beetle X31. The box has a wicked brass beetle pictured that are the approximate dimensions of the drive.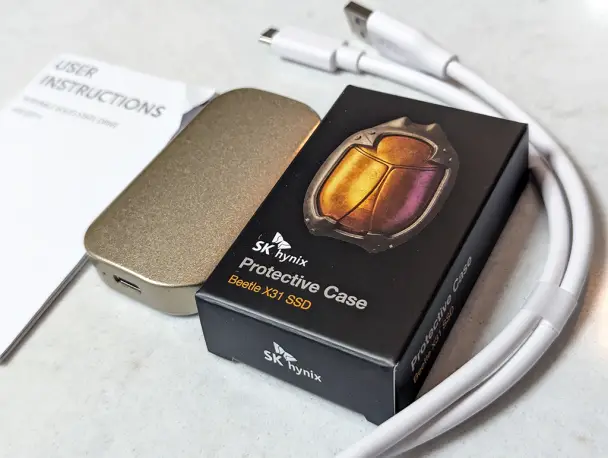 But no, this somewhat beetle shaped device comes across more as an inexpensive zippo lighter than the cool pictures on the box. The plastic protective case contained in there is just clear plastic and looks a little bit like a cell phone cover.
How hard would it have been to add lines on the case of the X31 that somewhat matched the packaging? Maybe a nice little thermal sticker…. I'd pay extra for something that actually looked like that package.
Hell, imagine slapping that to the back of your laptop screen crawling up the back of the laptop while you punch out some code. It would rock.
Anyone want to send me a 3D printer so I can make a case that looks like this?
Overall
It does what it says it will do and then some. Visually lifeless in comparison. Works great so far though doing video editing straight off the drive.
The 1TB version I reviewed is available on Amazon for $90something. The 500GB version is in the $70 range.
SK hynix Beetle X31
The SK hynix Beetle X31 is the manufacturer's first foray into external drives after being a trusted maker of memory and media for years
Product Brand: SK hynix
Product Currency: USD
Product Price: 92
Product In-Stock: InStock
Pros
Extremely fast
Light
Cool to the touch under load
Cons
The design on the package is significantly cooler than the drive