Hands on with the REVVL 6x PRO 5G – T-Mobile's in-store exclusive alternative Android option (day 14)
The REVVL 6x PRO 5G is one of the free device options you can get with T-Mobile when adding a line on select plans, trading in any phone (although it would cost $50 if you traded in a device to get the pro.) It's being pushed with the new Go5G plan as a T-Mobile Exclusive along with the REVVL 6x 5G and the REVVL TAB 5G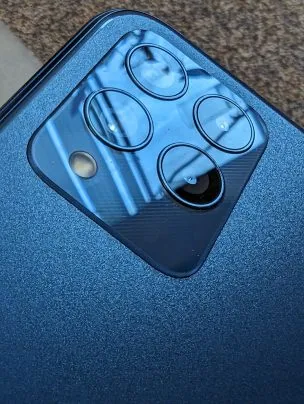 TL;DR – running article started 20 September 2023, not complete, feel free to ask questions
You can get the complete specs for all of the products mentioned above on on T-Mobile's website, but today we're looking at just one and that's the REVVL 6x PRO 5G.
REVVL 6x PRO 5G specs
6GB RAM
256G storage expandable via MicroSDXC to 2TB
Quad cameras – 50MP main, 5MP ultrawide, 2MP macro, 2MP depth sensor. 16MP front facing camera.
GSM / HSPA / LTE / 5G
173.9 x 77.8 x 9 mm (6.85 x 3.06 x 0.35 in)
7.87oz / 223.3g
6.82″ IPS LCD 720×1640 20.5×9 aspect ratio
BT 5.1, Wi-Fi 802.11 a/b/g/n/ac dual 2.4/5ghz, USB2
5000mAh Li-ion battery
Fingerprint reader / power button combo
Octa core 2 x 2.2GHz Cortex A-76, 6 X 2.0 GHz Cortex A-55
Nano-SIM, does not appear to support E-SIM
USB-C, 2.0
15 Watt wired and wireless charging
August, 2023 release date with Android 13
Barometer
1/8mm audio jack
m3, T3 hearing aid compatability
UMTS: Band II (1900), Band IV (1700/2100), Band V (850); GSM: 850 MHz, 900 MHz, 1800 MHz, 1900 MHz; LTE: 2, 4, 5, 7, 12; LTE Roaming: 25, 26, 41, 66, 71, 77; 5G: n25, n41, n66, n71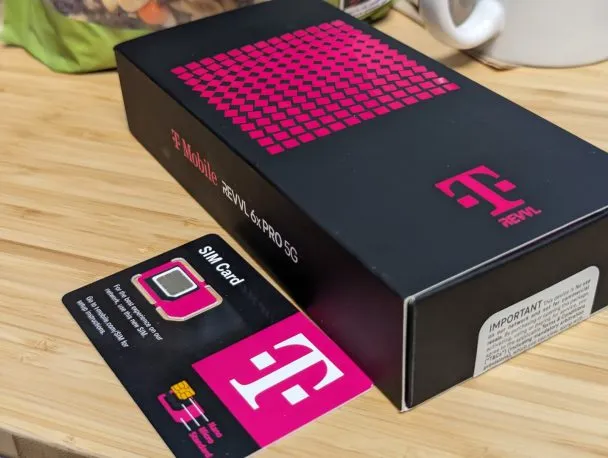 Initial impressions
It is September 20, 2023 when I am starting this review. I plan to keep updating this article as opposed to a series as this is one device and I don't plan to spam people's notification/feed list.
I think I'm at the age where little impresses me much in terms of unboxing, but the carrier-exclusive T-Mobile branding on this was pretty well done. I've been buying unlocked devices for a while now and have been out of the carrier exclusives since the HTC-EVO 4G days… this brought back a bit of nostalgia and the hope that I'd find something new.
Inside you'll find a charging cable, some instructions, a SIM popper, and the phone. Peel off a static-cling T-Mobile REVVL sticker and you've got a fairly standard looking phone that feels oddly hefty and thin and breakable at the same time. I believe the heft is mostly just due to the length of the device as it's not particularly heavy when put to a head to head with my Pixel 7 Pro.
I placed the still-off REVVL 6x PRO on my desk wireless charger and it popped up a screen after a bit indicating it was charging. I feel it was coming from a completely turned off state so it took a minute.
Booted up on a fairly long initial boot to a generic Android screen. It was a plain Android setup process and until the end I was presented with no carrier branded options.
One of the interesting things after what I'd consider the Android portion of the setup was setting up the fingerprint scanner. It's embedded in the power button. I went through the operation and registered a thumb print, and then it was time to reboot.
Longish reboot with T-Mobile branding now and presented with the main screen and first issue encountered. I suspect the SIM card I was sent isn't working with this phone, or simply isn't activated. This means for day one I'm going to be going without an internet connection provided by T-Mobile. That's ok for now as I'm bathed in Wi-Fi, and am not using this as a primary phone. Read: I can't test the 5G connectivity with it today.
Audio is acceptable, but I would take advantage of the headphone jack or Bluetooth earbuds. I think we reached the best we could get in terms of tiny audio back six or so years, but I may be mistaken. It sounds OK.
Being as it's day 1 it feels snappy. All phones feel snappy until you've used them for a while and you have 20 apps you've given permission to track you phoning home.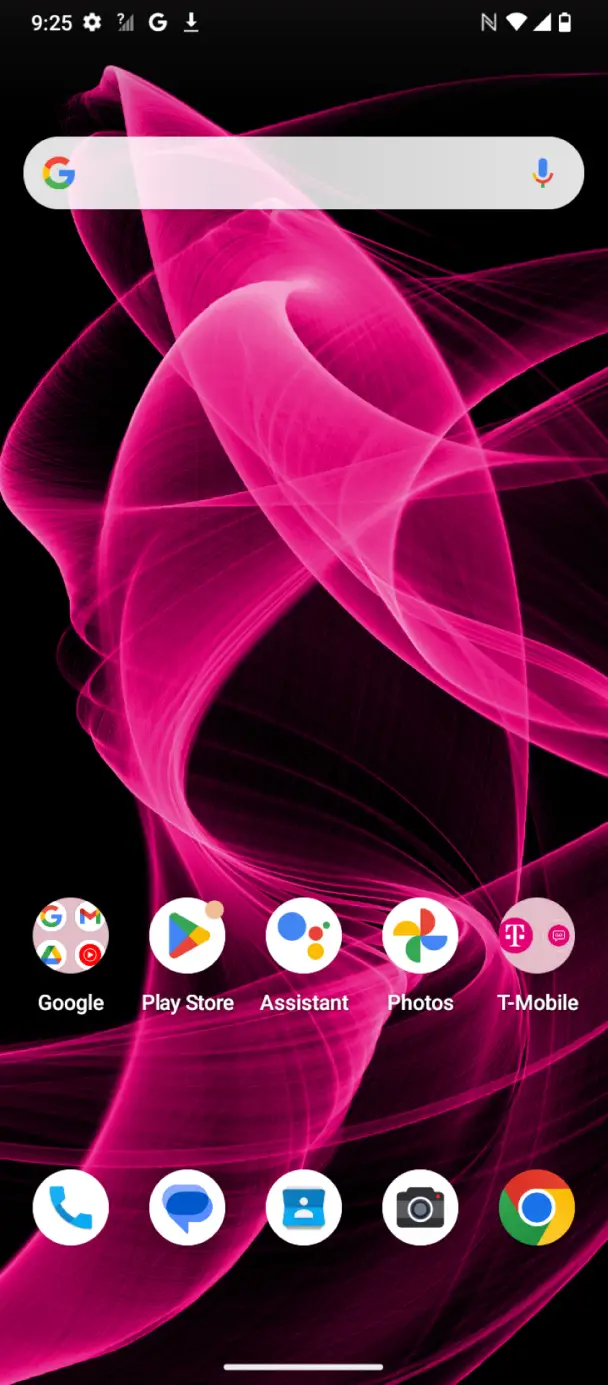 The back of the unit is plastic with T-Mobile's logo painted on. The plastic is smooth although it photographs a bit as though the unit were rough. The plastic also has a very cheap feel to me, I do not know why but I do suspect in a drop without a case the plastic is going to shatter. Then again on my Pixel I suspect the glass backing will shatter without a case, so pass this off as I am saying it's doesn't feel indestructible.
While I am unable to access T-Mobile's network today due to reasons unrelated to T-Mobile or the phone, I did do some speedtests using my equipment and the Wi-Fi portion of it works well. I am not seeing any significant difference between the Wi-Fi on it and the Wi-Fi on my Pixel 7.
One random reboot while I was not doing anything… I was greeted with a notification it had done a system update. On the Pixel I'm pretty sure it would have notified me it needed to do that. Nothing deal-breaking, but something to note that it reboots when it wants to reboot it seems.
I found for a few unlocks I kept pressing the power button when I needed to be lightly pressing it for the fingerprint reader to work. While this is an easy self correction it's something you will want to factor in if you hand it over to a relative. I mean, they should know if they've got a fingerprint registered to unlock your phone.
Videos taken are limited to 2560×1440@30fps, and that's not bad if you're not a content creator and required to have 4K video or get lost in video SEO nonsense, but you'll probably start wondering why this is the PRO version in an era when everything for several years has had 4 & 8K that has the letters PRO in the title. (2k is not bad, just pixel pushers will think it is.)
USB-C 2.0 (this spec snagged from GSM arena as I couldn't locate it anywhere else)- wow… that hurts. 480mbit vs 4800mbit – if you record a lot of content, which I do, you need to dump it occasionally. That's the difference between a 10 minute file copy and a 60 minute one. I really hope this is not the case and there's a mix up on what I'm reading because that drops the PRO out of the window in my books. I mean, the thing has 256gb onboard. If you had 200 gig of media content you needed to get off that would take 59 minutes and 39 seconds according to this file transfer calculator. That would be vs 6 minutes on USB 3.
Then again if you're streaming and moving via Dropbox or Google Photos, this may not be an issue for you… just for my needs ouch. I will test this USB 2.0 port tomorrow and hope GSM Arena got it wrong.
At three and a half hours in I am concluding this session and will come back later and add anything I find. I suspect my SIM activation issues will be resolved by the PR people by the time I am able to write some more on this.
Day two
Battery life is amazing! OK, that's what every review says but the fact here is I don't know what the battery life is at the moment because I still have not got it connected to T-Mobile… once again, not its fault nor T-Mobile… I'm waiting to see what they say about the SIM I was sent (PR). My plan at the moment is to test the heck out of the camera, and I was going to pit it against a flagship of another brand but meh, the pictures are pretty decent and I'll just do what it can do.
As someone who's been on the flagships of multiple devices, I'm not hating it… yet.
You can find the REVVL 6x PRO 5G on T-Mobile. Deals and pricing vary.
Days 3-5 (photos)
I have mostly spent this time looking at and taking pictures of cats. Apps launch great, the screen looks fine… I could nitpick but for consumer grade it's acceptable. What I am running into is noticing that the photo quality is either great, or it's significantly off. Here's an example of when it's off:
This is from the rear/selfie camera and it should be 1:1 on pixels. Just the quality is low. It's a lossy fiesta but overall the picture looks ok. Here's a significant'y larger one where the breakdown goes into pixalation and everything looks grainy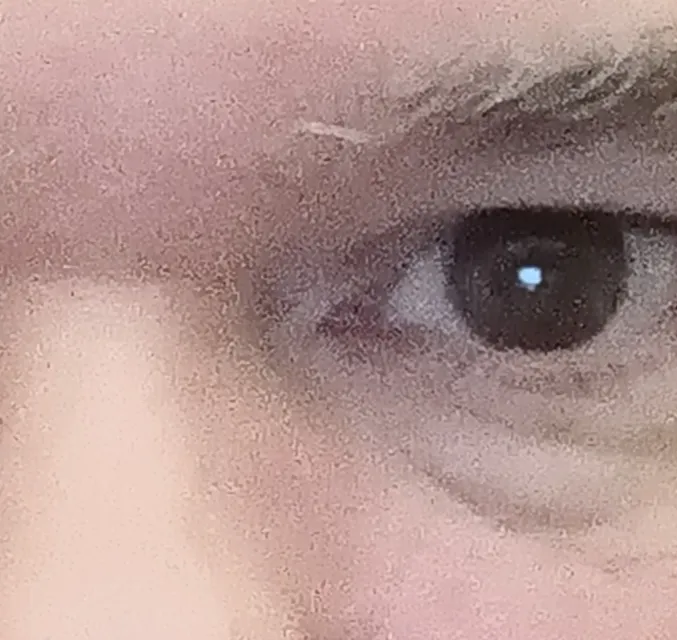 Bear in mind this is nitpicking, the overall photo looks ok, but it's some fairly bad compression for popping out 3 megabyte pictures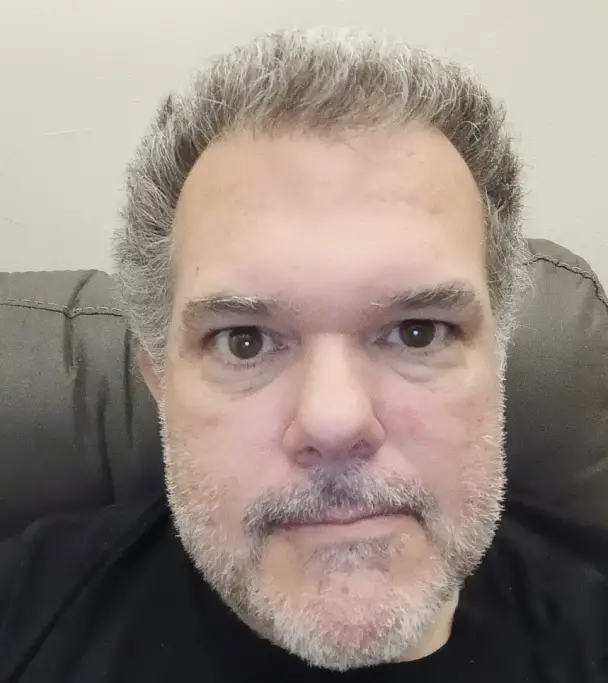 Reminds me a bit of an old webcam I had… pictures are ok, but any zooming into them you realize it's not great… for most things, not an issue.
My general conclusion is that the camera is fairly decent, but the software to turn photons into JPEGs is a little on the cheaper side.
This is generally what I have looked for in a pro device… better camera… better image storing even if I'm not shooting RAW. The REVVL 6X Pro 5G would not be soemthing I'd be looking at for photos, and that's ok. Not everything is made for me, but if you're a content creator that portion of the phone is probably out.
Not a death knell for the device, but let's move on to other things…
Week two
Still have not got things sorted out with the SIM – not T-Mobile's issue but I may just walk into a T-Mobile store and see if they can get it fixed for a minute (probably can't)
I'm struggling to find anything outstanding about this. That may sound like I'm putting it down, I'm not. This is a very OK feeling phone, snappy, seems to last, although without a SIM I can't tell what actual life on it is. Looks pretty decent. CODECs seem a bit on the inexpensive side and image processing feels straight out of 2017.
I've decided I like its audio slightly less than I initially thought… it is loud but it doesn't reproduce sound quite right… then again it's basically running off of milimeter speakers so whatev.
Not a bad phone, especally not if you're getting it free from T-Mobile… if you're into a lot of photography and video creation you might want to consider something else.