Atomi E20 Electric Scooter – ride or die (or both)
The Atomi E20 Electric scooter is a fine little place hopper that claims to be able to get you about 18.6 miles at a speed around 15.5 miles per hour before it finally bites the dust.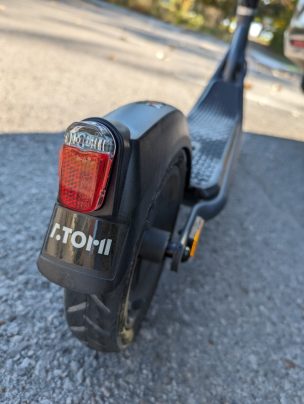 I'm going to skip through some of the praise here – build quality was great, visibility of the screen in daylight was perfect, braking system superb, it's a fine scooter and for what it is it's actually pretty great.
But you don't read my reviews to get the reasons to purchase a scooter, you read them to see if what I found would give you a reason to not buy one. I'll stress that it's great first off, and move on to some of the things I've noticed in the past three weeks.
The ride
I'm going to skip all the distance talk, it went as far as expected. Your distance will vary based on your weight, ambient temperature, how hard it has to work, etc.
This is one of the smoother scooters I've ridden. The combo of rubber wheels and just a good build mean there's not a lot of noticing that you're on a scooter. I've had other scooters that you are constantly noticing road noise and vibration from solid tires, or rattling from the rear… this one does not make a noticeable sound. It doesn't handle crossing rail road tracks as well as the one that rattled from the rear, but that's only 5 times that I have to cross on my test route and it's not bad.
The Atomi E20 Electric Scooter's hook
Every scooter these days seems to have a latch or a hook. This is a lift up and latch. I don't particularly like it as if you place the unit in a car and hit a couple of bumps the hook tends to flop down and you go to lift the scooter out and find that it's no longer latched closed. It also requires you to put your hands where your feet were just a few seconds ago.
Multiple times over the weekend I set the scooter down and when I lifted it again I found the neck was no longer hooked.
The E20 indicators
This has brake and a front light if you turn it on. People behind you will probably never notice the brake due to how low it is, and the front light is mainly to be seen. From my night test I can not really tell that it was helping the driver see, although it was bright enough to be seen. Bit of a caveat here is this is a colorblind man's opinion… maybe the stop indicators jump out to the color sighted folk.
There are no turn signals, which is fine. Nobody is looking at a turn light that's at foot level unless it's dark and then I'd rather just have a running light or a constant blinker.
Controls
All of the controls are on the right, brakes on the left. Power button can be pressed to change power modes. Changing a power mode changes the color of an icon on the display. I believe it's red, green, and gray… which conveniently is what my colorblindness encompasses… I can see it when it's red though.
The app
Straight up didn't use it this time. The Atomi app I've used before, but this scooter has everything I wanted on the display. I guess if I ever want to pull a total miles ridden I'll set it up.
Display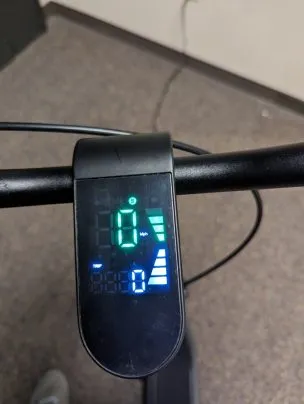 This thing is quite visible in daylight. I've had an issue with not being able to see what's going on on other scooters. As with literally every scooter I've ever used the battery indicator feels more like a guess than an actual gauge.
Power
I've ridden four 500 watt motor scooters so far, and by far this is one of them. I can not detect any difference in them. I can tell a 650 from a 500, but really a watt is a watt you're getting what the battery puts into the motor.
Recharging is done with a power brick, takes about six hours. As with all scooters I possess they thought it was reasonable to put the power input on the bottom of the scooter so you have to lean down to plug it in. Really am not a fan of this and would love to see a scooter put the recharge port in the display area or on top of the running board.
Branding
I don't generally cover what makes a scooter feel like a scooter, or what makes a Samsung feel like a Samsung, but there's something here that feels quite a bit like it's pieced together and stickers put on it. Not that there's anything wrong with it, but this feels like scooter parts purchased, assembled, and nothing that screams anything other than good scooter.
You've got a sticker on the bumper, a better sticker on the side, but there are no… it's great mind you but no style cues… it's generic feeling.
I will stress this is not a bad thing, but I think back to the Shell RIDE and you looked at that and there was a floormat that was branded and the scooter looked like a lot of choices had been put in by the design team. You have the Atomi Alpha that while not perfect just was cool… it was a showcase… it felt designed.. this feels assembled.
Rides great, but what I'd call an assembly scooter.
Other
Atomi had been pretty tight lipped on the Atomi Alpha battery supplier, which might be the cause of me encountering two batteries from that line gave up on me on the Alpha line (batteries are batteries, no scooter manufacturer makes their own,) but the E20 I am told is powered by EVE batteries (BMW electric car battery supplier) and I am told the number 1 battery cell supplier in consumer electronics products excluding electric cars. I'm going to assume it's this one, but they didn't send a link.
BTW, that info was provided to me, I have not popped it open or verified that they're number one.
Straight up dislikes?
Opinions are opinions… I hate the kickstand, dislike the charger port placement, and find the hook latching mechanism to be utterly useless if you have to set the scooter down even once.
Wrap-up
Performed exactly as expected based on my other two electric scooters with the same battery and motor power. In a roughly 7 mile test all of them have me failing at the same spot give or take a couple hundred feet.
I have enjoyed the several rides I've taken, there has been nothing to distract me while riding, and yeah. It's a great little scooter, just feels a tad generic, which is ok.
You can grab the Atomi E20 Electric Scooter on Amazon or on Atomi's website (where they call it the KickScooter E20). We make a small commission if you click our Amazon link, do not on the Atomi link. Don't want us to make a commission but want to get it from Amazon, click here.
---
Atomi KickScooter E20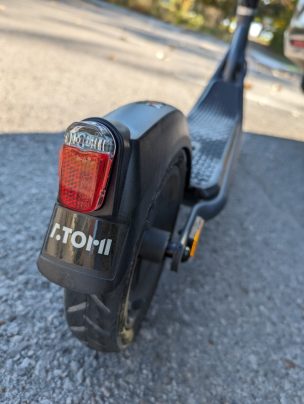 The Atomi E20 is a proficient electric scooter that is capable of a range up to 19 miles in certain conditions. We took it for a ride and found it enjoyable, if a little standard.
Product Brand: Atomi
Product Currency: USD
Product Price: 359.00
Product In-Stock: InStock
Pros
Well built
Good batteries
Smooth ride
Great motor
Cons
Latching mechanism isn't consistent
Generic looking