Review: Creative Zen V Plus
True to its name, the Creative Zen V Plus (ZVP) is literally the "plus" version of the Zen V flash-based digital audio player. The ZVP has all of the features of the V . . . plus an FM tuner and video support. I mentioned in my Zen V review that although I had no interest in either function, the announcement in late October of an all-pink version of the ZVP changed my mind. The thought of watching videos on a 1.5-inch screen used to be unappealing to me, but apparently a simple coat of girly paint is what I consider to be adequate compensation for a little eyestrain.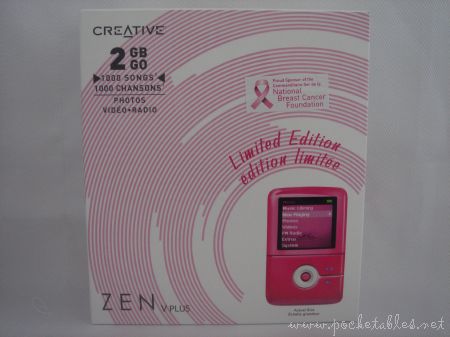 Unlike the standard ZVPs, the limited-edition pink one is only available with 2GB of internal memory. The others, as noted previously, come in 1GB, 2GB, 4GB, and 8GB configurations (UPDATE 8.7.07: 16GB model now available). I actually don't mind the limited storage capacity, as I would have selected the 2GB model (to match my 2GB Zen V) if given the choice anyway.
Since the main points in my Zen V review are still applicable here, this review will focus on only those features that are unique to the ZVP. For a reminder of both players' common features, as well as my thoughts on them, please have a look here.
System specifications
Storage capacities: 1GB, 2GB, 4GB, 8GB, 16GB
Supported audio: MP3, WMA, WMA-DRM, Audible, WAV
Supported video: Motion JPEG (15 fps)
Extras: FM tuner, photo viewer, voice recorder, line-in recording, organizer, removable disk
Dimensions: 2.7" x 1.7" x 0.6"
Weight: 1.6 ounces
Note: Items in boldface are exclusive to the ZVP.
Box contents
Except for the color, the packaging and presentation of the ZVP are identical to that of the Zen V.
The included accessories are identical as well: oversized velvet pouch, line-in cable, lanyard, earbuds,  and USB 2.0 cable. It's worth noting here that Creative bundles its black V and ZVPs with black accessories, and its white and now pink players with white, cream, and gray ones.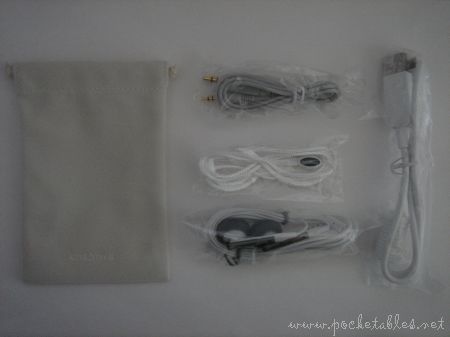 Also included are a user's guide and software CD. Unlike the Zen V, which comes with "Zen V Media Explorer," the ZVP ships with "Zen V Series Media Explorer."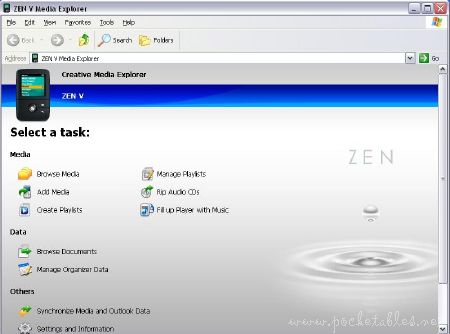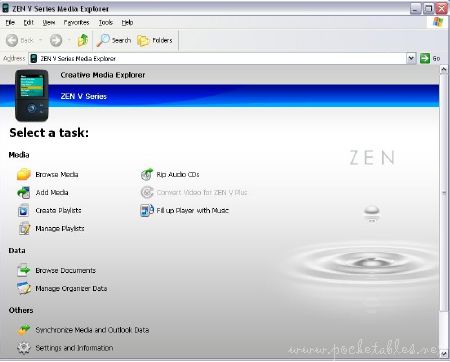 They're identical in every way except that the latter has a video conversion option. If you have both the V and ZVP, you can just install "Zen V Series Media Explorer" to transfer content to the players; the software recognizes both devices. "Zen V Media Explorer," on the other hand, only recognizes the V.

Closer look
Here are some close-up shots of the ZVP to give you a better idea of the color. To be honest, this is the first time I've ever been disappointed when seeing a gadget in person. I normally expect a device to look better in person than in official press shots, which is part of the reason I bought the ZVP in the first place. I wasn't particularly impressed with what looked like a magenta or fuchsia player online, but I was confident that it would look much better once it was in my hand.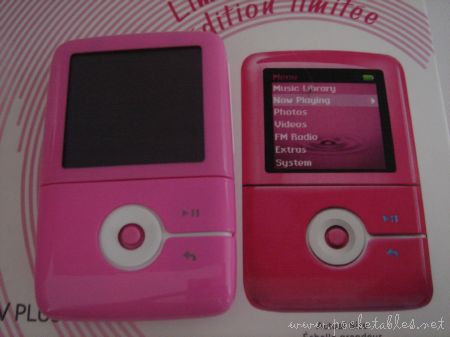 Now correct me if I'm wrong, but aren't these two shades of pink completely different? In official pictures, the ZVP looked okay. In person, it's heinous. It's like a combination of neon Pepto Bismol and tacky nail polish.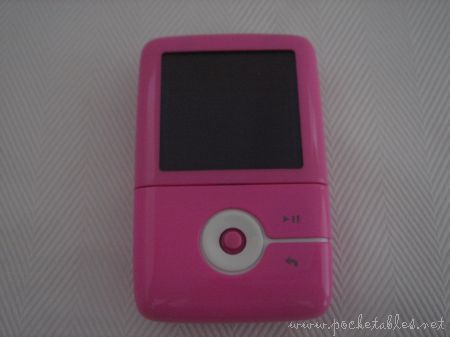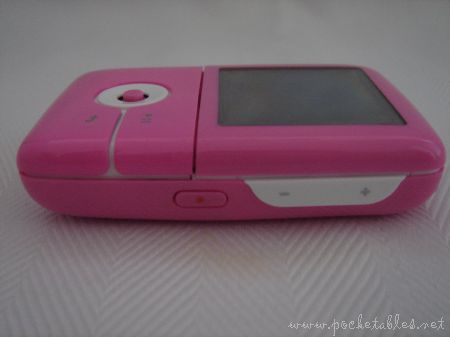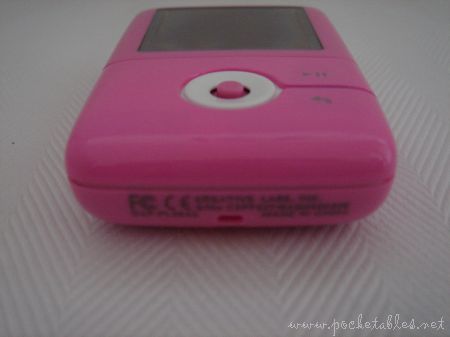 I suspect that Creative had a lot of leftover material from its equally unattractively colored MuVo N200.
Here's the ZVP among some other pink stuff I have around the house.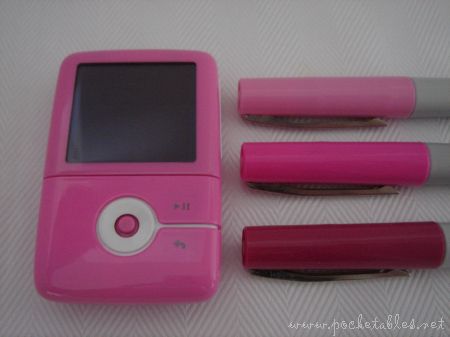 Oh, and perhaps I'm just really immature but doesn't the joystick look a bit obscene?
I know the player was released in the U.S.  in support of National Breast Cancer Awareness month, but this is pushing it.
FM radio
Just like on the Zen Vision:M, the FM tuner is a nice extra feature for folks who either listen to a lot of radio or who bore easily with their personal MP3 collection. Reception varies depending on location (and possibly according to headphone), but it's great in Honolulu with a pair of Sennheiser CX300S inner-ear monitors.
Noticeably absent from the ZVP is the ability to record from the radio. Creative may add the feature in a future firmware update, but as of right now the radio is listen-only.
Video
Like the Zen V, the ZVP is equipped with a 1.5-inch OLED that fails to impress.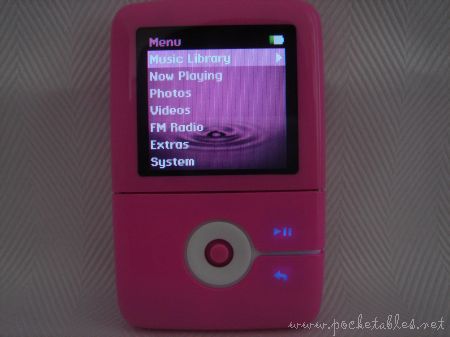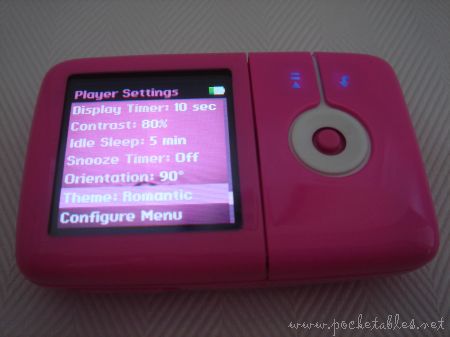 Video playback is actually relatively smooth (despite the limited 15 fps), but it's still not exactly a pleasurable experience. Creative preloads a few sample video clips, so you know right away that going through the process of converting your files to the supported Motion JPEG format (which, by the way, produces large file sizes that are unfriendly to a 2GB player) isn't worth it.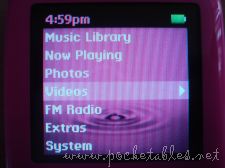 I can't imagine viewing anything longer than a few minutes on a display of this size and quality, but I guess it's better than nothing.
Conclusion
Because of the FM radio and video support, the player is more expensive than the barebones Zen V, though not by much. In general, the ZVP costs only about $20 more than its simpler sibling, which is an incredibly reasonable price.
Even though video playback leaves much to be desired, it's such a secondary feature that it really doesn't take much away from what is otherwise an excellent device. The ZVP offers more bang for the buck than other flash DAPs in its class, including the Zen V, and reinforces what I said in my Zen V review:
The player shines in the area that matters most: sound quality. Screen rotation, line-in recording, and other extra features make the V (and ZVP) not only a notable contender in the flash DAP market but also a holiday gift that's sure to please just about everyone on your list.
Just don't get the pink one.