Official name and launch of Samsung Q2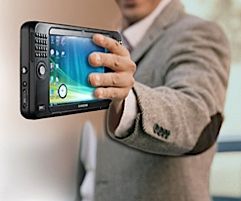 One of the rumors about the Samsung Q2 was that its real name was the Samsung Q1 Ultra. The "Q1 Ultra Ultra-Mobile PC" seemed rather silly to me, but it turns out that I will not be called upon to judge a contest of silliness.
Because you see, according to AVING USA, "the official name of the Q2 . . . is in fact Q1 Ultra." Blech. I don't like it. "Q2" is certainly far from imaginative but it makes more sense given the new design. Aside from running Windows Vista Home Premium, the Q1 Ultra's specs are identical to the Q1P (well, the HDD and RAM, anyway). What's so "ultra" about that? Probably something to do with the Centrino Pro, I guess, which at this point I just flat-out believe is tucked inside the device.
Expected to be unveiled at Samsung's 2nd generation UMPC press conference at 10:30 a.m. this Thursday, the Q1 Ultra has been given a late-April release date by a company official. Pricing supposedly has not yet been determined.
I, for one, can't wait for the official launch (not least because I'm running out of pictures to use from Engadget's arsenal).