Review: Sony Vaio TZ Instant Mode
Most modern Sony Vaio notebooks are equipped with Instant Mode, a feature that allows users to watch DVDs, listen to music, or view pictures without booting up the system. Some, like the TZ series, also have dedicated AV buttons for quick and easy access to insert and remove discs and control media playback.
Instant Mode sounds great on paper, as long boot times and a CPU's toll on battery life are common complaints among those looking to use their laptops as personal theaters on a long flight or commute, but it falls shorts in real life.
Read my full review below to find out why.
Launching Instant Mode
The only way to activate Instant Mode is to press the AV Mode button on the front of the TZ when the notebook is either off or hibernating. The feature cannot be launched when the TZ is on or in standby/sleep mode.
It takes about 10 seconds from the press of the button for Instant Mode to launch. This is much faster than cold booting the system, but as shown in my TZ performance review, the unit actually awakens from sleep mode and is fully responsive in Windows Vista Business in only 5 seconds.
Supported Formats
Instant Mode supports playback of commercial discs, DVD-RWs, and DVD-RAMs; unprotected MP3, WMA, and AAC audio files stored on the hard drive; and JPG, GIF, TIFF, PNG, BMP, PCX, and TGA images stored on the hard drive. Other formats, such as DivX and XviD, are not supported and will therefore not play in Instant Mode.
Instant Mode Launcher
The Instant Mode main menu is straightforward and easy to understand. For example, if you'd like to listen to a CD or watch a DVD, use the arrow and enter keys on the TZ keyboard (the touchpad and mouse buttons don't work) to navigate to and select the "CD-DVD" icon. The same is true for accessing music and photos stored on the hard drive.
The "Start Windows" and "Power Off" icons both close Instant Mode, but the former subsequently starts Windows and the latter turns off the computer.

In CD-DVD, Music, and Photo mode, the operation guide shown above can be toggled on/off with the F1 key. When enabled, the guide sits at the bottom of the screen and lists "instructions" on how to use Instant Mode (e.g., F6 to increase brightness, F3 to decrease volume).
CD/DVD Playback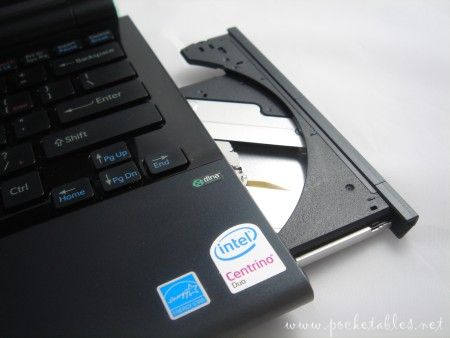 Inserting a CD or DVD into the TZ's optical disc drive must be done after Instant Mode has been launched.

The CD interface is incredibly basic with no niceties like album art, artist info, or song title display. At least standard playback modes like shuffle, repeat all tracks, and repeat single track are supported.
DVDs look exactly as they do on a TV or portable DVD player. Again, the operation guide (that black bar at the bottom) can be disabled so as not to take up any screen space. Options like battery level, chapter, elapsed time, closed captions, and subtitles can be accessed in the Setup Menu (Menu key between right Alt and Ctrl keys).
Music Playback
The Music mode interface is even more barebones than the CD one.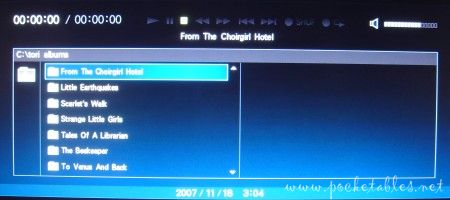 Selecting the "Music" icon from the Instant Mode main menu displays a list of all the folders on your C drive.
From there, all you have to do is navigate to the desired folder and press the play/pause button or the enter key to begin playback. The same playback modes available in CD mode are available here as well.
Photo Playback
Choosing the "Photo" icon from the Instant Mode main menu displays a list of folders located on the C drive. Folders that do not contain supported image formats cannot be selected from this list.
Images are shown in thumbnail view and can be viewed individually or in a silent slideshow.
Battery Life
With the TZ's 11.1-inch display set at mid-brightness, I was able to watch a DVD at mid-volume for 4 hours and 20 minutes using Instant Mode. Using InterVideo WinDVD (preinstalled on the TZ) in Vista, however, I watched the same DVD with the same settings for 4 hours and 45 minutes.
The Instant Mode video runtime is certainly respectable, but if you're sitting on a plane and opt to enable the feature because you think it increases battery life (as I'm sure many do), you'll be in for an unpleasant surprise. Sony itself even states (in footnote #8) that "battery life will be shorter when using the Instant Mode features."
Conclusion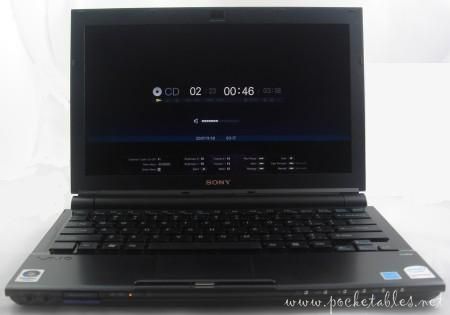 Instant Mode takes longer to launch than Vista takes to awaken from sleep, battery life is compromised, you can't access any of the videos already stored on your hard drive (so much for that XviD collection), and you'd need to carry a bunch of DVDs if you wanted to watch more than one movie.
What, then, is its real value?