Review: Tumi T-Tech Flow accessory tote
One of my new favorite travel bag collections is T-Tech Flow by Tumi, a luxury baggage company internationally renowned for its self-professed "design excellence, functional superiority, and technical innovation."
I've been a Tumi fan since about 2001 but only discovered the Flow series when looking for a new messenger bag (my carry-on when traveling) a few months ago. Today I came across this accessory tote (style #5133) while doing some last-minute shopping for a trip I'm taking to Los Angeles later this week. I bought it on the spot with my Fujitsu U810 in mind and wasted no time putting it under the microscope. Take a look at what I found below.
Design
Tumi's products command a top-shelf price (some more than others), but I tend to believe that you get what you pay for. The T-Tech Flow accessory tote doesn't disprove my belief. It's fantastic!
The bag is nicely padded and made of lightweight, waterproof nylon.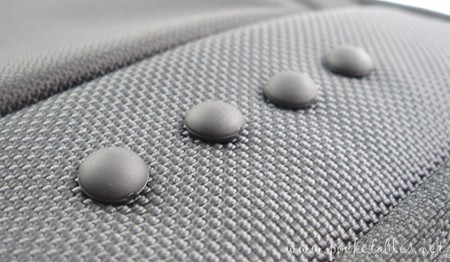 Various design accents, thick contrasting trim, and other details give the bag an understated yet classically trendy look. It's stylish without being too showy, professional without being too boring.
And it's loaded with pockets!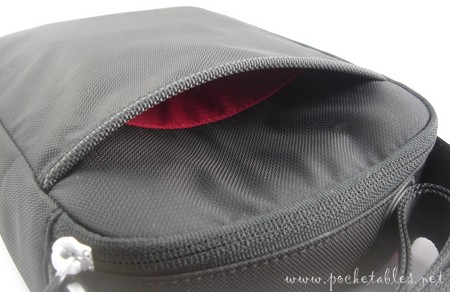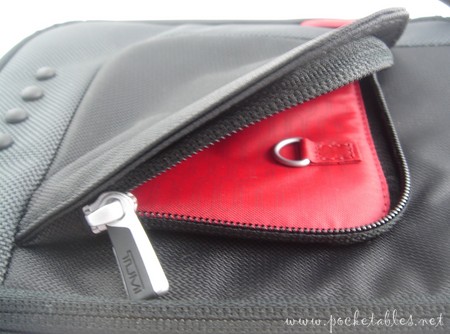 There's a fairly large open pocket on the back and a small zippered one with an interior key ring on the front.
The front and back zip-around compartments open book-style to reveal red padded Flow lining.
The main front compartment is the deepest and features an organizer (two pen slots, three card slots, one slit pocket) on the left and a mesh pocket on the right.
Above the mesh pocket is a rubber cord port for threading through headphones, charging cords, and other cables.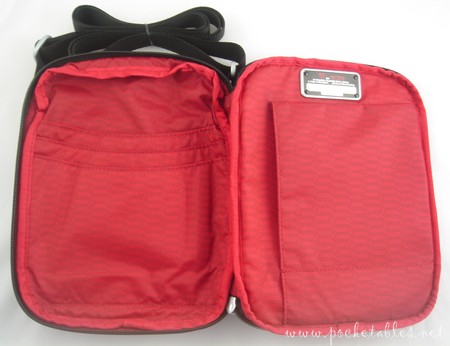 The back compartment has three slit pockets on the left and two vertical slots on the right.
The top slot is actually designed to hold a small CD binder (a 6-page one is included).
Also in the back compartment is a metal plate bearing a unique 20-digit barcode used in Tumi's Tracer program, a free recovery service available to everyone who registers their piece. I'm not sure how successful the program is, as the number needs to actually be reported (possible for a found bag, not a chance with a stolen one) for Tumi to find and contact the bag's owner, but I sent in my registration anyway.
Fit
The accessory tote measures 8.5" x 6.5" x 2.5" so the pocketable possibilities of what it can hold are pretty endless.
It's a perfect fit for the U810, which means the Fujitsu executive leather portfolio I'm already not fond of will probably never come out of the drawer it's been tucked away in.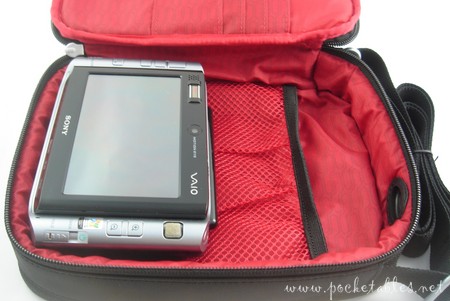 Smaller UMPCs like the Raon Digital Everun and Sony Vaio UX leave lots of spare room in the main compartment for a portable keyboard, mouse, and other peripherals.
All that can also easily slip into the back. The compartment is a bit shallow, though, so it's best not to store anything that sticks out too much (the mouse, for example, is pushing it). There's a fair amount of give to the material (i.e., the bag can be stuffed) so being able to zip the back shut isn't the problem; it's the fact that whatever is in the back affects the amount of available space in the front. This is a common issue with all bags, though, so it's to be expected.
Although the back is a little on the shallow side, it's still deep enough to accommodate the 7-inch Archos 704 WiFi.
To illustrate how much can be fit into the bag, I put my HTC Advantage X7501 and Fujitsu U810 in the front compartment and the 704 WiFi in the back. Zipping everything up was a challenge and the end result didn't look too nice, but hey, it fit!
The bag's compact size is really quite deceptive, isn't it?
Conclusion
The Tumi T-Tech Flow accessory tote offers durable and fashionable protection for a variety of portable gadgets in a lightweight package. Its exterior pockets provide easy access to travel documents and keys, while the inner organizer keeps pens, a photo ID, and other materials in order. The main compartment is great for a UMPC or large electronic; smaller electronics and peripherals can be stored in the back section or in any of the interior pockets. In short, the tote is flexible, functional, and my new must-have travel companion.
Available now in black, granite, and moss colors for $95.