Review: Windows 8 – Web browsing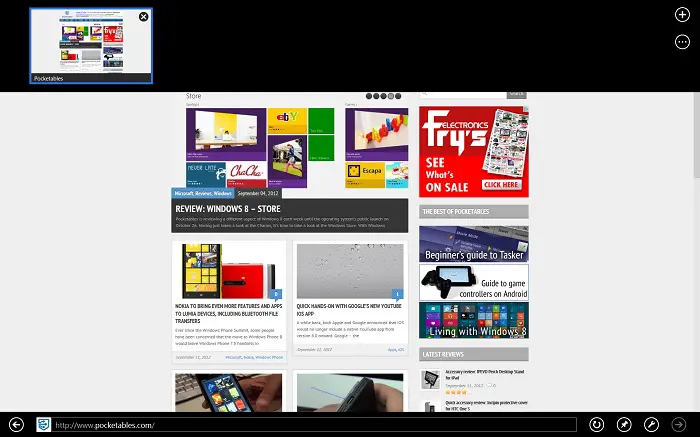 Pocketables is reviewing a different aspect of Windows 8 each week until the operating system's public launch on October 26. Having just taken a look at the Windows Store, it's time to take a look at the web browser.
Internet Explorer. The browser is often unfairly criticized and labeled as something that only your parents or grandparents would use. But like the last few version of IE, Internet Explorer 10 is a great improvement over the previous iteration. Windows 8's web browser takes a different track than previous versions of Windows, splitting the browser into two distinct – yet similar – versions. IE10 on the desktop is your traditional browser, albeit with a few improvements. The biggest UI and feature changes, however, can be found in the "app" version, which I will nickname "Metro IE" despite Redmond distancing itself from the term.
To be honest, it took me a little while to settle on which browsing experience I wanted to use on a day-to-day basis, although it really depends on your needs and your current environment. The primary browser, for all intents and purposes, is Metro IE. It's located in a prominent position on the Start screen (although you can move or remove it, if you so choose), and apps and pinned sites launch it by default. But like many smartphone and tablet browsers, it's also stripped down and simplified. The lack of add-ons is the biggest change. This significantly speeds up the browser, but it also means that you won't be able to use your password manager or play many video formats (more on this later). As a result, you're more likely to use the desktop IE as your everyday browser on a PC or laptop. But each version has its advantages and disadvantages.
Microsoft designed Metro IE to be a full-screen experience, so the address bar and tabs usually remain hidden. To bring them up, just invoke the app bar by swiping up/down from the edges of the screen, right-clicking, or hitting WinKey+Z. But while the UI stays out of your way, it's still possible to use all of your favorite keyboard shortcuts to switch tabs, open up new tabs, etc. Of course, it's still a stripped-down browser. Tab management is at a minimum. You can open up new tabs, close individual ones or all but the current one, and start InPrivate browsing, but it's not possible to rearrange the tab order. You're also limited to just ten tabs, which can cause you to "lose" a webpage if you attempt to open up an eleventh.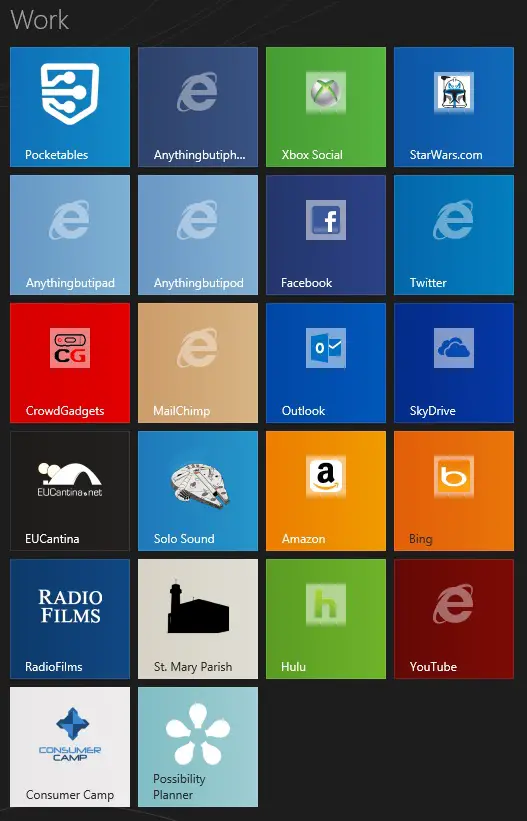 On the navigation side, Metro IE eschews the concept of a home page. Tabs are saved across sessions (a very useful feature), and you can pin your favorite websites to the Start screen for easy access. The quality of the pins, however, varies from site to site. The live tile grabs the site's favicon by default, but web developers can make them look even better by adding a few lines of code. Try pinning Pocketables and you'll instantly notice the difference. The pinned sites button also doubles as a quick access to jump lists, which made their debut in Windows 7, and the add to favorites button. Your actual favorites list is accessed by selecting the address bar, which brings up a list of your pinned sites, frequently visited pages, and favorites. The back and forward buttons can be found on the left and right sides of the app bar (as well as the sides of each page), and Microsoft has added a new optional feature called flip ahead which allows you to instantly jump forward or backward in a list of pages even if you've never visited the site before. To access this feature, however, you'll need to enable it in the settings.
Metro IE doesn't support add-ons and it relies heavily on HTML5, but Microsoft is fully aware that some websites just aren't ready to get rid of Flash yet. The Redmond software giant has gotten around this issue by partnering with Adobe to build Flash directly into the browser. But don't get too excited, since Flash is only supported on a limited number of Microsoft-approved websites. This allows Flash to work on the most important websites while ensuring a certain level of performance and battery life. Thankfully, most – if not all – of the top sites are supported. If, for some reason, an add-on is required on a website like Netflix or Hulu, IE will display a message prompting you to download the official app or open the site in the desktop version of IE. Both of these features can also be accessed at any time by selecting the wrench, where you'll also discover the "find on page" feature.
Out of all of the features in Metro IE, "view on the desktop" is definitely my favorite. It instantly launches the current page in desktop IE, allowing you to take advantage of add-ons and the finer control that the desktop provides. Visually, the desktop version of IE is almost indistinguishable from its predecessors. It includes the same newly updated engine as Metro IE, so it renders websites beautifully. There are, however, a few new features like "start with tabs from the last session." You can also configure Windows 8 to open links and pinned sites on the desktop, which essentially gets rid of Metro IE (look in the Internet Options under the Programs tab).
If you prefer to use third-party browsers like Chrome or Firefox, prepare for some surprises. Windows 8 apps don't have full access to the underlying hardware, so other browsers can only be installed via the desktop, as you would today. Everything seems normal at first, but setting the browser as your default essentially overrides IE10, removing it from the Start screen and rendering pinned sites useless. The default browser also opens up in a full-screen "Metro" environment. This may or may not be an issue for you, depending on your personal preference, but I wasn't too thrilled with some of Google's design choices in an early beta.
Forget what you've previously thought about Internet Explorer. While the dual-UI is an interesting design choice, it allows you to take advantage of both the new tablet-centric Metro IE and the more power user-centric desktop IE. If one environment bothers you, it's easy to ignore it and stick with the other. Metro IE takes great advantage of the Charms for printing and sharing, and Windows 8's new sync features make it easy to access your favorites, pinned sites, and passwords from any tablet or PC (more on this in the future). I have to say that, for as much as we all hate Flash, its inclusion in Windows 8 almost singlehandedly makes Internet Explorer 10 one of the best mobile browsers to date.
Next week: Security. For our full coverage, check out the Windows 8 review portal.