The Moto G is a $179 Android smartphone that is actually worth having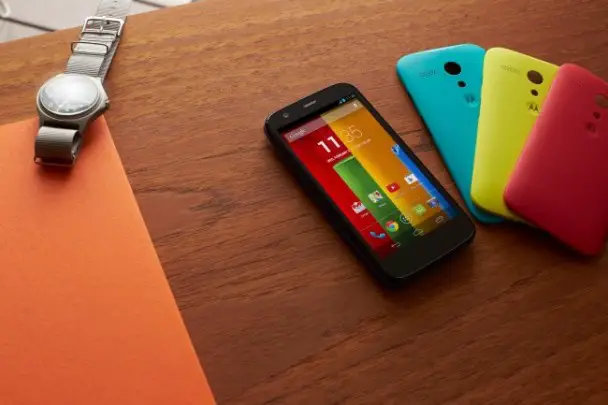 Earlier this month, a price mistake put the Moto X at just $205.99 off contract, which is a stellar deal for what is a very nice smartphone from the collective of Motorola and Google. Of course, that deal didn't last very long, and the Moto X is now back to being fairly pricey in unlocked form.
However, a coincidentally timed Motorola announcement just revealed the Moto G, a budget smartphone costing $179 but that actually appears to be a quality device reminiscent of the Moto X. The Moto G will include a 4.5-inch 720p LCD display, quad-core Snapdragon 400 processor, 5MP rear and 1.3MP front cameras, 1GB of RAM, and a 2,070mAh battery. The design is very similar to that of the Moto X, and the build quality is reportedly extremely close to that of the flagship device. Unlike the Moto X, there will be no Moto Maker service, but the Moto G does have the colorful interchangeable back plates we saw in earlier rumors of the X.
The Moto G also will ship with Android 4.3 when it is released internationally, but should be up to Android 4.4 by the time it comes to the US in January. It won't include any of the Moto X's software tricks that rely on the special "8-core" processor, but it will have a nearly stock version of Android.
While this may not be a smartphone that power users are interested in, it is nevertheless an important step for Google in the marketing of  Android. In the past, the budget options for Android devices were almost universally bad. Slow, low-quality devices with old versions of Android were the norm. In fact, I advised those looking for a budget Android device to simply buy the last generation flagship, and not even bother with the nonsense that was "budget" Android devices.
Fortunately, the Moto G is different. It has a really cheap price, not just a cheap on contract price, very good build quality, specifications that are respectable even if they are last-gen, and a pure version of Android. Finally, this is the budget Android device for consumers that will actually help Android's market share. I don't know how many times I've heard of people who bought an HTC Aria or LG Enact and then gave up on the rubbish that they saw as Android and bought an iPhone. Now, there is a quality device, much like the iPhone 5C, that will much better serve budget buyers and help increase Android's market share.
As such, the Moto G is actually a more important step than some might think for Android, as it will bring quality to the budget and international markets. Not only that, it is also a good deal for any budget conscious person who wants to get a quality Android device. The sales numbers will show us for sure, but I think that Motorola and Google have created something pretty good here.
[
Droid-Life
]