Aftermaster Pro details released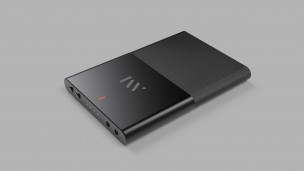 As a few of you know I have a very special place in my heart for Aftermaster, mainly because they gave me a bag at Showstoppers in Las Vegas and produced a product I liked and thought was somewhat of the star of that night for commercial purposes.
So, what the Aftermaster model that was demoed at Showstoppers/CES four months ago did was take HDMI input, process the audio portion, and spit out a remastered sound stream where you could hear the voices and you could hear the explosions but you didn't have to worry that you were going to blow the kids out of their beds while you're watching a Hollywood blockbuster.
It sounded great, from the Avengers (or perhaps Guardians of the Galaxy,) demo I saw – I could hear the dialogue, I could feel the explosions, but the overall volume wasn't something that would shake you awake. It's something amazing for those who have kids, don't want plants falling off of shelves, or live in an apartment with neighbors who go to bed at 8pm.
The new version they're unveiling today evidently works on anything. HDMI, headphone cables, probably could attach it to a goat if you had the right adapter.
There's a pretty good demo of what it sounds like on Aftermasterpro.com – the music portions they're remastering remind me a little of what the Boomstick did, but still a little different.
Anyhow, as Paul is still a lazy POS and has a few things to do today, let me direct you to their Indigogo campaign and a press release (below)
---
INTRODUCING AFTERMASTER PRO
THE WORLD'S FIRST PERSONAL REMASTERING DEVICE
A WHOLE NEW CATEGORY IN CONSUMER ELECTRONICS HAS BEEN CREATED TO TRANSFORM THE WAY AUDIENCES HEAR AUDIO IN ALL CONSUMER PRODUCTS
Hollywood, Calif (April 12, 2016)— Today, Aftermaster Audio Labs—an industry leading audio technology company—unveiled the world's first Personal Remastering Device, The Aftermaster Pro™. The new sleek, compact and portable device offers a genuine breakthrough in the quality of audio reproduction by remastering all audio-enabled devices in real-time. The Aftermaster Pro has created a new category in consumer electronics by offering a single portable device that dramatically improves all consumer audio.
Born out of a rich music industry background and developed by a team of award-winning sound engineers, the Aftermaster Pro delivers unparalleled audio experience to consumers, significantly enhancing the audio of their televisions, smartphones, headphones, laptops, tablets, gaming consoles and virtually any other audio-enabled devices by:
Substantial increases in clarity, depth and fullness in audio not available through any other technology
Clearer, louder and balanced dialogue and substantially less volume adjustment while watching TV
More fullness and low end from small speakers
A never-before-heard quality level in music playback
Aftermaster's world-class team of audio experts have produced, engineered and mastered more hit music than any audio company in history. To create Aftermaster Pro they combined their expertise with their new audio processing technology, AfterMaster, which is the only audio enhancement technology available that dramatically improves audio throughout the entire frequency range. Virtually every sonic detail is heard, combined with unmatched depth, fullness and clarity.
"I'm thrilled to announce our first consumer product, the AfterMaster Pro, the first personal remastering device for consumers," says Founder and CEO, Larry Ryckman. "Our award-winning sound engineers spent years developing Aftermaster Pro, a first-of-its-kind product that allows consumers to literally remaster all of their audio seamlessly with our Aftermaster technology and experience a whole new level in sound."
Frustrated with the overall quality of mass consumer audio in the market, the Aftermaster team was determined to find a solution to the expensive home entertainment systems that made broad claims about sound quality, but ultimately offered little substance when it came to solving dialogue and audio problems.  When used specifically for television, Aftermaster Pro raises and clarifies the dialogue level, virtually eliminating the need to adjust volume in order to hear what people are saying during your favorite TV shows and movies. With its built-in long-life battery, the Aftermaster Pro can also be used on-the-go to provide the best audio that consumers have ever experienced wherever they are and however they choose to enjoy sound.
AftermasterPro.com.  Indiegogo page here:  https://www.indiegogo.com/projects/aftermaster-pro-your-personal-re-mastering-device–2/x/13035955#/
Aftermaster Pro is on the horizon and product is set to be available Summer 2016.
 ###
ABOUT AFTERMASTER
Aftermaster is a groundbreaking audio technology originally developed for the mastering, re-mastering and processing of audio through Aftermaster HD Audio Labs, Inc. Aftermaster's executive team includes music and audio technology leaders Justin Timberlake, Rodney "Darkchild" Jerkins, Shelly Yakus and Larry Ryckman. Aftermasterdelivers an unparalleled clarity, depth and fullness to audio recordings, while delivering a significant increase in volume without increased distortion or loss of dynamic range. The technology has been utilized by a number of leading musicians seeking to create a fuller and richer sound quality than otherwise available in digital audio.
For more information, visit http://www.aftermaster.com