Pacuwi 4k Action camera review
Pacuwi is one of the newer players in the chinese import market and sent us one of their 4k action cameras for review recently.
Packaging and accessories
The packaging odly doesn't include the brand name although ti does include all of the relevant product information. Pacuwi included almost everything you could ask for. The camera comes with impact and water resistant enclosures, shirt and bicycle clips and various ways to mount it on a tripod.
Audio
I've never heard anyone say audio is good on an action camera and this model from Pacuwi is no exception. Audio is recorded at 15kbps mono at 8khz. Simply put if you need high quality audio an action camera is not your device.
About that 16MP resolution
This is the biggest thing that just doesn't make sense with the cameras specifications. I'm used to device specs only meeting their target when tested the way the manufacturer says. But this is a step further. The camera claims to use a sony IMX179 sensor, which would be quite good if it did. However the IMX179 is only capable of 8MP.  As near as I can tell the photos are simply scaled up in software. I've cropped down the 12MP and 16MP photos for the sake of this gallery(there's a 2MB file size limit for our wordpress instance) however the originals are all available on google drive for anyone interested.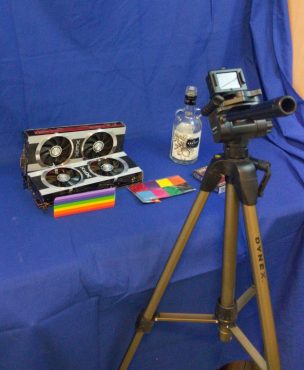 These photos were taken under studio conditions with controlled lighting. The Action camera was mounted on a tripod and the only setting changed was resolution via the wifi app. Triggering on each photo was also done via the App so there were no physical changes shot to shot.
MicroSD card compatibility
I tried several cards in the camera as there wasn't an official size limit published by the manufacturer.  Generic 16Gb class 4 cards worked but weren't capable of sustaining the data rate required for most of the shooting modes resulting in choppy video. Unfortunately a 200Gb card like the lexar we reviewed was too large for the camera to recognize.
Video
Video out of the camera is a bit harder to quantify and as such i've taken samples while driving. I'm going to touch on each of the cameras primary recording modes. This includes 4kp30, 2.7kp30, 1080p60 and 720p120. It is capable of lower frame rates at 1080 and 720 however I wouldn't suggest using them unless you're cramped for space.
"4k"
Simply put as far as I can tell 4k is faked. It's not bad and looks clear enough but there are some artifacts that tell me the video has been nudged up from 2.7 or some other inbetween step. The frame rate is accurate and there are 30 distinct frames per second on the bright side.
2.7k
This is an odd resolution to record at. From what I can see this is the highest resolution that the sensor can record at without any upscaling. Overall the video looks good and this is a great choice if you're going to downscale to 1080 when you export. This resolution also gives you some room for cropping or digital zoom without loss of quality at 1080.
1080 at 60FPS!
Available either for high frame rate standard video or higher definition than normal slow motion at 1080 the camera performs admirably. 60FPS video is a bit odd feeling at first but that's a perception issue as opposed to a technical one with the camera. Frames are distinct(there's no interpolation creating extra frames) and although not quite gopro level the video is clear.
720p120 slow motion
4k might be the big flashy feature that grabs peoples attention but honestly slow motion 720 is what I think this cameras's best feature is. I was worried that it might be recording at 30 or 60 and then doubling frames by either repeating a frame more than once or interpolating the frame between two keyframes. Fortunately neither of those seems to be the case looking at it frame by frame there are 120 distinct frames in each second of recorded footage.
This slideshow requires JavaScript.
Taking a look at a small selection of frames(12) it's actually possible to calculate the spindle speed of the lathe. There's blue die on one of the three jaws in the chuck used. Stepping through frame by frame we see it in frame 1 and again in frame 6. Using these frames to check we end up with the lathe running at 1200-1440 rpm(it's unfortunately not in the exact same position) which is excellent knowing it was set at 1375.
Closing thoughts
It's not a gopro, and the 4k isn't quite real. But looking at it all together it's still an attractive package. 2.7k gives you room to scale down to 1080 without any loss and [email protected] and [email protected] give options for clearer motion or slow motion video. Although I can't recommend this camera if you absolutely need the 4k footage for anything else it performs exceedingly.  In light of the Pacuwi cameras 49.99 price it's an excellent choice for secondary, in the line of fire high speed, or child's action camera. Any photos and video taken by the camera for this review are available uncompressed or edited via google drive.
Is the not quite real 4k a deal breaker? Or does the slow motion need more than 120FPS to be worth the 49.99 asking price? Did we completely miss something that you're curious about with our testing? Let us know in the comments below or on Twitter, or Facebook. And don't forget that you can support us on Patreon to help us continue to bring you high quality reviews as well as access to early news and input on reviews to come.