iClever IC-BS08 (2 pack) WiFi Smart Plug review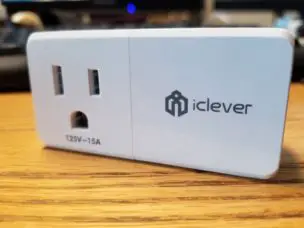 The iClever ICBS-08 WiFi Smart Plug is yet another entry to my IoT army and functions similarly to any other hubless WiFi Smart Switch we've reviewed.
The main advantages of the ICBS-08 are that it won't block an additional outlet in a standard configuration and that there are two of them in a pack making them pretty reasonably priced.
the iClever ICBS08 uses 2.4ghz only (lower bandwidth/longer range,) which means you'll need to jump through some hoops if you've got a dual band router that doesn't let you disable the 5ghz channel.
It uses the Smart Life app for setup (and control if you don't want to use a smart assistant,) which a number of these IoT devices do. While I'm pretty sure I've seen a couple navigate from 5ghz down to 2.4 smoothly, this was not one of them.
So yeah, read up on how to configure a 2.4ghz item on a 5ghz network
As a note, you'll probably need to know that for many other WiFi outlets, so don't assume it's specific to this. We created that guide because every other WiFi Smart device needed it and several WiFi manufacturers make it impossible to disable a 5ghz radio temporarily or change the name of the 5ghz SSID.
My assumption on the problems is this is the Smart Life app's fault and could be solved by another step or two easily but it still hasn't been several months in.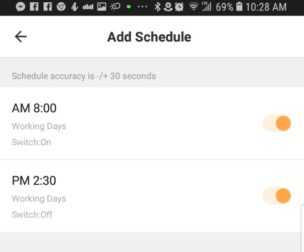 Once you're connected, you're good. You can now sync it with Google Home, Alexa, or use an IFTTT script. Alternately you can just use the Smart Life app to turn it on and off.
The IC-BS08 also lets you schedule turning on and off the outlet. Want to kick on your air purifying work plant before you walk into the office, bam, schedule it.
Paul complains about everything
The main issue I have with this is the indicator lights. I mean white tape solves that and they are useful, but if your plug is on that's two more lights that are on all the time and they're far enough to the right or left (depending on how your plus are oriented,) to be out there and visible.
iClever IC-BS08 (2 pack) WiFi Smart Plug overall
Decent low priced WiFi Smart Plug. Not much different from the others we've reviewed except perhaps a smaller plug footprint that allows two to be right next to each other.
The iClever IC-BS08 (2 pack) WiFi Smart Plug is available from Amazon for $26.99