Six months ago I had the chance to review the BLU G91 Pro, a $250 (now $209) mid-ranger from US-based BLU Products. Now, half a year on BLU is back with the next model in its G91 series, the BLU G91 Max. It's name suggests an incremental improvement but how does it really stack up and is it worth the premium over the G91 Pro? Keep reading to find out.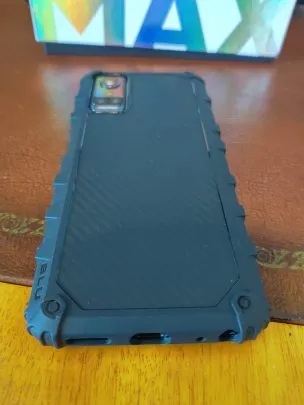 HIGHLIGHTS
Performance: The G91 Max runs on the Mediatek Helio G95 platform. It's a small step up from the G91 Pro's Helio G90 but the practical performance difference is negligible. The CPU is a mid-ranger, there's no doubt about that. And it was first released in late 2020, so it's not exactly new tech. But here's the thing, for most people that do most things it's fine. Not every device is a flagship. Not every device is built for the stat-nerds out there. And for the price performance is quite admirable. The interface is smooth, rarely if ever stutters, and the 8GB of included RAM is a nice surprise at this price point.
Battery: This review is starting to seem awfully similar to the G91 Pro review but that's not a bad thing. The G91 Max packs a 5,000 mAh battery that is almost guaranteed to last a full day. During my testing time I never went to bed with under 20% battery left. The phone also has 18W wired charging (an unfortunate step down from the G91 Pro's 30W) and 10W wireless. But, to be honest, since the phone never died on me and therefore charged overnight I wasn't too concerned about the slower charging rate.
Lok and Feel: Look and feel is one area where BLU keeps getting better and better. The phone is available right now in a color called Spectrum Grey and it is gorgeous. The back cover has a shiny, metallic, and dare I say it ghostly look to it. There's an hombre effect that is really quite striking. When you compare this phone to a $250 phone from four or five years ago the difference is amazing. The phone feels solid in the hand, if a bit slippery. Fortunately, BLU has included a heavy duty silicone case in the box that's nice and grippy. There's a familiar looking rectangular camera bump around back. Overall, it's an impressive looking phone.
Software: Software is another area where BLU continues to improve. Out of the box they install a lot of crap – games and social apps that you probably don't want. I'm not saying that's good but PC and phone makers have been bundling crapware for a long time to supplement their margins. What's nice is it can all be uninstalled and removed from the phone. That wasn't always the case. Another huge improvement, for me anyway, is proper support for third party launchers. I like to customize my phones and for a few years that's been difficult on BLU phones. They didn't support gesture navigation on non-system launchers. But they do now. So, want to use Niagara or Lawnchair 2 or whatever other skin you prefere? Go for it. This is a simple thing but has been a real pain point with BLU phones in the past.
Display: I'm an AMOLED guy. Isn't everybody by now? And the G91 Max sports a 2460×1080 6.8 inch LCD. So why is display listed as a highlight? It's because the screen looks great. Colors pop. Brightness is great at even mid-levels. And even the bezels are small. There's a slight chin below the screen but it is hardly noticeable. It reminds me of the old HTC LCDs of yesteryear.
Camera: So, here's an area where BLU has struggled in the past. But they're getting better. The camera is fast and pictures are clean. There are plenty of modes and you can even shoot at the full 108 MP if you want to. The camera is a very important part of any smartphone experience and the G91 Max stands up to any mid-ranger I've used.
Face Unlock: Unlocking the G91 Max with your face is a pain-free experience. It's fast and works under various lighting scenarios. And by default it unlocks directly to the home screen. None of the silly swipe to unlock after your face is recognized. It's a small thing but makes the experience of using the phone so much better.
LOWLIGHTS
Fingerprint Reader: As good as the face unlock is, the fingerprint reader is a disappointment. It's side mounted and integrated in the recessed power button. That's good. Placement and tactile feel are good, too. The problem is it just stinks at recognizing fingers. I have to press multiple times almost every time to get the thing to work. The fingerprint reader is so bad it makes the excellent face unlock feature even better.
Updates: Don't expect any feature or system updates from BLU. And it's a little disappointing that they're shipping an Android 11 device months after Android 12 went gold. It's kind of par for the course with mid-range phones from anyone not named Samsung but it's still worth mentioning.
MISCELLANY
The incredibly fast Play Store installs from the G91 Pro are back. I don't know why apps install so fast on this phone but it's fantastic.
There's a headphone jack. Does anyone still use wired headphones? I don't but if you do you'll be happy.
This is an Android 11 phone (December 2021 security patch). It might receive a few security updates but don't expect Android 12.
There's no 5G onboard. Strictly an LTE device. And, it isn't whitelisted for AT&T. But it works great on T-Mobile and it's MVNOs.
CONCLUSION
The G91 Max is a good phone. It's smooth, looks great, and won't break the bank. But BLU phones have reached a bit of a plateau. They're very good, especially for the price. But there's little to separate the G91 Max from the G91 Pro or even the G90 series. Supply chain issues might have something to do with that. The biggest advantage the Max has is the extra RAM which, honestly, is enough for me to recommend it over the slightly cheaper G91 Pro. BLU continues to refine their phones but I'm looking forward to the breakthrough that takes them to the next level. Maybe AMOLED or Qualcomm internals or software update guarantees. All that said, if you are in the market for a new phone and you have $250 to spend the BLU G91 Max will serve you well.
SPECIFICATIONS
| | |
| --- | --- |
| CPU | MediaTek Helio G95, 2.08 GHz Octa-Core |
| GPU | Mali-G76 MC4 |
| RAM | 8 GB |
| Internal Storage | 128 GB |
| microSD Support | Yes, up to 256 GB |
| LTE Bands | 1/2/3/4/5/7/8/12/13/17/28 |
| HSPA Bands | 850/900/1700/1900/2100 |
| Battery | 5000 mAh, 18W wired charging, 10W wireless charging |
| OS | Android 11 |
| Display | 6.8 inches, 2460x1080, 396 PPI |
| Main Camera | 108 MP with LED Flash, 5 MP 115 degree Wide Angle, 2 MP Depth Sensor, 2 MP Macro |
| Front Camera | 16 MP |
| Bluetooth | 5.1 |
| Fingerprint Sensor | Yes, Side Capacitive |
| Physical Dimensions | 168.6 x 77 x 8.9 mm, 213 g |