Good Earth Lighting Smart LED flat panel review
The Good Earth Lighting Smart LED Flat Panel 1-light 24-in Brushed Nickel LED flush mount light is sold exclusively at LOWES if I googled properly, where you're standing and reading this review at the moment. I make not a dime on this review and bought mine at the Charlotte Lowes in Nashville. Here's what you're in for.
Install was extremely typical. It's a panel light. Everything's included. It won't hold a child up with the mounting hardware that came with it but it's more than adequate for a very light panel.
The Good Earth Lighting software side is my main annoyance. It's a Smart Life clone as far as I can tell because it picked up one of my Smart Life devices while I was attempting to get it working. My bet is you can get it running in Smart Life if you figure out what it's actually classed as. I just didn't really care once I got it set up because my main goal was to use it via Google Home / Google Assistant / even Alexa (which I didn't end up setting up).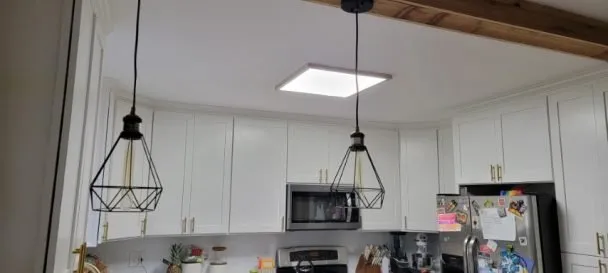 Pairing works like most smart bulbs – turn it on, turn it off, count to two, turn it on, count to two, turn it off, count to two, turn it on, count to two and if it's not blinking at this point repeat. Once it's blinking and giving you an epileptic seizure the app is supposed to connect.
This didn't happen. Repeated a few times nada. Finally found I had to get on a ladder in the blinking frenzy and have the phone right next to the middle of the thing before the Bluetooth connection would work. I found later it's also got a WiFi AP alternate mode setup but that was not required. I suspect the WiFi AP I would not have had to involve a ladder in a seizure room because the WiFi has no trouble connecting.
OK, so managed to get it paired into their Good Earth Lighting app and accidentally picked up one of my other devices – which named itself… properly… because it's Smart Life in the background… it knew "Paul's Closet" from that database. Be aware.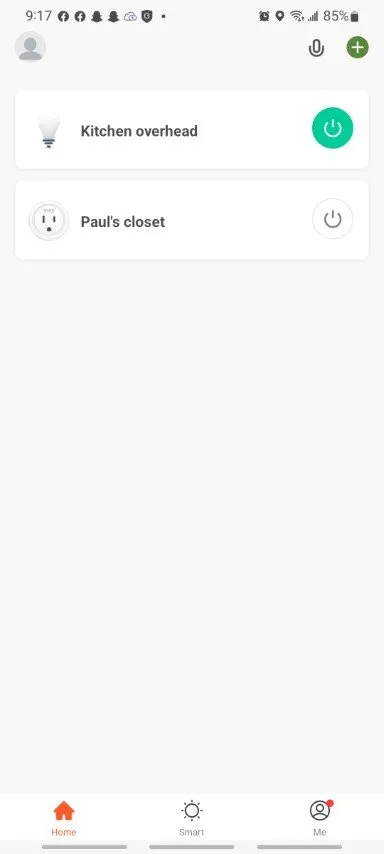 From here on, everything was pretty smooth. I added the Good Earth service to Google Home / Assistant, then asked Google to synchronize devices. That light showed up in the Google Home app, added it to the kitchen, and then was able to control it via voice.
Worked like a charm for two weeks. Two weeks in I went into the app and it said it was not there / offline. I rebooted my router, power cycled the light, nope. Never would come online even though I could see it on my network and communicating with servers.
I re-paired, standing on a ladder in a disco inferno again, and it's worked for the past almost two months.
The light itself, brighter than you might think. It's pretty cool because I can have a cool white for my edgy cleaning parties, and a warm yellowish for when I'm just trying to hide the butter spill on my kitchen counter.
As a color changer it doesn't get a lot of use. That's my use case, but I actually really dig being able to color match the little pendant lights that my wife got.
I enjoy it. If anyone gets it set up in Smart Life let me know what options are needed and I'll post 'em here. Better to have one app than many and this Good Earth app (which is Smart Life,) rarely gets any use.
Also if anyone finds similar items to this with a white trim, let me know. We really failed on finding panels with trim choices.