A Roborock clog – it finally happened
I swear I'm not turning Pocketables into a Roborock only reporting site, it's just been I've been dealing with their products a lot this week for the corporate test on the MaxV, trying to get a Q7 final review done, and today I came home to Rhonda, my beloved S7, in pieces on the floor with an error message that the main brush was jammed.
She'd gobbled up some cables and evidently when my wife was extracting them they didn't extract gracefully and popped of the cage and it became my job. No biggie. Two clicks and it was working fine and I sent it on its way to the docking station as the cleaning had almost completed before Rhonda got hungry for some USB-C snacks.
I got an error message pretty quickly after that the unit was blocked. I really wish I'd screenshotted it, but it was basically to the effect that there was a clog. I wish I'd noted that the clog was in the Robodock / auto empty station, but I didn't and pulled Rhonda apart, cleaned and inspected everything I could, and then was told when I went to empty the thing that it was clogged.
Verified the filter in the base unit was fine, pulled out the bag and noted it was not particularly full and probably should have had more dirt in it.
I took off the right canister and noted there was something that looked like a shoelace tangled up in the bag entry area. Pulled that out along with a fist-sized clump of debris, and tried tried again. No dice. Still clogged.
Flipped the base unit on its side, shone a light up and noted a huge impacted clog about 6-7 inches in. Pulled the bottom off of the station, realized that served no good purpose for getting at this, and realized I needed something that could go in the top, rotate about 45 degrees, and press this clog down.
Kim suggested a waffle-type bendy straw (cheap kid cups come with them, something like this but not this,) and I used one of those to shove the offending clog down the base.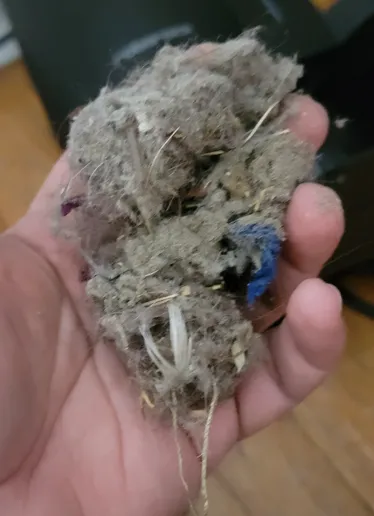 Surprise surprise, after that it worked.
Something I did run into though is the Roborock software will actually stop you from using the vacuum empty feature too much. You'll get a message that you're using it too much and to wait. Like… I needed to know what was going on and the delay on being able to re-try the empty function only delayed me from fixing it and seeing that it was working or not.
Eh, something to write about I guess.
Learn from my fail
So yeah kids, learn from my mistake – you get a message while your unit is trying to empty the dust bin, it's probably the base station and I'd say it more than likely it's a clog like this. The right chamber with the vacuum bag pops right off, and you'll see a probably clogged intake. I'd advise using something better than a bendy straw. Maybe a coat hanger or stick of poking.
I'm not sure if I needed to remove the bottom of the unit using the included screwdriver, but I did and that clog fell out. Might have been able to rotate the base unit around a bit.
The base unit just jammed so much in there it was not going anywhere.
This is one year and maybe 18 days since I got the base unit, and the first maintenance on it I've had to do. I am impressed.