The Tronsmart Bang Mini portable speaker brings the noise
The Tronsmart Bang Mini is a fairly loud 50 watt portable party speaker with a built in LED light show. It does what you expect, sounds pretty decent, and is obnoxiously loud when close or in the path of the speakers.
The 50 watts is spread across two tweeters at 12 watts max, the subs are 25 watts max. I don't have the specs on what happens when we surpass 50 watts (speakers can handle 74 it looks like,) but my guess is it becomes shared fairly quickly based on what I hear.
Audio sounds great at normal volumes and it does a seriously good job of pretending to be a larger speaker than it is with audio trickery. It sounds good, but push it to large speaker levels and you'll notice, which would be the case of anything in this size. I'm not picking on it, just the larger sound it brings is limited by the physical ability to push audio.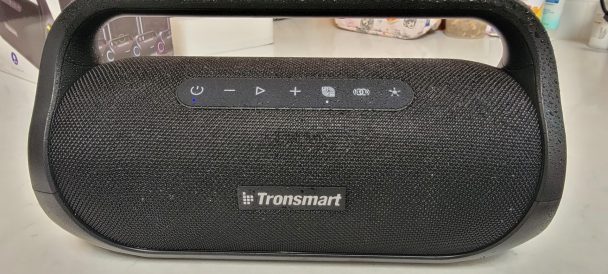 It sounds great, really it does. The Bluetooth 5.3 connection is solid – at least on my Galaxy S21 Ultra I was able to get further away from the speaker than reasonably needed without dropouts (having a party in front of it would limit this as people tend to block Bluetooth,) and generally for audio throw it did slightly more than I would expect was needed. If that was directly in front of the unit.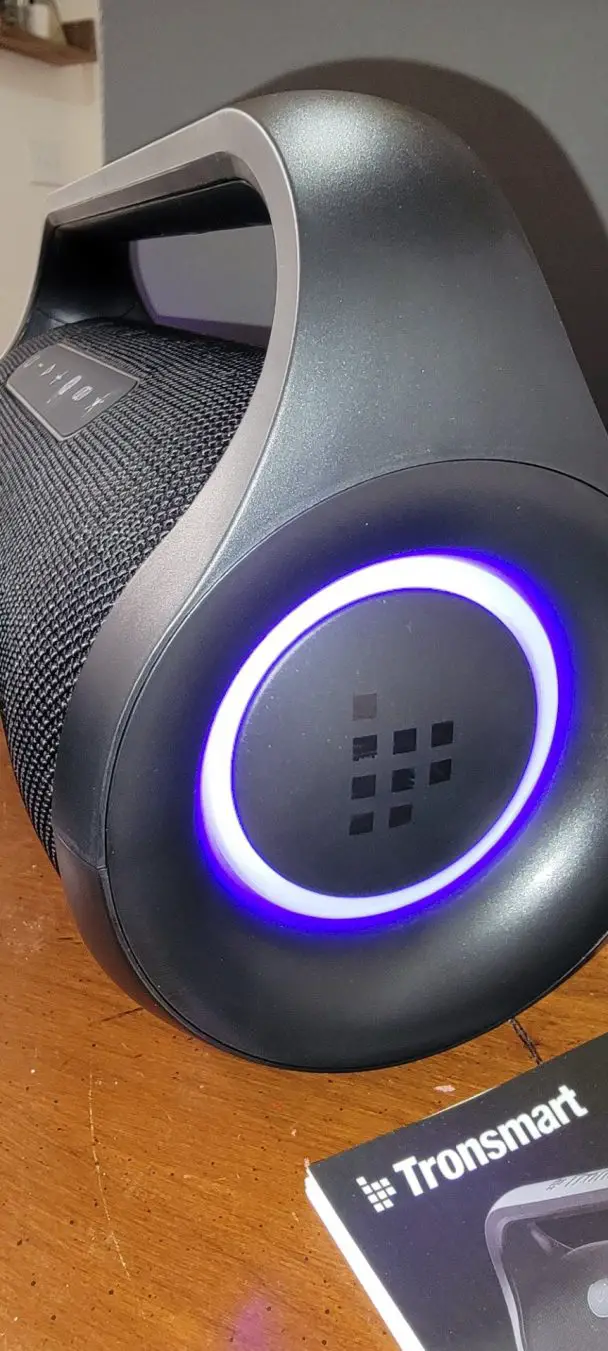 The audio spread is a little more directed than I expected. It's straight out the front. Bass out the sides. Sounds good. Go around to the back of the unit it's like you're backstage. Off to the side similar. Just highly directed and needs to be accounted for in placement. If you're having a party, this needs to be above people pointing down. 50 watts and highly directional sound isn't going to go through Ted very well.
Can the Tronsmart Bang Mini survive a dunk?
It's the end of summer, so somehow I'm getting all these great toys that would have been summer perfection and this is a pool, boat, or kayak portable speaker at heart… at least in my mind. You want this near water and it claims it's IPX6 waterproof on the website, and IPX6 in the documentation.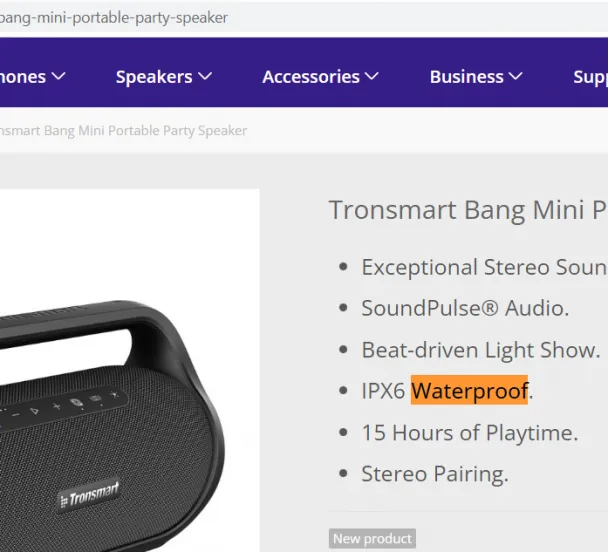 IPX6 is no dust rating, and can survive 1 minute (per square meter,) of high pressure water jets pushing 100 liters per minute. This is listed as powerful water jets. I didn't have the ability to test this so I put it under a sink sprayer and then into a bucket of water while playing what was supposed to be royalty free/copyright free music (only to find out a 1928 recording of a song I was using claims copyright ownership)
The result – fine. No issues. You can watch the video and skip to about 3 minutes in. Water came off of this like off a duck's back.
Due to the YT copyright issue, you'll have to just accept that it sounded exactly the same with and without water up until I dunked it in the bucket.
Unit worked fine the next day, and other than retaining some water near the subwoofers there's no evidence of water intrusion behind the plug that hides the USB-C charging port, headphone, and MicroSD ports.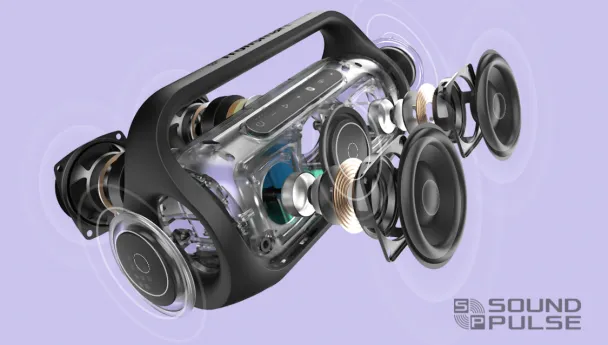 Features not tested
It's got a 1/8″ – 35MM headphone jack, an TF/MicroSD card port, and can charge your device via USB-C from the 4000mAh battery.
With a second Bang Mini you can pair and create a true stereo separation (I only have one here.)
15 hour playtime. I just didn't have any point where I had more than 2-3 hours I could devote to blaring music.
Wrap up
It's a great little personal portable party speaker if your party target is about 2-7 people. The audio is good, and it sounds like a larger speaker than it is.
You can currently purchase the Tronsmart Bang Mini from the manufacturer's website, or on Amazon.
Bang Mini
The Tronsmart Bang Mini is a 50 watt portable waterproof party speaker that's fairly loud, clear, and portable.
Product Brand: Tronsmart
Product Currency: USD
Product Price: 89.99
Product In-Stock: InStock
Pros
Lightweight
Sound
Battery life
Charging features
Cons
Dynamic range
Directional sound