My Pixel 7 Pro gradual fingerprint fail cause found
I written I'd lost the ability to fingerprint unlock on my phone after a few days (six or so,) use. What I didn't mention was that I'd installed a screen protector. I didn't mention that because I installed the screen protector on day two I believe. If you're guessing that my fingerprint issues were due to the glass screen protector, yes… you're right, but there's more to it.
I installed the screen protector let's say on day 2… I'm not being coy here, I think it was day 2 but as it worked I wasn't paying a whole lot of attention. It had a special circle where the fingerprint scanner was. Application was easy and right after I installed I verified all my fingerprints worked fine. I'll stress that – everything worked perfectly for the next 3-4 days. I didn't like that I could see the circle, and the brightness was a little off, but I was going to try and live with it. Fingerprint worked, have I mentioned this?
Day 6 the fingerprint scanner stops working. Four days into the screen protector being attached. I can get it to sense my fingerprint maybe one out of 15 times so I re-enroll a finger and get the result that it's unable again and again.
Silly me, I'm not thinking a solid piece of glass that worked for four days is related until I'm out in bright lighting and notice that the fingerprint scanner now looks like it has a moon in it. There's a floating cloud, a black moon. Things that shouldn't be there.
After removing, I discovered the underside of the fingerprint scanner had a light sticky adhesive. You can see it in the photos below and you'll see my fingerprint on it as I touched it trying to figure out what that was.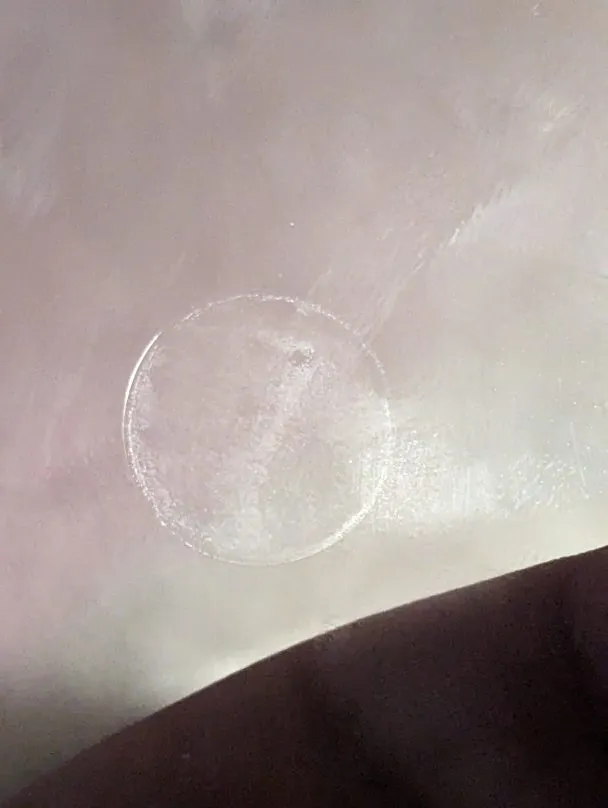 Over the course of four days that adhesive changed consistency. Spread out. It changed what the fingerprint scanner saw.
So, this pack of screen protectors comes with two glass shields. I decided to give the second one a try. The phone I've got the pictures on unfortunately didn't sync the photos so not posting those. I recorded a video cleaning and adhering the new screen protector and showing it unlocked perfectly… knowing what to look for this time I noticed that there was a couple MM cloud in the fingerprint scanner area. The scanner worked fine however… well, for four and a half hours.
This one failed to the point I couldn't fingerprint unlock later the same day, but it worked fine for the first bit. By 8pm I photoed the phone, yanked the screen protector, verified it too had adhesive stuff, and it too had started to spread.
My guess is mild adhesive that should not be on the fingerprint scanner… heat and pressure must just be changing consistency.
So yeah, you can put on a fancy glass screen protector designed for a Pixel 7 Pro, it can work, and it can fail without any impact damage or such to speak of.
The Amazon listing now calls this a Group Vertical Tempered Glass Screen Protector, but I don't think it was named that when I got it a week ago.