It's hot, can a Dreo CF714S smart fan help?
My initial reaction to the Dreo CF714S smart fan was "what, you can turn it off and on with an assistant?" which yes, you can, but you can do so much more automatically and that's where the cool kicks in.
Note a previous version of this review had the name as the Dreo Falcon S. There was a late name change that I missed to the CF714S.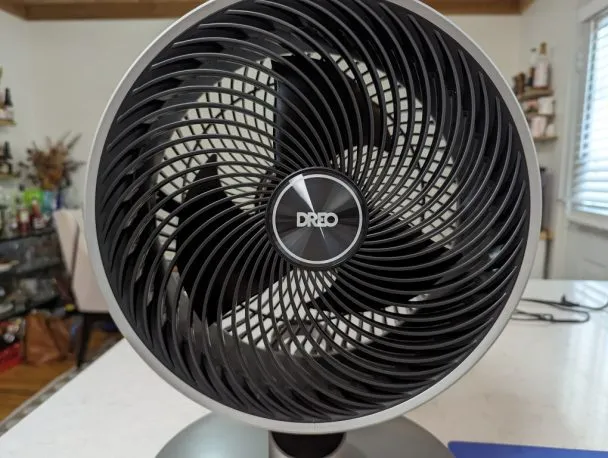 TL;DR – if you don't need an assistant controllable fan that can operate on schedules or temperatures automatically, this is overkill for you.
Let's talk about why it's cool
With an assistant you can turn it off and on with your voice and set various modes. If you're just wanting the same mode constantly, any fan and a $5 smart plug will do this for you though. Where the Dreo CF714S becomes cool is in some of the settings and routines you can enable.
The CF714S can trigger based on up to 5 different situations of time and temperature. This allows you to do things such as turn it off automatically when you're not at home, trigger when the temperature is above a set threshold to move air from point A to Z, and switch modes to help you get to sleep.
It unfortunately doesn't appear to work with external temperature sensors by default, which means that the temperature reading is at the fan.
It ships with a "work with AC" profile to ramp the fan speed up and down and help you get the cool air from the AC to that one side of the room it just doesn't go to. This is currently what I've been using to pull cool air from my AC unit that freezes one side of the bedroom and leaves the rest at 78f. Rather than having to have a fan blasting nonstop 24/7 to get the cold air circulating, I have the little CF714S monitoring and adjusting as needed.
Which is nice when I'm asleep as I don't have to wake up freezing, unless I want to.
You can also set the unit to oscillate, and point up and down. Something I generally have not needed in my setup… but it's there.
Do these smarts save you money?
In my use cases… Er, not in a reasonable timeframe (cost over normal fan,) but theoretically yes by about 2035 if I did the math right. Eventually. Having an air mover on only when needed does save some money… eventually.
Let's nitpick like we always do
Lack of triggering by external sensors feel like a failing here. There's firmware in this fan that's updatable, so maybe this will come to it soon enough. A small thermal sensor in the fan's general destination zone should be a trigger, because the fan may be in a much cooler section. Even triggering off of things like a Dreo air purifier would be useful. I'd just put the air purifier where my room's hot spot is.
Power cable is a huge brick on the wall, and then a 6 foot or so thin cable. It's a DC adapter brick and it's big. I could not get it to work in an outlet near my bed and had to get a power strip to run it off of. (There's a headboard that's about an inch away from the outlet that caused the issues.) This means if you need to extend this for any reason you're going to have an extension cable, large lump of power brick, then 6 or so feet.
The Dreo CF714S – do you need it?
Probably not, but it's neat. It's useful and makes a room a lot more comfortable without having to think about it, if that room is too warm on one side and too cool on another. If your house wasn't built in the 1940's and then fitting with a central unit blowing up old heating ducts it might not be as useful to you as it is to me.
Anyhow, providing a tagged link below which earns us commission on sales. Should you not want to give us about $2 in commission and help out Jeff Bezos, go to Amazon and look for it in the Dreo store.
While I do make fabulous beer money on the items I sell, I have no interest in pushing lemons. Feel free to ask about anything on it.
You can find the Dreo CF714S on Amazon.
CF714S
The Dreo Falcon S / CF714S is a smart fan that can be triggered by events (temperature, time,) and by voice assistants such as Google Voice, Alexa, etc. It blows well.
Product Brand: DREO
Product Currency: USD
Product Price: 89.99
Product In-Stock: InStock
Pros
Ramps up or down depending on conditions
Controllable via app, smart assistant
Quiet
Powerful
Cons
Power adapter is large and bulky
Doesn't trigger via external thermometers yet