The 12QT BUYDEEM Dora toaster oven. It's cute. Buy it?
OK, this thing is adorable. The Dora toaster oven is a classic look with a tiny digital display thrown in, but lacking too many of the "smart" things we're accustomed to. I got offered a chance to review one of these and decided screw it, I wanted this toaster oven. It's adorable. Really, just look – it's adorable! Let's go.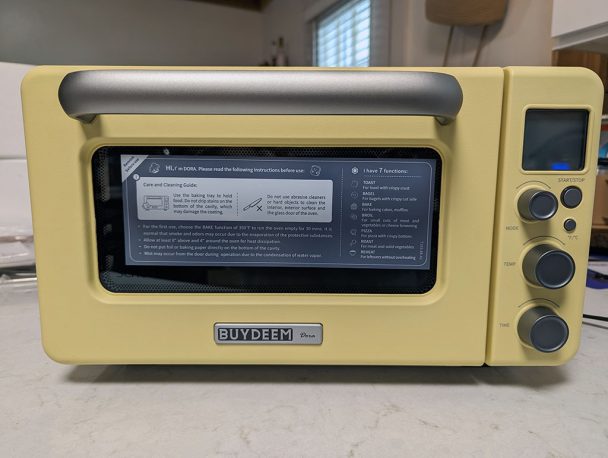 TL;DR – beautiful retro-inspired toaster oven, some modern additions that don't particularly enhance experience but don't detract.
The Dora has a digital knob-based control system with some presets as well as simply setting the temperature, it's got a small digital display, and it heats up quickly. It beeps when the timer runs out so you know when things are done. This ends the more modern portion of the review. The control system is wickedly easy and it just works. The presets are useful but not in your way.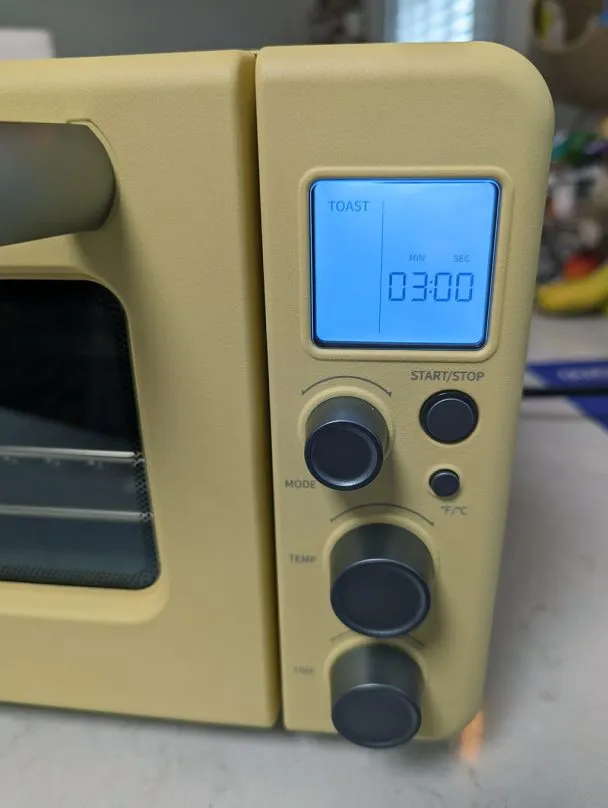 The Dora 12QT toaster oven measures 15.5'x10.5×9" exterior with a 10.9×9.3×6.5″ interior, weighing 12.3lbs/5.6 kg
I spent a couple of weeks using this and compared it against my regular oven in a couple of head to head cook-offs… here're my findings, beyond just that it functions like a toaster oven should be expected to. I will stress that the findings below are all probably standard toaster ovens, but it's been so long for me since I had one, and now I have thermal imaging cameras, that I figured I would comment on it.
Rear of unit interior appears slightly hotter than the front. Verified this by potatoes being burned at the back and perfect at the front. Probably due to the heat escaping out the front glass. Never benched other toaster ovens so I'm making a guess that this is probably standard and something that needs to be accounted for when cooking.
Thermal tends to indicate heat escapes front and up with some escaping out of the side where there's a vent, but mostly just up and front. Thermal might indicate that some 160F is coming out the side, but my hands above the unit say it's mostly the top of the unit.
That top of it is really hot though, clocking in at nearly 200F/93C. Heat's gotta go somewhere, but you can literally fry an egg on it. That's a good 50F higher than needed to fry an egg. I'm not sure what, if any insulation we have these days that could handle that level of heat in that small of a package, but it seems like it should exist.
Nothing, but nothing goes on top of this that you don't want cooked/melted.
The bagels I thought were a bit overdone, but then I ended up liking them this way so your mileage may vary. You can modify the time, temp, etc but you know, cook to desired level.
I cooked some sweet potatoes in the unit, the ones at the back ended up burned a bit which leads me to believe this is hotter at the back than it is at the front. Just something to account for and may be across any toaster oven out there. There's a fairly cool animation on their site that indicates there are 3 hidden heating elements at the bottom to ensure even cooking, but in longer cook scenarios still thinking it's a bit warmer in the back.
The next thing of note, and I attempted to get video of this but it's not really recognizable, is that the exhaust, smoke, or whatever you want to call it goes through the left side of the front door. Every bagel I have toasted has a light plume of smoke rising from the unit, and it's always at the top left of the door. This is listed as perfectly normal on their FAQ.
The included pan has no non-stick or modern properties… not that I expected that.
Unit has a nice ruggedized texture to it.
The Dora toaster oven overall?
It functions better than my last toaster oven, while there are a lot of words up there none of them is a fail in my opinion, and I am still using it.
You're going to purchase this for the look, because it's damned cute. As toaster ovens go I really don't find anything to complain about. Just some things to note.
The BUYDEEM Dora toaster oven is available in Cozy Green and Mellow Yellow.
Dora Toaster Oven
Standard toaster function operation with a retro flair combine to produce a very pleasing experience. It's adorable.
Product Brand: BUYDEEM
Product Currency: USD
Product Price: 269.99
Product In-Stock: InStock
Cons
Experience is the same as a much less expensive toaster oven