5,364 miles with the commercial edition Cansonic UltraDash Z3+ dashcam (review)
It is summer vacation, 2023 and the kids are out of school and we have a brand new niece to see in Oregon. Flights are expensive, and car rental more so. We also wanted to give the kids an idea of what the United States were.
TL;DR – it's 5000 miles of 2K driving video you can decide whether it's good enough for your tastes and ask me about my vacation.
We recorded the driving part of the vacation using a Cansonic UltraDash Z3+ Dual Lens dash cam. We used the commercial version with an additional rear view camera. While I can show multiple cameras on this, front facing is the most interesting and I really am not interested in 90 hours of video of me slowly going mad driving.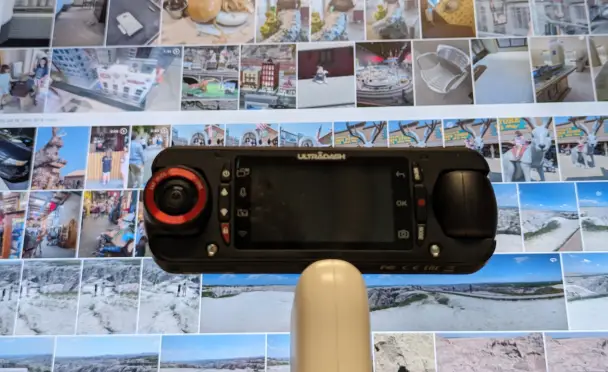 I used a 256gb MicroSD card, downloading it every night to a portable SSD I brought along, and removed a couple of segments (such as the week in Oregon as it had identifying information about where the in-laws live.) But here's the road trip:
0-3 min interior camera / one look at the rear
3-30ish Nashville to Oregon
30ish-end the road back through Yellowstone, Badlands, Wall Drug, Sioux City, Kansas City, St Louis, Nashville.
The Commercial Cansonic Ultradash Z3+ Dashcam in-use review
As we've already reviewed the non-commercial edition, you know what I think of the series in general. Good, does what you think it will, only complaint was SD error reporting on the last one and I don't have a bad SD card to test on this one. The only difference between the commercial and non-commercial appears to be the interior lens and perhaps two interior-facing IR light to light up dark spaces. At least I think that's what those things are for.
The firmware is different, but it's essentially the same experience. A pretty good and intuitive one.
When placed correctly the interior camera can capture everything the driver is doing and get a fairly good view of passengers. Something you're going to want to have a record of for your safety and in the event you want to provide proof that you did not verbally assault a passenger or that they actually did throw up in your car.
Each minute of recording is captured in 2K resolution, 108 megabytes give or take per camera which means you will need to have a larger SD card if you're wanting to be able to prove without a doubt you were a perfect driver a couple of weeks ago. With two cameras rolling you'll fill up a 256gb SD card in about 19 hours of driving. Add in a rear view camera like I did and that drops to about 12.
Things to think about. On my trip every night at a hotel I would set up the laptop and spend about an hour copying data from the SD to an external hard drive, but that's not your average use case obviously. If you need to grab and save any data you can connect to the camera via Wi-Fi and save anything to your phone if you suspect a passenger is going to be a problem.
Videos get written over, oldest to newest when you run out of space. And for most drivers I would expect that just a good 256gb card would do just fine.
If you're a parent I might suggest getting the commercial version of the dashcam just to make sure your kid was buckled, not being a jerk, and not looking at their phone while driving. You don't have to be a commercial driver to see the obvious use cases for proving someone was not flipping the bird to a police officer while on their phone when they got into a fender-bender.
Paul picks on everything
The Ultradash series has a really cool feature of a magnetic lock/attaching mechanism. It's strong, the unit is not going to fall and for the past 8000 miles I've been using the Z3 series it's never been an issue. The one issue I now have is when I disconnect the Z3+ Commercial with the additional USB-C connected rear camera (which is not listed on their site for purchase today for some reason) you've got a wire (rear cam) you have to finagle.
I don't generally remove my Dashcam, but staying in some sketchy parking lots across the US on this trip, I did at night. It wasn't so much that I expected anyone to steal anything, but I did not want the vacation ruined because someone decided to break my windows out to get to something they thought was valuable. I took anything shiny in.
You don't realize how convenient being able to snap in a dash cam is until you then have to fiddle with the USB connection for another camera. Not an issue when I'm on home turf but yeah.
The suction cups for the Z3 series seem to be susceptible to 110F heat and will pop off after a few days in it. Not a normal concern but something to note if you're in Arizona. This relates to a different Cansonic camera with the same suction cups (wife's car,) as I don't think this trip exceeded 95F.
The firmware the Z3+ Commercial shipped with does not put the rear camera into the protected folder in the event of an accident or button push. The updated firmware does. Make sure you update that firmware. It'll take you about a minute and save a little effort tracking down things.
Pressing the "save this" button only saves the current minute.
As this is the commercial version, and it is Wi-Fi, it would be really useful to have a method available to unload data either immediately or after a shift to a computer or to the cloud in case a passenger comes at you two weeks from now.
The wiring is almost seamless, but the power cable has a ferrite choke/EMI filter at the end of it. The power cable also appears to come in as a USB-Mini as opposed to a USB-C which the rear camera comes in as. Let's just go with USB-C and get rid of these… that's a personal opinion, but it's the right one ;)
Quick features list
Wi-Fi connection while camera is not recording allows you to view cameras or recorded videos. This is mainly useful when you want to show an officer that no, the light was green. The unit can not record while in Wi-Fi mode which I believe could be an issue if you're wanting to record your interaction with an officer while showing them the video, but that's a pretty slim event space.
An additional wiring kit allows you to have the camera recording at all times. This would have been useful on my trip as we're pretty sure a bear was checking the car out in West Yellowstone (bear pawprint on the side).
Audio recording is generally good. Evidently it's not so great during a rain storm. Things you learn.
In general, once this is set up and running you can ignore it, and that's great.
Overall
The Cansonic UltraDash Z3+ Commercial captured some amazing video you see sped up here, a lot of funny video of my kids in headphones singing in the car (not seen here) and most importantly I never had to do anything with the unit for it to function. I mean, I did so I could get the video off because 10+ hour days of driving filled it up again and again, but yeah, great 2K per camera recording, smooth 30FPS 2560×1440 video at about 14335kbps.
You can grab the commercial or non-commercial versions of the Cansonic UltraDash Z3+ at Amazon or on Cansonic's website. Make sure you get the version that's right for you.
UltraDash Z3+ Commercial
The dual-lens Cansonic UltraDash Z3+ commercial edition records your passengers and the road. The addition of a third camera allows for rear video behind the passengers should you want complete road coverage.
Product Brand: Cansonic
Product Currency: USD
Product Price: 199.97
Product In-Stock: InStock
Pros
Works out of the box with or without an app
Extremely clear images day or night
Usefulness
Cons
Ferrite bead/choke causes wiring to be noticeable.