Sonoff NSPanel Pro Control Panel for smart homes
The idea behind the Sonoff NSPanel Pro is a central location to control all your smart stuff (cameras, thermostats, security systems, locks, etc.) a Zigbee gateway, an intercom, and a device that can extend and connect many things together.
I'm not fluent in the Zigbee universe, so my initial impressions are it's a square Android device with the ability to act as a Zigbee 3 to Wi-Fi gateway and connect as a provider in my Google Home ecosystem.
I was sent the NSPanel Pro with a few Zigbee devices that are not part of the consumer package and were for reviewers like myself who don't exist in that ecosystem. I've been Wi-Fi / Google Home for quite a while, so this was an interesting device to add as I have previously been out of the Zigbee world for lack of a Wi-Fi to Zigbee gateway, which this provides. So that's cool.
My initial testing of this was interrupted by a vacation, my wife's car exploding, and a child issue which kicked them from camp, so a lot of this has been delayed and has been done over the course of two releases of the software.
The TL;DR version is that it's a good piece of hardware and has potential, but what I received needs some work… not much, but it's not perfect yet.
I'm going to start this review with the nitpicking and we'll get into why it's cool later.
Nitpicking the thing
"Build-in" Sonoff? Really? (website)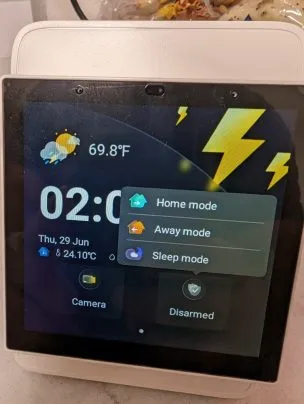 Lack of overall localization options mean if you live in a country where F is the standard, which it is where I live, you're going to have mixed measurements. In the above case, the external thermostat/hygrometer they sent for demo purposes only sends back C. So we end up with a screen with 69.8F as the weather in my area, and 24.10C at the thermostat. Picture above.
Is this going to happen to anyone but me? Probably not. But be aware it's a possibility and it was shipped to me that way (they're not sending you a bunch of items to test it with).
Zigbee devices you can add right from the panel, Wi-Fi devices have to be added from the app. The camera I added my phone ended up chirping like a robin to pair to my network. I know why they have to do this, but from a consumer standpoint it would be much cooler if the NSPanel Pro could accomplish this without sideloading an app.
The lack of a hall effect sensor, IR or camera methods of telling when you are in front of the panel mean it's a black screen until you touch it or it's always on. The Nest Hubs have spoiled me on a device that wakes up when I'm there.
My nitpicking ends here at the moment.
Setup
The device is designed to be able to be wired in the wall, looking extremely cool, or placed into a plastic shell that can be sat on a stand. I went for the plastic shell because I live in a 1940's house with plaster walls and let me tell you – that is not a mounting and wiring job I want to undertake.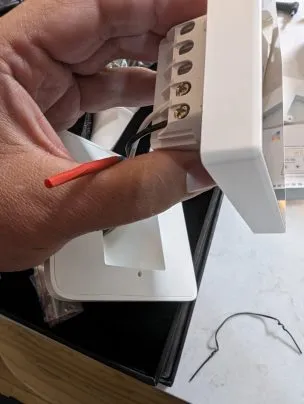 The step by step setup was easy to accomplish and within a few minutes I was up and running with my first Zigbee device, and finding my first non-Sonoff Zigbee device bug (this one had a bug in the firmware that wouldn't allow it to switch from C to F meaning only most of the world could use it without issue.)
The NSPanel Pro was very obviously an Android device from the moment I had to type in something on the on-screen keyboard, but that was confirmed when I went looking for something and found out how to enable ADB on the NSPanel Pro. So should you wish to sideload Angry Birds, you probably can.
How do you review a device that can do anything?
Since the release of the NSPanel Pro it's been getting updates. I've been reading several reviews about how it launched without some features which are in the version I was sent. At the moment it appears to do nearly everything I can think of that a home control panel would need to do, and with the ability to ADB sideload anything, it can do more.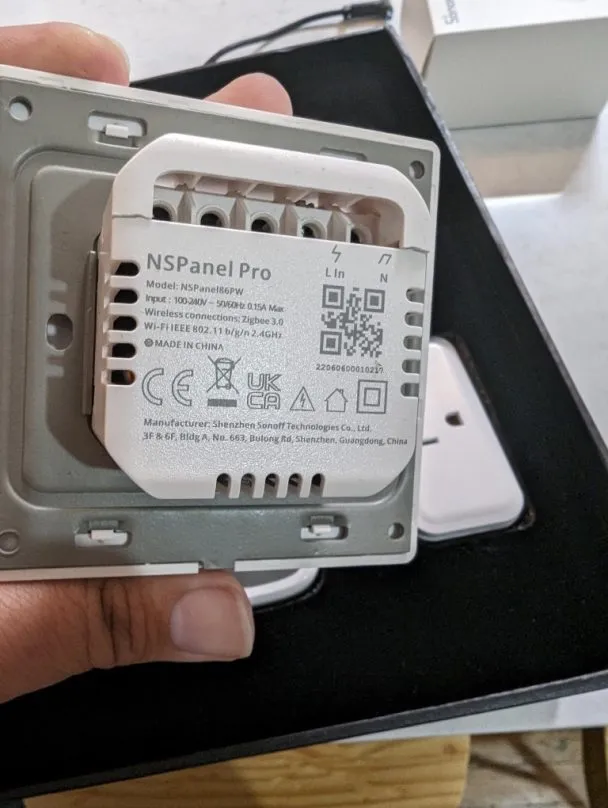 It does not appear, or I have not been able to be able to, reach through and connect to devices that are connected to other home ecosystems. A device is connected to the NSPanel Pro, or it's not accessible. Probably not a problem if you're coming from a ZIgbee environment, but as I'm coming from the Google Home ecosystem I've got a lot of things I would need to move to connecting to the panel if I wanted to control them. I would love to see my Sense and Emporia energy stats on this.
The sheer number of bulbs/devices I have connected through "Smart Life" that I would like accessible through this panel is staggering.
Final thoughts
I don't think I'm currently the target audience for this. Had I started down the Zigbee path a long time ago this would have been amazing, but I didn't. I can only compare it to the Google Home ecosystem, and there it feels a bit lacking. That said, it's obviously still under development and is reaching what they claimed they would.
I wish I had a few of these panels so I could actually set up an intercom. That's something my house needs that Google Home device's "broadcast" function woefully fails to be useful (ah yes Google, I would like you to repeat my words 3-7 seconds later at full volume on every device in the house just slightly off).
From a hardware perspective I believe this device could do anything, and with the documented API you can do pretty much anything you want with it.
Very neat, not quite where I want it to be yet, looks like it's still under active development. That said, never buy on the promise that something will become something else. It's good right now though.
It's available now through Amazon
NSPanel Pro
The NSPanel Pro is a zigbee to wi-fi gateway and a touch screen home control hub, only limited by its current software
Product Brand: Sonoff
Product Currency: USD
Product Price: 119.00
Product In-Stock: InStock
Pros
Configurability
Usefulness
Cons
Localization options
Setup experience