First impressions of the AT&T Tilt (HTC TyTN II)
Many people view the AT&T Tilt, the U.S. version of the HTC TyTN II, as the "holy grail of smartphones" and consider it to be a serious upgrade to most Windows Mobile devices currently on the market. While I don't take issue with any of those claims, I actually bought one as a downgrade to my HTC Advantage X7501.
It arrived yesterday from AT&T's online store, so there's still a lot for me to do and learn before I can write a full review. What I did in the meantime, though, was put together a bunch of photos, my first impressions, and some other details about the Tilt. Have a look below.
Backstory
Before I continue, I should explain why I bought the Tilt when I've been happily swapping SIMs between my iPhone and Advantage for the past few months. The reason is simple: after my recent trip to Vegas, where I kept the iPhone in my purse while out and the Advantage tethered via Bluetooth to my Fujitsu U810 so I could get online in the hotel, I discovered that swapping SIMs every single day is a pain. Prior to Vegas, I'd leave the SIM in one of the units for weeks at a time.
I have two more trips coming up within the next few weeks, so I wanted a single device that 1) was small enough to use as a cell phone at all times and 2) could share its HSDPA connection with a computer over Bluetooth. A device running WM6 was also a must, as I have a lot of software for the Advantage that I wanted to "reuse."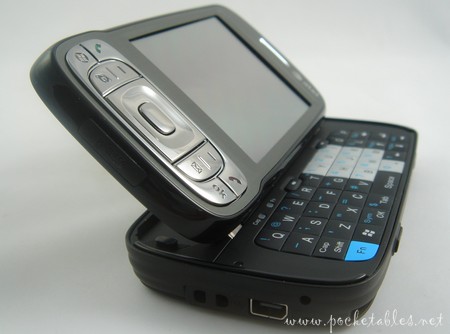 Many devices met my criteria, but I chose the Tilt because of its keyboard, tilt-able display, resemblance to the Advantage (which I still use), and high praise from bloggers whose opinions I respect and trust. It was also only $149 after mail-in rebate at the time (current price is $299 after rebate).
System specifications
I haven't talked about the Tilt before, so here's a quick rundown of its specs.
Operating system:

Windows Mobile 6.0 Professional
Processor:

400MHz Qualcomm MSM7200
Memory:

256MB ROM, 128MB RAM
Expansion:

microSD card slot (up to 32GB supported)
  Connectivity:
802.11b/g, Bluetooth 2.0, GPS
Network:
Tri-band UMTS/HSDPA
Quad-band GSM/GPRS/EDGE
Camera:
3.0 megapixels (auto-focus, no flash)
Display:
2.8" QVGA touchscreen (240 x 320, 65K colors)
Dimensions:
4.4" x 2.3" x 0.73"
Weight:

6.0 ounces
Battery:

1320mAh rechargeable lithium ion
(up to 4 hours talk time, 8 days standby)
Unboxing
The Tilt isn't packaged as nicely or presented as well as its HTC TyTN II counterpart, but I was so excited to get the phone out that I barely noticed.
The carrying case and wired headset bundled with the TyTN II aren't included with the Tilt (boo!), so all that's in the box are a screen protector, various quick guides and paperwork, li-ion battery, AC charger, mini-USB sync cable, extra stylus, and 3G SIM card.
Setup
The Tilt's battery ships only partially charged, so the first thing I did was insert and charge it. The scary activation instructions, which are flanked by stop signs and frighten users with its overuse of capital letters ("READ FIRST: To activate your phone/device & service, you must follow these steps IN ORDER"), list battery charging as STEP 1 as well.
The entire back plate of the phone acts as the battery cover.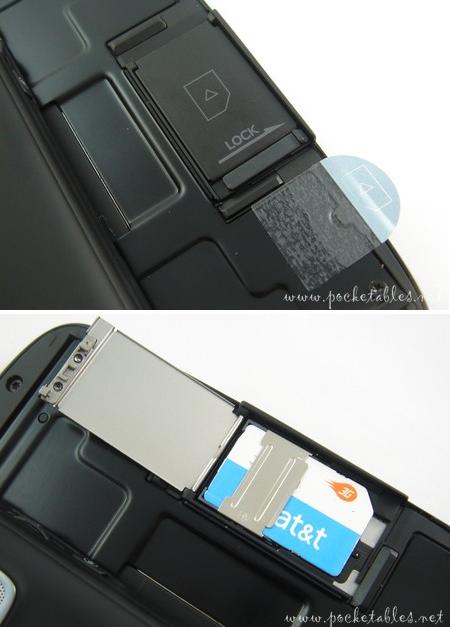 The SIM card slot is located (very conveniently) behind the sliding display. I put the included SIM back in the box and installed my already activated iPhone SIM instead.
After the phone was fully charged (about 3 hours using the AC charger), I turned it on and watched an animated AT&T startup screen followed by a Windows Mobile splash screen.
I calibrated the touchscreen with the stylus next and then waited a few minutes for the configuration and "custom app" installation to complete.
My SIM was recognized immediately and the default Today screen, ready for tweaking and customizing, was displayed.
And that's it.
I connected the Tilt to my Vaio TZ, which already has Windows Mobile Device Center up and running for syncing with my Advantage, and was set up and synced within minutes.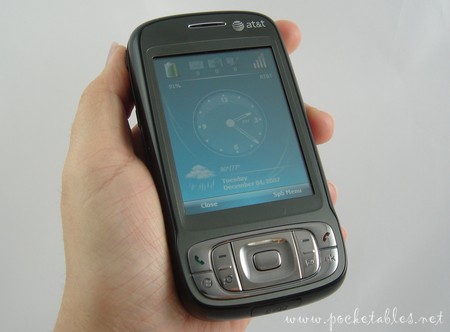 I've been spoiled by the Advantage's spacious 8GB microdrive, so I haven't decided what to put on the Tilt yet (I'll do that in the next few days), but the first thing I did was install Spb Mobile Shell and Spb Pocket Plus. They're absolute must-haves for me.
Hardware

My knee-jerk reaction upon first seeing the Tilt in person was one of shock.
The device was enormous. It looked like a big fat brick.
I understand now that my perception of size and weight was skewed by months of daily iPhone use.
Because as soon as I put the Tilt beside my old Treo 650, which I used exclusively for about a year, I stopped thinking it was a monstrosity and assessed its hardware.
Here's what I saw.
On the bottom half of the unit are a wrist strap loop, mini-USB sync/AC charger connector, and microphone. Above that is microSD card expansion slot.
At the top left of the Tilt are a Push-to-Talk (PTT) button, jog dial, and OK button.
A stylus slot, camera button, and power button are on the right side.
And on the back is an external antenna port and GPS receiver (beneath rubber piece), 3.0-megapixel camera, and speaker.

The backlit controls beneath the Tilt's 2.8-inch display are shinier and more chrome-looking than on the TyTN II.
Display
The Tilt's most unique feature and its namesake is, of course, the slide-and-tilt display.
The sliding mechanism is smooth, strong, and somewhat spring-like in that a gentle nudge is all it takes to slide up the display and expose the keyboard (more on this below).
The display is attached to the rest of the unit with two hinge-like connectors that offer enough resistance to enable the screen to be positioned (or tilted) at any angle. There aren't any preset notches, so the display can be adjusted to suit just about anyone's tastes. I thought there would only be two positions (not tilted and tilted), so it's great that there are a lot more.
Keyboard
Hidden under the display is a backlit 41-key QWERTY thumboard with the dial pad highlighted in silver.
I haven't used the keyboard enough yet to form an educated opinion, but it seems pretty good out of the box. All of the keys are within easy reach and they offer enough tactile feedback to make touch typing a definite possibility (with practice, of course).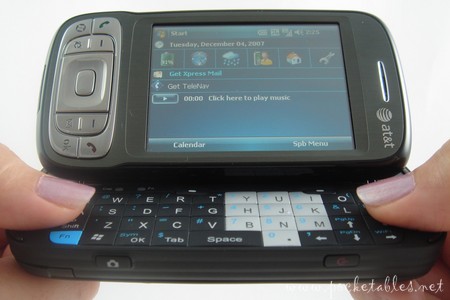 Like most thumboards, this one isn't made for girls with long fingernails, as pressing a key with the tip of a thumb often results in simultaneously pressing an adjacent key with its nail.
Early wrap-up

Since this isn't a real review and I only got the device yesterday, I can't really draw any informed conclusions about the AT&T Tilt. My outlook at the moment is very positive, as everything has gone very smoothly and I haven't experienced any hiccups or crashes.
HTC continues to impress me with its thoughtful designs and exceptional build quality, both of which are definite characteristics of the Tilt. I'm looking forward to using it as my primary mobile phone and will continue to share my experiences and thoughts in the coming weeks and months.