Review: Toshiba gigabeat T400
When the gigabeat T400 launched in September 2007, Toshiba was confident that its 4GB flash player would be the answer to the "call for a change in the status quo."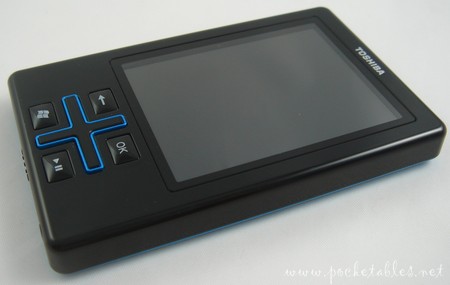 The T400's H2C sound technology, WMA Lossless support, and affordable pricing are part of the backbone of Toshiba's claim that consumers need "real alternatives" and, of course, that the gigabeat T-series is it. But is it really? Find out in my full review below.
System specifications
| | |
| --- | --- |
| Capacity: | 4GB |
| Supported audio: | MP3, WMA, WMA Lossless, WAV |
| Supported video: | WMV (320 x 240, 30fps, up to 800kbps) |
| Extras: | Photo viewer |
| Display: | 2.4" LCD (320 x 240, 260K colors) |
| Dimensions: | 3.37" x 2.13" x 0.4" |
| Weight: | 2.05 ounces |
| Colors: | Black with blue, orange, or pink trim |
Be sure to check out my gigabeat T400 unboxing to see the player's packaging and included accessory bundle.
Design
The T400 is housed in what Toshiba calls "brushed black metal alloy," but it really looks and feels like glossy black plastic to me. The accent color (also available in orange and pink) surrounding the PlusPad navigational control and on the back edges of the device, on the other hand, does seem to be made of metal.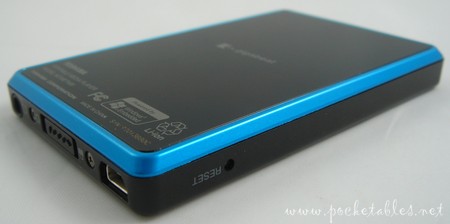 Whatever the material, the player is fashionable without being too trendy and feels sturdy and smooth in the hand.
It's difficult to tell from the pictures, but the black "plastic" is incredibly glossy and merciless about fingerprints. They wipe away cleanly and without scratching the player, but it can get unsightly pretty quickly. If you're smudge-phobic, you may want to invest in some gloves before picking up a T400.
Size
The gigabeat T400 measures 3.37 x 2.13 x 0.4 inches, making it larger than most of its competitors.
It's still small, lightweight, and easy to slip unnoticed into your pocket, but unlike with other players, size isn't one of the T400's defining characteristics. For example, most people associate the 3G iPod nano with its extreme thinness or the iriver S10 with its tiny footprint.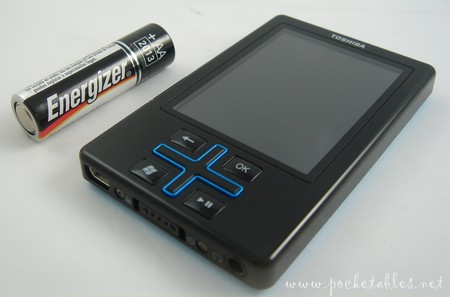 Whether this is a mark for or against the player is a matter of personal tastes and opinions. I think the T400 is right on the edge of being considered too big for a 4GB flash player for most consumers, but that's just me.

Shown above is the gigabeat T400 beside and beneath the Sony A810 Walkman, iriver clix 2, Sony S610 Walkman, Apple iPod nano (3G), and Creative Zen V.
Display
The main reason for the T400's larger dimensions, of course, is its larger 2.4-inch display.
The 260K-color screen takes up nearly three-quarters of the player's face! Viewing angles are good, but better when the unit is directly in front of you.
Five levels of screen brightness make the display readable under just about any lighting condition. Daylight and even direct sunlight aren't as much of a problem as they are for other players, so the T400 fares well when used outdoors.
Text is crisp and easy to read, while photos and videos are bright and colorful. There is some lack of detail in certain images (it's only a 320 x 240 screen, after all), but I can't detect any color banding or other reproduction inaccuracies.
Controls
All of the gigabeat T400's navigational controls are on the front of the player.
The main control is the aptly named PlusPad, the four-way directional button in the shape of a plus sign and outlined in blue (orange and pink also available). Pressing up or down increases or decreases the volume, while left and right moves backward or forward in the system.
Separated by the PlusPad are four buttons: (clockwise from top left) the back arrow returns to the previous screen, the OK button confirms and launches various functions, the play/pause button controls playback of media content, and the Windows Start button calls up the home screen.
The controls are all raised (the buttons are actually a bit "puffy") so they're easy to find and press. Tactile feedback is excellent. The gigabeat T400, unlike devices with touch interfaces or unintuitive controls, is definitely a player that can be used blindly.
At the bottom of the unit is a USB 2.0 port, power/lock switch (slide left to lock the player, slide right to turn the player on and off), and headphone jack.
Except for a reset pinhole on the left, the rest of the T400's sides are completely bare.
User interface
Although Toshiba and others seem to have turned a blind eye to its inclusion, the gigabeat T400 is running on the defunct Microsoft Portable Media Center (PMC) interface that was supposed to have been killed in 2006.

The miracle of resurrection aside, the interface is immediately familiar to anyone who has or uses an XP-based Windows Media Center PC. The carousel-like menu system (horizontal options, vertical scrolling lists) hasn't been updated to reflect how Media Center currently looks in Vista (PMC is supposed to dead, remember?), but it still looks pretty current.
Even those unfamiliar with Media Center should have no problem picking up the gigabeat T400 and using it without reading the manual. Everything is self-explanatory and nicely matched with the hardware controls. Menu transitions and effects, though not always instant, are smooth and pleasing to the eye.
Transferring content
The T400 is an MTP device, so it is only compatible with PCs running Windows XP SP2 or higher. Presumably because of the PMC interface, Toshiba suggests throughout the user's guide that the only way to transfer media to the gigabeat T400 is through the use of Windows Media Player 10 or 11.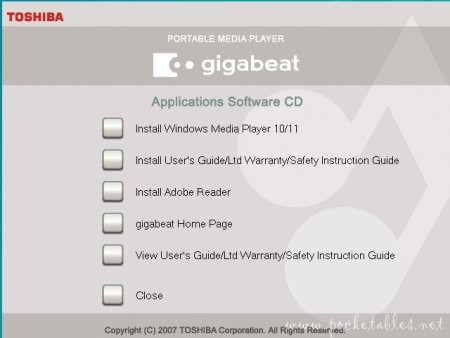 In fact, one footnote in the guide (page 30) even goes so far as to say this:
Always use Windows Media Player 11 or 10 when transferring data to the gigabeat. Never use any other method of transfer.
Geez. While syncing with WMP is obviously recommended by Toshiba, it is not the only way to get your music, photos, and movies onto the player.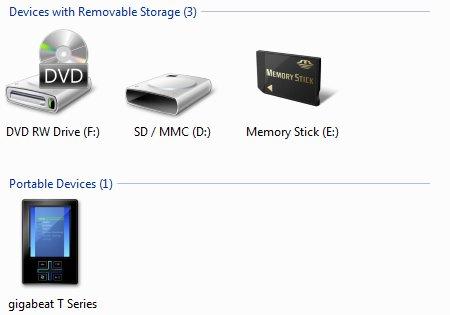 Music management software like Media Monkey and Winamp will also do the job just fine, but my favorite method (and the easiest, as far as I'm concerned) is simple drag-and-drop through Windows Explorer. Just connect the gigabeat T400 to a computer with XP SP2 or Vista, wait for the appropriate drivers to be automatically installed, click on the icon that appears under "Portable Devices" in "My Computer," and drag-and-drop to your heart's content.

The "Pictures" and "Video" folders were already on the player when I first plugged it in, the "Music" folder and WMPInfo file appeared after I synced with WMP, and the "Piano Collection" folder (which contains five subfolders of music) is one that I manually added afterwards.
The system doesn't differentiate between what is synced or loaded via drag-and-drop. All media is listed together with ID3 tags and album art correct and intact (assuming they were in order to begin with), so there's no compelling reason for me, personally, to use anything but Windows Explorer. Software is required for managing and syncing playlists, but I'm more of a "play all" or album/artist-specific kind of listener.
Audio
Speaking of listening (and remembering how all of our ears and preferences differ), I have to say that the sound quality of the gigabeat T400 is excellent.
I don't know much about the H2C audio enhancement technology inside the T400, but based on what my ears tell me, when Toshiba says in its press release that H2C "improves the quality of compressed audio . . . by restoring some of a song's treble and bass signals that get lost when tracks are ripped," they mean it.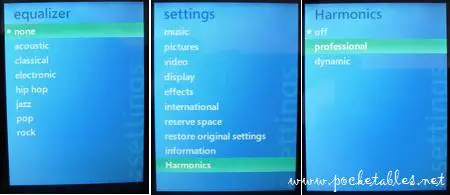 Treble and bass compensation are achieved through the Harmonics function in the settings menu. Both settings compensate treble, but only "dynamic" enhances bass. Depending on the quality of your earphones, the effects may be incredibly subtle. With my Sennheiser CX300S IEMs, I honestly couldn't hear much of a difference. The T400's preset EQs (acoustic, classical, electronic, hip hop, jazz, pop, rock) seem to muddle the sound a bit, so my preferred settings are to keep Harmonics off and the EQ set at "none."
The player's sound quality shines on its own and, according to my ears and IEMs, really doesn't benefit from any of the enhancements.
Songs can be played instantly by pressing the play/pause button or added to a Quick List (on-the-go playlist) by pressing the OK button and selecting the "add to quick list" option.
There are three playback screens that can be cycled through with the OK button as well as playback selection, song list, and settings screens that can be viewed while listening to music.
The "purchase" option in the settings menu is meant to tag songs you'd like to buy (which doesn't make sense since you already have the track on your player) and trigger a relevant web page to display the next time the T400 is connected to a computer. It didn't work for me, but you may have better luck.
Video
The gigabeat T400 supports WMV files at 320 x 240 resolution with a bitrate of up to 800kbps.
The device can be configured to play videos in landscape mode by default. The PlusPad functions rotate along with the screen, so there's no brain retraining necessary.
Toshiba preloads the T400 with a WMV that looks more like a floral slideshow than anything else (you can see part of it in the video below), but I dragged-and-dropped a few music videos and TV show episodes and watched them with no problem. More codec support would be a great improvement, as most DAPs these days are compatible with much more than just WMVs.
Extras
The gigabeat T400 doesn't have much to offer in the extras department. There is a "reserve space" option in the settings menu designed for allocating up to 2GB of storage space to photos ret rieved directly from a digital camera, but as with the "purchase" function, it didn't work for me. I'll update this section if I can get it working later, but for now, the only real extra feature is the photo viewer.
Photo viewer
Images in JPG format can be stored and viewed on the T400 individually or in a slideshow (with or without music).
Sorted by date and by folder, pictures can be displayed in landscape mode, zoomed in, and shuffled. The T400's large and colorful screen make for a nice portable photo album that can be shared with friends and family.
Player in action
Here's a really quick video of the gigabeat T400 in action.
Battery
The non-removable li-ion battery inside the gigabeat T400 is rated by Toshiba at up to 16 hours for audio and 5 hours for video playback. Actual runtime varies according to screen brightness and other factors, but I've found the estimates to be pretty accurate.
Conclusion
Priced at just $120 and available for as little as $100 on Amazon
, the Toshiba gigabeat T400 is a capable and well rounded digital media player that can hold its own against fuller featured and more expensive devices. Video codec support and storage capacity are limited and extras like an FM radio or voice recorder are missing, but the T400's terrific sound quality, ease of use, and affordable price tag more than make up for it.
Printed on the T400 retail box is the phrase "see the world with ears wide open." I thought it was ridiculous at first, but now I'm definitely listening.