Hands-on with the UMID M1 mbook MID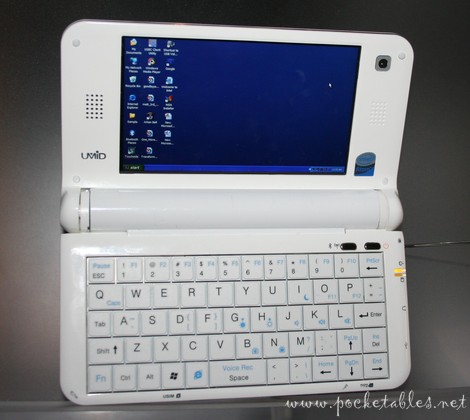 After learning that the UMID M1 mbook MID is due for release in the US this summer, I spent some time using the device at the Intel booth to figure out whether my gadget collection could use an 11.1-ounce clamshell running XP (Vista and Linux are also options) on a 4.8-inch touchscreen with a 1024 x 600 resolution.
The glossy informational pamphlet being handed out by a UMID representative indicates that the M1 can be configured with a 1.33GHz Intel Atom processor and 1GB of RAM, but the display unit was equipped with the slower 1.1GHz CPU and half the RAM. XP on 512MB runs like Vista on 1GB to me, so there was some lag here and there. It wasn't sluggish in a VIA C7M sort of way and it was tolerable to me (a non-power user), but I'd be surprised if anyone thought the device was fast.
The touchscreen was unresponsive at times, even using the stylus, so I often wished for a small touchpad or trackstick to get around the Windows environment.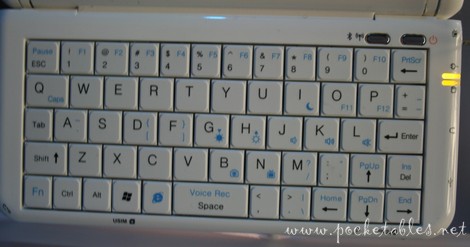 Once I got the cursor where I wanted it on screen, though, thumb typing was really nice and comfortable. The width of the UMID (6.2 inches) felt perfect. It's about a half-inch narrower than the Fujitsu U810/U820, so there wasn't any awkward thumb stretching involved. The keys had a good feel to them, no flex, and were easy to press.
The keyboard was too small for me to touch-type on (hunting and pecking was fine), but your mileage may vary.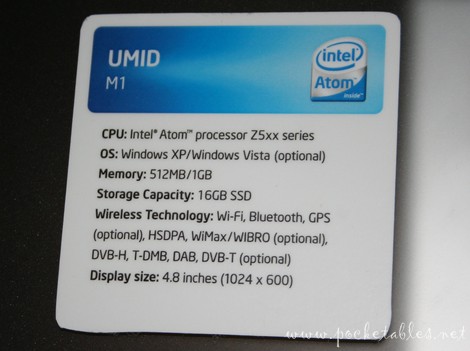 The WiFi at Intel's booth was really overloaded, so the signal strength on the UMID ranged from zero to one bar and was rarely able to load a page completely. There shouldn't be too many surprises in terms of web browsing, though, as the device runs a full Windows operating system and can be loaded with any desktop browser.
The M1 mbook was one of the most popular MIDs at the Intel booth but while I certainly wouldn't turn one down if it was offered to me, I'm not counting down the days until it's released either. Maybe when the price is announced and I get over my Vaio P lust (only satisfiable by ownership of one, of course!), I'll think about the UMID again.