Review: Fujitsu LifeBook U810
The Fujitsu LifeBook U810 mini notebook is part of the second wave of UMPCs running on Intel's new energy-efficient Ultra Mobile Platform. The U810, first introduced as the FMV-U8240 (and also known as the U1010 and LOOX U in other regions), launched in the U.S. in August 2007.
It was a significant occasion not only because it marked Fujitsu's entrance into the handheld PC market, but also because the Vista-based unit lacked two of the most highly criticized characteristics of previous devices: high price and short battery life. At the time, a UMPC priced at under $1,000 and boasting up to 5.5 hours of runtime on a single charge was merely the stuff of dreams. But there it was, very real and tucked inside an instantly familiar compact convertible shell.
System Specifications
When launched, the LifeBook U810 was not as configurable as it is today. At the time of this writing, currently available and upcoming options include built-in WWAN, solid state disks, operating systems, colors, and HDD size.
What follows are the specs of the base unit, which I purchased directly from Fujitsu about a month after it began shipping and is the subject of this review.
| | |
| --- | --- |
| Processor: | 800MHz Intel A110, Intel 954GU Express chipset |
| RAM: | 1GB DDR2 SDRAM (no DIMM slots for expansion) |
| OS: | Windows Vista Home Premium |
| Storage: | 40GB shock-mounted HDD (4200 rpm) |
| Expansion: | Compact Flash and SD card slots |
| Display: | 5.6" passive touchscreen (1024 x 600) |
| Wireless: | 802.11a/b/g, Bluetooth 2.0 |
| Size: | 6.73" (W) x 5.24" – 6.0" (D) x 1.04" – 1.26" (H) |
| Weight: | 1.56 lbs. |
Click over to my U810 unboxing for photos of the packaging, included accessories, and the factory-fresh mini notebook itself.
Additional accessories, such as a dock and several cases (including the executive leather portfolio), are available separately from Fujitsu and other retailers. There are also a number of unofficial case alternatives that work well with the U810 such as the Tumi T-Tech Flow accessory tote and Elecom ZeroShock III portable CD/DVD drive case.
Design
The convertible notebook form factor adopted by the handtop is one that is immediately recognizable to just about everyone. There are several thoughtful elements present that bring innovation to an otherwise familiar design (more on this later), but in general, the U810 looks exactly like a typical laptop or tablet PC, just in miniature form.
One of the main advantages of the design is its versatility. Within seconds, the computer can go from being a standard notebook (set on a lap or table) to a mobile device (held between both hands) to a slate/tablet. Nice!
Unlike in other parts of the world, Fujitsu offers the U810 to the United States in just one color: black. I haven't seen the white, red, and blue tops that are available elsewhere in person, but if they're anything like the U810 I've got in my hands, their finish is smooth and scratch-resistant.
There's even a touch of silvery shimmer mixed in for good measure.
Overall build quality is good, but not outstanding. The shimmering topcoat used on the top of the U810 is absent from the rest of the casing, which is fashioned largely out of somewhat flimsy matte plastic. The silver trim (also plastic) actually popped out of place on my unit and was able to be "bent" back into position with little effort.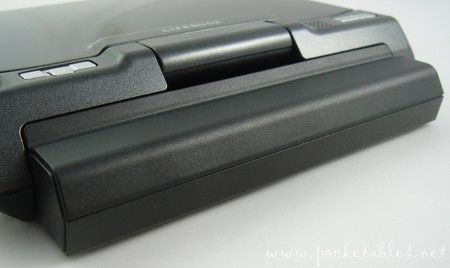 The extended battery that ships with the U810 doesn't lay flush against the unit the way the standard one does (photo here), so the unit's general cuteness and aesthetics are definitely challenged by the battery's slightly wobbly 0.76-inch protrusion.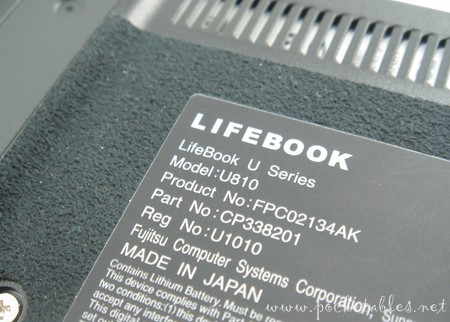 Large pieces of suede are affixed to the bottom of the U810 for heat reduction; they also give your fingers some nice textural variation when holding the unit in your hands.
Size
At 6.73 inches long and 5.24 inches wide (not including the battery), the Fujitsu U810 can easily sit in the palm of a hand. It obviously won't fit into a standard-sized pocket, but it can slip into most bags, backpacks, and purses quite unobtrusively.

For more photos illustrating the unit's size in relation to other gadgets and common items, please take a look at my U810 size comparison gallery.
Display
The mini notebook is equipped with a swiveling 5.6-inch WSVGA Crystal View touchscreen display.
The display can be positioned to suit just about anyone's liking, so viewing angles are excellent. Also top-notch are screen brightness, color saturation, and clarity/crispness. WSVGA resolution (1024 x 600) on 5.6 inches is really nice: no squinting, dryness, or any eyestrain at all, even after hours of continuous screen gazing.
My main complaint about the display is that it's incredibly reflective. Maxing out brightness levels, while detrimental to battery life, helps to reduce the mirror-like quality of the screen under natural light and makes the U810 usable wherever indirect sunlight shines indoors. Reflection and glare are happily nonexistent in low-light situations or under artificial lighting.
Orientation
Screen orientation can be rotated a full 360 degrees. It flips automatically when swiveling the screen (clockwise direction only) to convert the notebook into a slate but can also be adjusted manually to suit personal preferences.
When used in landscape slate mode, the controls are actually designed to be above the display, not below it as shown above, so that the mouse pointer is under your right thumb. (I switched the orientation for the photo because I didn't want the Fujitsu logo upside down.)
Touchscreen
The U810 is outfitted with a passive touchscreen that responds to both styli and fingers. Responsiveness is a bit low, as a fair amount of pressure is needed for the system to register the touch, but it helps to combat vectoring when inking. Tablet PC functionality is built into the unit's Vista Home Premium operating system, so TIP, handwriting recognition, and gestures are all supported.
The writing area is small, but the bezel provides a wide enough palm-rest to make inking slightly more comfortable. The experience isn't on par with a full-size tablet PC, of course, but given the size of the unit and the screen, it's not too bad. With a little practice, it could be a decent note-taking companion at meetings and other events.
Controls
In addition to the convertible design, the navigational controls on the U810 are key to the unit's usage versatility.
The main controls are located on either side of the display's hinge and can be accessed whether the clamshell is opened or closed. From left to right are the mouse buttons, mono speaker, down/Fn/up buttons, and pointer, which Fujitsu calls the cursor control. Have a closer look below.
Mouse Buttons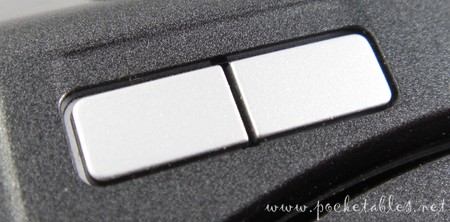 These two buttons correspond to the left and right buttons on a standard mouse. They're nicely sized, easy to press, and well positioned.
Down/Fn/Up Buttons
On the other side of the display hinge is a set of three smaller buttons with icons and lettering printed on them in white (the picture had to be taken in low light for the white, which looks gray above, to show up).
The arrow keys take care of scrolling and can also page up/down when used in combination with the function (Fn) button. Pressing Fn once enables the secondary functions of the other buttons; pressing it twice launches the Fujitsu Menu Utility, which allows quick access to system settings.
The relatively small size of these buttons may be tricky for those with large hands to maneuver. Their size is better suited for index fingers, but their placement suggests mostly thumb use.
Cursor Control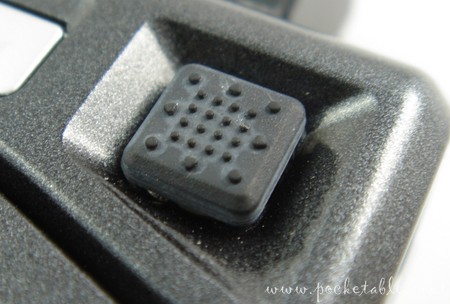 The cursor control, or mouse pointer, is a rubber square with a bumpy surface that acts as grip for your thumb. Aside from a very rare appearance of "mouse drift," which I've seen only twice in the last 2.5 months, the pointer does an accurate job of controlling the on-screen cursor. The motion is fluid and easy to get used to.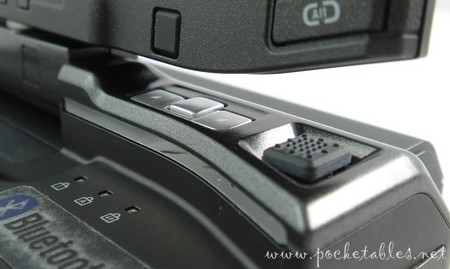 Using the pointer when the U810 is in standard notebook mode is a little awkward due its placement, but it gets the job done. A trackpad similar to the one on the FlipStart 1.0 might not be a bad addition on the next-gen U810.
Additional controls and other features are scattered around the screen bezel.
A VGA webcam and microphone are built into the top.
Stylus Slot
Next to one of four rubber stoppers on the bezel is the silo/slot for the telescoping metal stylus.
Fingerprint Scanner & CAD Button
At the corner below the stylus slot are the fingerprint scanner, which uses Softex OmniPass software, and a dedicated Ctrl-Alt-Del button (see the "C" and "D" encircling the "Alt"?) that performs the action of a standard CAD command on a keyboard when held down for two seconds.
LifeBook Application/Tablet Buttons
To the left of the scanner/CAD key and centered below the display panel are a set of three buttons that Fujitsu collectively refers to as LifeBook Application/Tablet Buttons. All three have preprogrammed primary functions as well as user-defined secondary functions.
The first button (/) is mapped to toggle the keyboard headlights on/off, the second (//) brings up the tablet PC input panel (TIP), and the third rotates the display in 90-degree increments. Pressing any of these buttons after pressing the Fn button performs a pre- or user-defined action (e.g., display switching, launching programs).
The keyboard is given its own section below, so let's skip over it and explore the rest of the U810's hardware.
Status Indicator Panel
Below the keyboard is a foursome of status indicators (left to right): battery charge/DC-in, battery level, hard drive access, and power.
I/O Ports
A quick look at the I/O ports was already given in my Fujitsu U810 unboxing, but since about 11 weeks have gone by since then, it's worth repeating here.
On the left side are the wi-fi/Bluetooth switch, power port, SD card slot, volume control, microphone jack, and headphone jack

On the front is the port used to connect the optional docking cradle
and supplied VGA/LAN adapter.
A Compact Flash slot, power switch, USB 2.0 port (beneath thin plastic door), and vents that blow out hot air directly onto your palm when you're using the mouse pointer are located on the right side of the mini notebook.
Keyboard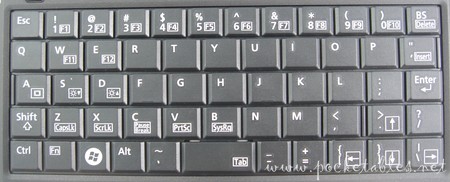 The Fujitsu LifeBook U810 is equipped with a 56-key miniaturized keyboard that looks and feels very much like a standard keyboard.
Key Pitch & Key Stroke
While most full-size keyboards generally have a 19mm key pitch (distance between keys) and 2.5mm key stroke (distance keys move when pressed), the U810's keyboard has a 14mm pitch and 1.3mm stroke.
These numbers may not sound promising on paper, but for five rows of keys set into a space measuring a hair over 6 inches, they're actually quite good.
UMPC Typing Mode
Two-handed thumb typing requires some stretching on account of the keyboard's width, but the generously sized, easy-to-press keys make up for it.
While most chiclet-style thumboards require deliberate presses of tightly spaced keys, little more than a light tap almost anywhere on the half-inch keys (some are smaller and the space bar is about an inch long) is needed to type on the U810.
The primary issue when typing in UMPC mode is that it involves a frequent shift in hand position. When holding the unit with both hands, it is more natural to hold it near the center to balance the weight and to reach the mouse pointer and other controls. As soon as text needs to be entered, however, the hands must leave their original position and move downward so that the thumbs can reach the keyboard.
Laptop Typing Mode
Multi-finger typing can feel cramped after significant stretches of time, but it also provides rapid data entry. Give and take, I guess.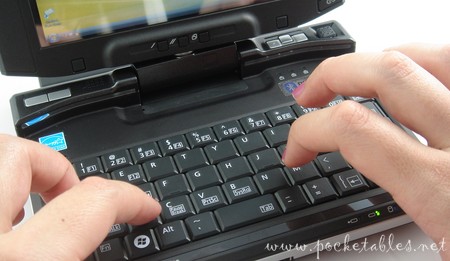 Even after 2.5 months of use, I'm still not able to truly touch type on the U810. With more practice and some real effort, however, I think it would be possible.
Typing Speed
Of all the thumboards and mobile device keyboards I've ever used (as of this writing) and despite the shortcomings mentioned above, the Fujitsu U810 keyboard is the hands-down best. It allows me to type faster than I've ever been able to on a portable device and although there are some definite annoyances with the layout and double-mapping of the tab and arrow keys, the individual key size and tactile feedback are superb.
Here are my typing test speed results, expressed in both percentage of average touch-typing speed and actual words per minute (wpm), alongside some of my previously published UMPC results.
UMPC
Percentage of
touch-typing speed
DialKeys on Samsung Q1P
29% (25 wpm)
OQO Model 01+
34% (29 wpm)
Kohjinsha SA1F00A (UMPC mode)
36% (31 wpm)
Sony Vaio UX180P
37% (32 wpm)
FlipStart, high-capacity (UMPC mode)
40% (34 wpm)
FlipStart, both batteries (laptop mode)
41% (35 wpm)
FlipStart, slimline (UMPC mode)
43% (37 wpm)
Raon Digital Everun
45% (39 wpm)
Kohjinsha SA1F00A (laptop mode)
51% (44 wpm)
OQO Model 02
51% (44 wpm)
Pepper Pad 3
54% (46 wpm)
Fujitsu LifeBook U810 (UMPC mode)
55% (47 wpm)
Fujitsu LifeBook U810 (laptop mode)
59% (51 wpm)
I should mention that I took the U810 tests after using it for just two weeks. Most of my other UMPC typing tests were taken after similar periods of time, so it wouldn't be fair to post my current U810 typing speed, which reflect 11 weeks of regular practice.
Performance
When Intel announced that its new Ultra Mobile Platform would include the low-power 600MHz and 800MHz A100 and A110 mobile CPUs, many were concerned about the processors' ability to handle resource-hungry Windows Vista.
Today, more than 9 months after the platform's announcement, the consensus seems to be that there is no consensus. No one is overjoyed or exceedingly thrilled, but while some are content with the processors' performance under the weight of Vista, others feel the OS is too bloated to run without extreme compromise and have immediately downgraded (or upgraded, as many claim) to Windows XP.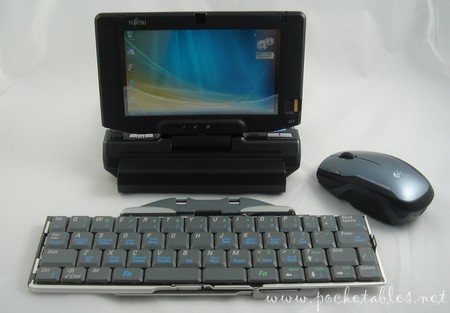 For my own needs, which involve little more than Firefox and word processing, the Fujitsu U810's A110 processor and 1GB of RAM do an adequate job of making sure that Vista Home Premium hums along nicely.
Multitasking is not the U810's forte, as even downloading Windows updates in the background often maxes out the system, but since it wasn't designed for that purpose, I have no qualms about performance. Most of you know I'm not a power user or multitasker anyway; right now, for example, all I have open on my Sony Vaio TZ are Firefox (I'm writing this online, logged into my host account) and Adobe Reader (I always keep the product manual open).
CPU Meter
When the U810's system is idling (which for me means no less than 72 processes), Aero is enabled, and Windows Sidebar is running, my CPU Meter (I heart Sidebar Gadgets) looks like what you see above: memory usage at 49%, CPU at 11%. This leaves more than enough room for the Vista-A110 combo to do their thing without making much of an impact on my work.
Since my needs are not identical to yours, your take on the Fujitsu U810's performance may not be in accord with mine. I know this is obvious, but sometimes the obvious needs to be stated.
Benchmarks
If absolute objectivity is what you're after, here are the U810's CrystalMark numbers followed by the Windows Experience Index scores.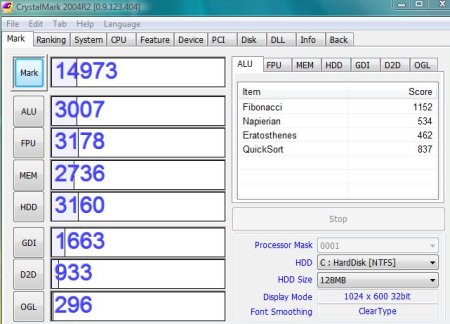 I don't do a whole of benchmarking around here, so there isn't much to compare the figures with except for my Vaio TZ benchmarks and, to a lesser extent, the Vaio UX180P vs. Samsung Q1P article I wrote last April.
I've mentioned time and again that benchmarks and technical data aren't my cup of tea (it's even in my FAQ), so as I always say when I post bits like this, I'll leave the analysis up to the experts.
Timed Tests
I've also said before that time is more important to me than benchmarks. Knowing, for example, that the Samsung Q1P takes 12 seconds to awaken from standby is infinitely more valuable to me than that it decompresses a file at a rate of 57.45MB per second.
Even though this is evident from some of the numbers, I should still mention that my U810 has not tweaked or otherwise optimized and that the unit's 16 start-up items include Windows Sidebar and an anti-virus application.
Sleep:

6 seconds
Wake:
7 seconds
Restart:
3 minutes, 2 seconds
Shut Down:
1 minute, 18 seconds
Cold Boot:
2 minutes, 24 seconds
Launch Firefox:
5 seconds (first launch after restart)
4 seconds (subsequent launch)
Launch IE7:
5 seconds (first launch after restart)
3 seconds (subsequent launch)
Launch
Origami Experience:
7 seconds (first launch after restart)
5 seconds (subsequent launch)
Launch WMP11:
5 seconds (first launch after restart)
4 seconds (subsequent launch)
Wake to Firefox Launch:
15 seconds
Wake to IE7 Launch:
14 seconds
Wake to Origami
Experience Launch:
18 seconds
Wake to WMP11 Launch:
14 seconds
The restart, shut down, and cold boot times are undesirable, but my U810 is always sleeping (Vista's default "off" state) when not in use so they don't make a difference in my usage patterns. Although not as quick as my TZ, being able to pick up the U810 after it's been sleeping overnight, flip open the lid to awaken it, and be online in 15 seconds is fast enough for me.
Comfort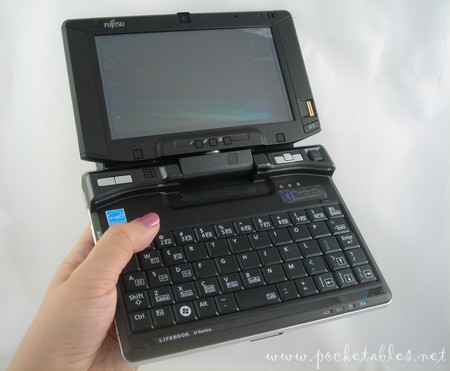 Although highly portable and compact, the Fujitsu U810 is still one of the heavier UMPCs in its second-generation class. With the extended battery installed, the little clamshell tips the scales at 1.56 pounds (with the standard battery, it weighs 1.34 pounds). While still extraordinarily light for its size and for what it is (a full-fledged computer running full-blown Vista), 1.56 pounds does begin to tax the forearms after about 30 minutes with no arm support. With arm support, however, I've been able to use the U810 with no problems for several hours at a time.
The notebook form factor may not be particularly ergonomic when held between both hands, but the relative thickness and width of the U810 actually make it rather comfortable to hold. And though a bit small, using it while set on your lap is pretty comfy too. It feels more natural on a table or desk, but lap use is definitely not out of the question.
Battery Life
The U810 ships with a rechargeable 4-cell lithium ion battery (5200mAh) rated at up to 5.5 hours, a tremendous improvement over the 2-hour batteries that plagued first-gen UMPCs.
Actual runtime depends on screen brightness levels, usage, power settings, and other factors, but I'd say the U810 puts in a good 4.5 to 4.75 hours of moderately bright wi-fi time before calling it a day. Commendable.
Conclusion
In the midst of the current Asus Eee PC frenzy, where affordable notebook computers with 7-inch screens are welcomed into new homes at a rate possibly never attainable by UMPCs, is the Fujitsu LifeBook U810 as relevant today as it was when it first became available last year? Does the smaller, more expensive unit have a solid place beside the alternatives, especially now that less powerful devices are becoming more robust and similarly capable ones are receiving drastic price cuts?
At the time of release, the U810 was an impressive machine. Sporting a versatile design, intuitive controls, best-in-class keyboard, and outstanding battery life, it was well received by mobile tech enthusiasts and the star of many favorable reviews.
The mini notebook was impossible to ignore. And even though its audience may not be as enamored by the "small wonder" today as they once were, I think it still is.
The Fujitsu U810 is available now at Amazon
and other retailers. Prices vary but are generally within the $849 to $999 range.