Adata Ultimate SU900 256GB 3D MLC SSD review
Following up on the SU800 which we looked at recently we've been samples the new SU900. This is like the SU800 our first chance to look at a new nand type. Micron's new 3d MLC nand is paired with the same controller we saw in the SU800. The use of the same controller should make for an interesting comparison between the two drives. This is also going to be the closing of an era as the SU900 is the last drive through our current testbench.
Our Test System and Procedure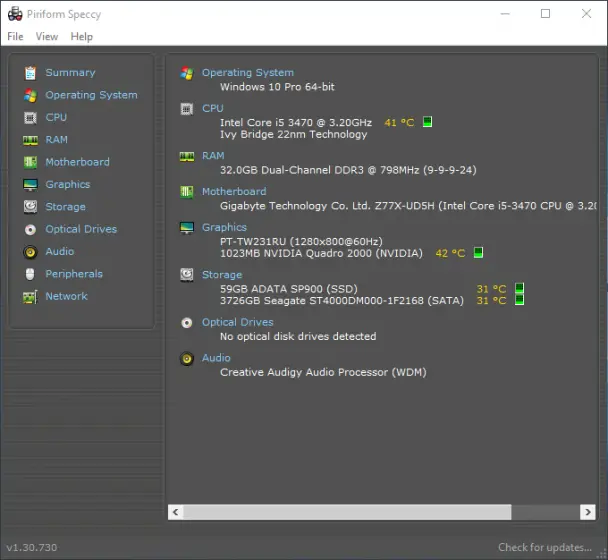 Our test system isn't going to set any records for cpu capability. But it's sufficiently equipped for SATA based ssd testing. The platform is a gigabyte Z77 motherboard equipped with an i5-3470. Only Intel SATA6 ports are used in testing. This is done because they offer consistently impressive performance regardless of generation and are a commonly available port for most users. The system is running windows 10 Professional and was under no load(AV disabled) for all tests. Testing will consist our standard set of tests which we outlined previously. The Test system was recently upgraded with both a Syba hot swap bay for faster testing as well as a bump to 32GB of ram courtesy of Ballistix.
The SU900
This slideshow requires JavaScript.
The SU900 ships in a retail friendly package that easily grabs the eye. Although little performance information is printed on the package some key details are. Support for trim and information about available software is included. The package does include a plastic shim which I've yet to find a use for in real world applications. An additional accessory included over it's TLC sibling is a 3.5 adapter. This is an excellent inclusion for those upgrading desktops. Also included is a warranty card, indicating a 5 year warranty. The drive's chassis is primarily plastic which again will reduce it's ability to dissipate heat but this should be less of an issue with MLC. Once again the drive's plastic construction renders opening it irreversible. As our first taste of 3d MLC the SU900 is of particular interest and I expect to see it's nand/controller combination in use on many drives going forward.
| Capacity | 256GB | 512GB | 1TB | 2TB |
| --- | --- | --- | --- | --- |
| Controller | SM2258 | SM2258 | SM2258 | SM2258 |
| Firmware | P1026A | | | |
| NAND | Micron 1st Gen 256Gbit 3dMLC | Micron 1st Gen 256Gbit 3dMLC | Micron 1st Gen 256Gbit 3dMLC | Micron 1st Gen 256Gbit 3dMLC |
| Sequential Read ATTO | 560 MB/s | 560 MB/s | 560 MB/s | 560 MB/s |
| Sequential Read CDM | 550 MB/s | 550 MB/s | 550 MB/s | 550 MB/s |
| Sequential Read AS SSD | 530 MB/s | 530 MB/s | 530 MB/s | 530 MB/s |
| Sequential Write ATTO | 520 MB/s | 525 MB/s | 525 MB/s | 520 MB/s |
| Sequential Write CDM | 505 MB/s | 510 MB/s | 510 MB/s | 510 MB/s |
| Sequential Write AS SSD | 490 MB/s | 490 MB/s | 490 MB/s | 480 MB/s |
| 4k Random Read | 80,000 IOPS | 85,000 IOPS | 90,000 IOPS | 85,000 IOPS |
| 4k Random Write | 90,000 IOPS | 90,000 IOPS | 85,000 IOPS | 80,000 IOPS |
| Temperature range | 0-70°C | 0-70°C | 0-70°C | 0-70°C |
| Dimensions | 7mm X 69.85mm X 100.5mm | 7mm X 69.85mm X 100.5mm | 7mm X 69.85mm X 100.5mm | 7mm X 69.85mm X 100.5mm |
| Endurance | 200TBW | 400TBW | 800TBW | 1600TBW |
| Warranty | 5 years | 5 years | 5 years | 5 years |
The published specifications are a refreshing change from it's smaller sibling. Endurance ratings are actually more in line with what we would expect to see on an enterprise product. at 256GB a 200TBW endurance is staggering and more than samsung rates the 1TB 850 pro for. This isn't enterprise level, Intel rates the 3610 for 1.1PB on a 200GB drive. However it's a nice boost for prosumer and SMB applications especially with the larger capacities where endurance scales up.
Temperature Again
After seeing the temperatures on the SU800 and knowing that the same enclosure+controller was in use I paid special attention to temperature on the SU900. As before some of the extended load scenarios that we use for testing are atypical loads I'm still concerned to see 63°C. This is very close to the drives 70C maximum operating temperature. In our test rig the drive is located a fair distance from other temperature producing components. My concern from the SU800 with laptops and SFF cases for throttling holds true for the SU900.
Unchanged from our SU800 review is Adata's SSD toolbox. It has a quick view of the drive's health when looking at it it also offers some basic diagnostics and alerting ability. The utilities section contains most of the unique first party features. These include the ability to update the firmware as well as Secure erase options. Tools such as the secure erase are limited to boot utilities as they don't work inside windows. Adata also includes a license for Acronis True Image to assist with migrating from an old drive. Pictures of it are available in our earlier review.
Atto isn't showing many surprises at first glance. We're seeing reads at the manufacturer spec with the larger transfer sizes hitting 561MB/s at peak. We don't however see writes reaching the promised 520MB/s instead falling just a bit short at 517MB/s. This is impressive for the MLC drive but unsurprising knowing it's TLC sibling was within the same margins.
This slideshow requires JavaScript.
Stacking up the SU900 we've excluded non SATA drives from the chart for clarity. Stacked up like this we can see that all the drives are capable of reaching impressive reads although the peak performer at our desired 128k transfer size is the Mushkin Reactor. The curve for the SU900 is almost identical to it's TLC sibling the SU800. The MLC model appears to perform just ever so slightly better for writes across most of the test.
Crystal disk mark is our second test and our first glimpse at random performance. We aren't quite hitting our marks with the printed specifications unfortunately. However we aren't looking at bad performance either, lets line it up with the other drives.
This slideshow requires JavaScript.
Crystal disk mark results for the SU900 are impressive. Reads are competitive everywhere except in the 4K random at QD 32. Sequential writes are competitive as well although with the same weakness at high queue random performance. This looks unfortunately like thermal limitations something that may cause more problems in longer duration tests.
Anvil is as always through. Sequential writes are a bit lower than i'd like to see in this test a full 140MB/s slower than we saw at the same test size out of atto. Read speeds are in line with our expectations from SATA drives however.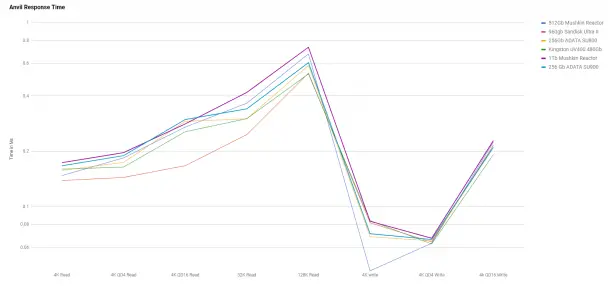 Normally this chart would be part of a small slideshow stacking up anvil data with other drives. However since this is our most comprehensive look at response times and i've made some changes to how it's displayed i've pulled it out on it's own. Response time is the delay before a drive actually responds to a request(input or output). We've removed sequential data from this chart as larger requests always take more time and the 4MB blocks used by anvil are so high they distort the chart to almost uselessness. We've also moved to a logarithmic scale to help provide better seperation and readability. The SU900 performed well in this test almost identically to it's TLC powered sibling.
This slideshow requires JavaScript.
Looking at the rest of anvil's data paints an interesting story. In some tests(like the 128K read) it's blowing past other MLC drives by a healthy margin. In others(like the 4k QD16 read) the SU900 is struggling to keep up. Without dismantling the drive we can't be 100% sure but this looks to be heat holding the SM2258 back once again.
This slideshow requires JavaScript.
AS SSD utilizes incompressible data exclusively in its testing. We also get some access times that line up well with what we saw in Anvil at .064 write and .047 read. The rest of the results in AS SSD look very healthy. The copy benchmark results are particularly interesting is this is somewhere we've seen smaller MLC drives struggle before.
This slideshow requires JavaScript.
The simulated tests are where the SU900 really shows what it's capable of. The game copy is the fastest we've seen to date. The rest of the tests put it at or near the top of the pack with few exceptions.
SLC cache on a MLC drive
Not something I expected to be covering in the review of a MLC drive is that the SU900 employs an "intelligent SLC cache".  Small drives suffer due to low package and die counts and high density 3d MLC will have made this worse especially on 256GB drives. Adata is unfortunately vague on the exact meaning of that if it refers to a cache that's adjusted based on free space as some drives have used or something else entirely. However we can test it to see how big it is out of the box at minimum. At over 200 seconds at full speed the starting cache appears equal to half the drives size on the 256GB model. Unfortunately performance plummets to nearly 25MB/s after exiting the cache and struggles to recover due to low parallelism. Fortunately this isn't a realistic scenario for a 256GB drive.
Our custom consistency test bombards the drive with 4k random writes at a queue depth of 32 until it reaches what is referred to as "steady state" at this point we observe how the controller and nand act under their worst case scenario(dirty nand and no time to recover). This test is run for two hours which is more than sufficient to push a drive like the SU900 into steady state. We see performance bounce between two planes once thermal saturation takes hold and the SLC buffer is full.
The final 600s shows promising results. We're well above the TLC powered SU800 in both categories. Although unfortunately well behind previous generation products like the mushkin reactor. Temperatures during this test were near or at 63°C.
Unfortunately for the SU900 it sets a new record and it isn't a good one. Weighing in with the lowest consistency rating of any drive we've tested, even below TLC based UV400 isn't encouraging. This comes as a bit of a surprise but between the out of cache performance we've seen, along with the thermal issues the drive seems to encounter under high load it shouldn't be surprising.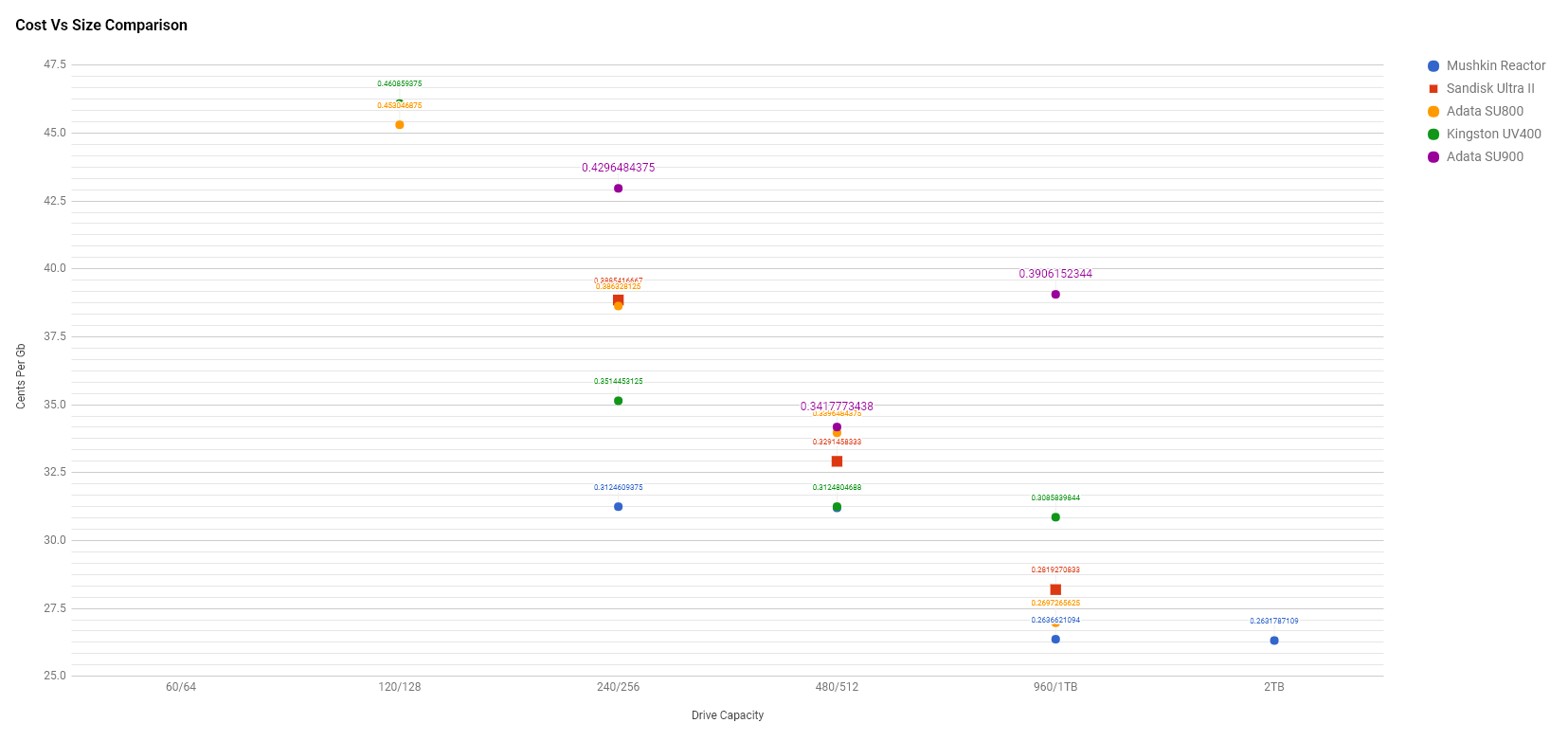 Pricing is unfortunately not very kind to the SU900. Being new to market is always a bit of an adjustment for drives and it seems that the SU900 still needs some time to settle price wise. At 512GB it's an interesting option priced close to it's TLC sibling and the reactor, and at that size some of the issues we've seen would be eliminated(the out of cache performance) The downward movement of 1TB reactor coupled with it's more consistent performance makes it a far better value  and some recent changes at the other extreme(256GB) make things interesting as well.
Closing thoughts
Walking away from the SU900 went from the little drive that could to the cost decision that stopped it. We'll have to wait for a SM2258 based drive using an aluminum chassis to be 100% sure but it seems that heat more than anything is holding the SU900 back. That doesn't mean it's a bad drive, for scenarios where it will see short bursts of writes with idle time in between it's an excellent performer with above consumer characteristics for write endurance. The model we reviewed today is available on amazon for 97.99, however the larger 512GB model is certainly the better value at 174.99.