As discussed a couple of weeks back, my really overkill home computer corrupted around June 15th and all backups going forward were destroyed. As my home computer also doubles as a work computer and serves some functions thereof, it was time to build a replacement and take my fairly well loved Dell T7500 and temporarily pasture it until I can determine if we've got a storage controller fault, malware, bad motherboard, or what caused everything to corrupt for months.
TL;DR – just some slideshows from building my new system
I'm suspecting the RAID card failed personally as I'd had a drive claim to blow out that month that *seems* fine after a month of testing. But I'll know more starting tomorrow I guess. In the meantime, with a parts list from Daniel, I built a thing. All of those links are tagged as a note, Daniel would make commission on all but one.
motherboard https://amzn.to/3Calfq7 ASROCK Z590 Pro4
cpu https://amzn.to/3jmsyTg (ended up https://amzn.to/3frbIRX ) i7-10700KF
cpu cooler https://amzn.to/2Vg3Yv6
case HUGE https://amzn.to/3lmsLrV (ended up https://amzn.to/3fkv1fF)
ssd https://amzn.to/3xl40ib (ended up https://amzn.to/3iU8vfW) Mushkin Pilot-E 2TB
ram https://amzn.to/3A3ImRr DDR4 Patriot Memory
psu https://amzn.to/3A4plOJ
We had a CPU change due to month-long shipping, case change due to two week shipping, and no GPU as I did not suspect that my GPU in the other unit was related to months-long hard drive corruption, although why I didn't suspect I don't know.
In the 90's I headed up a PC build team at a now all-Mac store and used to be able to churn out about 8 PCs a day personally. As I don't do a lot of builds these days, and most of my work is supporting network and not purchasing hardware, I consulted with Daniel as to what was new, what the cool cats were playing their Minesweeper on these days, and when all the parts showed nine days later I built a beast that matches a minifridge I have and now I'm just plotting how to get them together.
I decided to build at home as, my house is basically a parts shop anyway and all I needed was a screwdriver and I didn't want coworkers to see me cry when I realized I hadn't built anything since 2009 and had no idea what I was doing. Oddly, and I'm throwing my shoulders out patting myself on the back, there was not a whole lot that was different other than that case.
Let me just say, that case, other than one screw in the hard drive bay, was a complete pleasure to work with. Having worked with some of the least expensive cases on the market lo these past 28 years of computer technicianry, lemme tell you what a difference a good case makes.
Started out with opening the case and putting in a power supply with more connections than I've worked with on anything other than servers.
There was a whole lot of room and a lot of places for the wiring to come through.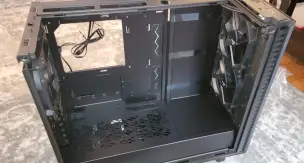 This was my first I7 install, but didn't seem to be anything particularly new. Coming from the days where I had to have pliers just to bend pins back on Pentium chips I've appreciated the future.
Daniel had me order a nuclear cooling tower. I was a bit shocked at this thing.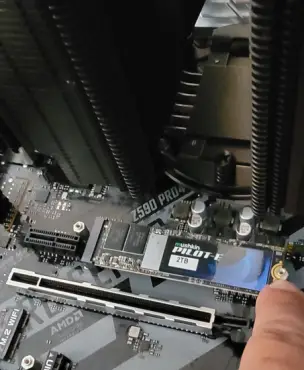 With the M2 I ran into my first problem – the unit did not work in the top M2 slot, only the second. I have not been able to figure out what's up with that yet as I have no other M2s to test. Going to hit the instruction manual and see if the closest to the CPU has to be second loaded or what. Worked in the other one.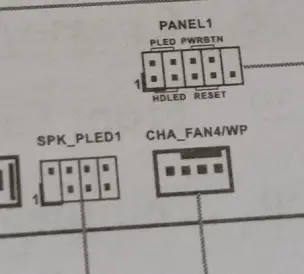 My most hated power/reset panel still seems to be around these days. I saw it and immediately thought "Newman…"
Had to stop and verify that the power supply was indeed correct even though the writing was upside down here. Nope, it's correct.
Initial power on didn't work due to power switch on the back being off, I made a mistake in where I put the RAM so had to re-do that, and discovered the M2 straight up did not work in the upper mount (I'll have testing equipment at some point soon.) and I learned that the newer processors, or at least the one I got, sans-GPU don't display anything even if the motherboard has HDMI out, but was a pretty fun build.
Took about five hours on the floor of my living room. I had a pile of boxes and trash four and a half feet tall, and when done it just worked.
I am now using this bad ass machine to type this up. Hell yeah, the keyboard lag is non-existent. Had it built for two days now and thus far have been mostly doing restores, playing a little bit with virtual stuff that doesn't seem particularly to need a machine in the background… also discovering Cyberpunk 2077 *still* doesn't like playing well for me.
And a completely unrelated note, since Davis Robbins Legal decided to threatened to DMCA me over content they didn't own to get unpaid SEO back links I'm going to link over here for purposes of people knowing what "Davis Robbins Legal" did.
Overall with the computer, been pretty cool – day two of upload/download/restore and somewhere around 9TB transferred so far….