Jabra Speak 750 – year 2 review: victory!
The Jabra Speak 750 is not a new product having been released in July of 2020, but it is one of the better products in its category for the past couple of years. That category being Bluetooth conference speakerphones with noise cancellation and mitigation technologies.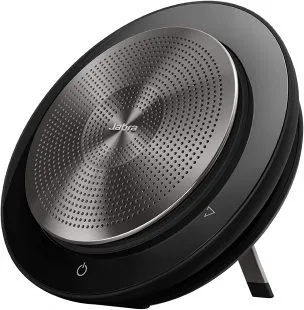 I realized when I was looking at the Speak 750 that I'd reviewed a previous model in 2017, the Jabra Speak 710. I'm actually going to refer you to that review other than the specs as my use case review is virtually identical with the 750.
750 v 710
TL;DR from that 710 review – non-haptic/textured button areas I am not a fan, voice on a good call sounds extremely good, DSP unconfigurable annoys me.
There are only a couple of main differences between the models though and those are distance (the 750's Bluetooth reaches significantly farther, so far it's somewhat useless in any use case I can think of,) and more importantly that the Jabra Speak 750 is a full duplex speakerphone meaning you can talk while someone is talking to you without cutting out.
There's also a Microsoft Teams button… It looks like if you're a Teams user it's an indicator of various things as well as a control. I am not a Teams user at the moment, but looks like there are many things you could do with this. I could not manage to get the Teams button to show, but evidently it only shows in certain conditions.
I'm guessing due to the full duplex processing, the battery life is only 11 hours on the 750 (it was greater on the 710. 14 hours?)
While less battery life, greater range, and full duplex might not sound like a hard sell over the 710, the full duplex really does make a difference if you've got a lot of people attempting to talk at once that need to be heard. I will note that with the older model I never ran across a situation where I noticed it, however that's perhaps because I generally don't have to talk over people or have people talk over me. I didn't need the enforced politeness.
Something I did not get to test on either the 710 or the 750 is pairing with a second speaker for stereo/extending audio, and larger area microphone pickup. This seems like something that could be extremely cool, but with one device it's not happening.
Specs that matter
10 watt
Bluetooth 4.2 / Jabra Link 370 adapter / Headset profile v1.2, hands free profile v1.6, A2DP v1.2, AVRCP v1.5
15Hz-20Khz
10.62oz/301g
Pair up to 8 devices (2 at the same time)
98 feet/30 meter range
USB / Bluetooth connectivity
Omnidirectional mic, +70dB SNR, 150Hz-7KHz
Full Duplex, Noise Reduction, Acoustic echo cancellation
Snazzy carrying case
You can download the tech sheet here
Jabra Speak 750 use cases
Do you need a portable Bluetooth speaker/microphone/softphone that certified for all leading unified communications platforms? If so this one's one of the nicer I've reviewed in both terms of audio and hardware.
That said, I'm not particularly a fan of speakerphone/conference phones in general because, well, I don't do speakerphone conferencing in general. This picks up audio, does a decent job of eliminating unnecessary noise, and is loud enough to be heard in a decently sized meeting room.
There are a couple of "optimized" versions of the Speak 750 including UC Optimized (what we're reviewing,) Skype Optimized, and then there's just "standard" according to Amazon.
Wrap-up on the Jabra Speak 750
I'm really not the target audience for this, but the people who are at my work appreciate the portable office equipment. Jabra's been calling this sort of thing the new normal, and yeah, it has been for a while.
You can grab the Jabra Speak 750 on Amazon or on Jabra's website. Priced from ~$240-$362usd based on features/seller, so make sure you choose/check the option that you're wanting.
Jabra Speak 750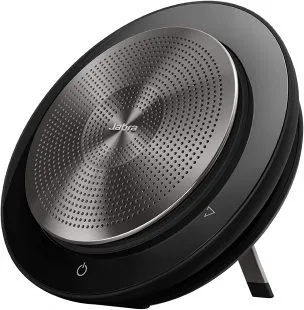 The Jabra Speak 750 is an updated version of the Speak 710 but with some notable enhancements including full duplex audio and greater range.
Product Brand: Jabra
Product Currency: USD
Product Price: 243.33
Product In-Stock: InStock