TP-Link Kasa Firmware won't update? Have you tried turning it off and on again?
Kasa by TP-Link owns a lot of my outlets. We've reviewed them before but probably need to do a re-review soon. I went a bit crazy on them because they worked with the Sense Home Energy Monitor and worked extremely well. I've got maybe 6 smart strips in my house for a total of probably 36 managed smart plugs.
Anyhow, due to some weirdness that I suspect is Google, not Kasa, I wanted to make sure all the firmware on my switches was up to date. Unfortunately the TP-Link Kasa Firmware upgrading isn't automatic… which is probably good because at least once in the past I discovered that it would power cycle the switches causing whatever you had plugged in to power off and back on again.
Well, today I had 24 virtual plugs that the firmware needed updated. That's from five smart power strips. Nothing crazy here… I don't have 20something Kasa products… no, let's keep telling the world that. So four out of the five – that fifth had been set up a week or so ago so probably had already updated it in setup.
Three of the strips / 18 plugs failed again and again at updating the Kasa Firmware.
Kasa Firmware won't update – solution
Using my advanced memory of the sitcom The I.T. Crowd, I unplugged the smart strips from the wall, then plugged them back in. Then the firmware updated with no issues.
This also resolved one of the stranger Google Home issues and I was able to control the unit with Home after power cycling it. I could control it via the Kasa app, but not Home… no idea.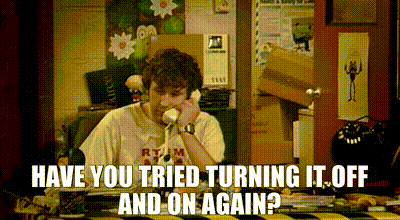 Yup, that's it… unplug it and plug it back in and try again and bet you it works.