HTC Advantage X7501 features and reviews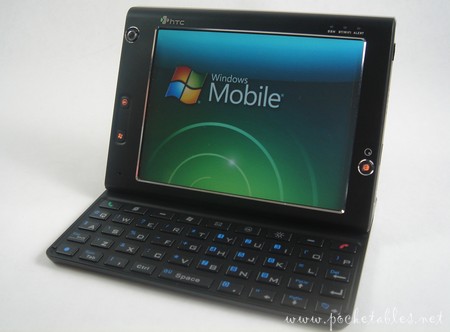 Click on a title to read the full post and view accompanying photos.
HTC Advantage car cradles
With the HTC Advantage X7510 inching ever closer to an official release, I thought it might be worthwhile to take a look at some of the car cradles/mounts that are already available for it. Like its predecessors (X7501 and X7500),…
HTC Advantage X7501 and VGA out
Pocketables reader TP emailed me this afternoon with a question about the VGA-out capabilities of the HTC Advantage X7501: "How do you hook up the Advantage to a computer monitor? Could you maybe write a short guide showing me how…
HTC Advantage X7501 and AT&T Tilt in harmony
One of the reasons I bought an AT&T Tilt (HTC TyTN II) is that I needed to downgrade my HTC Advantage X7501, which recently proved to be too big and unwieldy for primary cell phone use while traveling. As I…
Review: HTC Advantage X7501 as mobile entertainment
If the HTC Advantage X7501 is touted as "the most powerful mobile office," can it also succeed as an equally powerful mobile entertainment center? Just about any device these days can amuse you for 15 minutes while standing in line…
Review: HTC Advantage X7501 keyboard
One of the most unique features of the HTC Advantage X7501 is its detachable magnetic keyboard. Since nearly everything about it—size, usability, comfort—has generated commentary from users and interest from curious consumers, I'd like to offer my take on it…
HTC Advantage X7501 benchmarks
I've just finished running a handful of performance tests on the HTC Advantage X7501 using Spb Benchmark. The software, while excellent, isn't a perfect fit for the Windows Mobile 6 and Vista combination I use, so some of the minor…
NetFront Browser results on HTC Advantage X7501
In response to my recent HTC Advantage browser performance article, a reader by the name of MiniMage expressed an interest in seeing whether the NetFront Browser would hold its own against the others (Opera, Internet Explorer Mobile, Minimo, and Picsel)….
Browser performance on HTC Advantage X7501
Compared to other Windows Mobile devices, the HTC Advantage X7501 seems capable of providing a much more enjoyable mobile web browsing experience because of its 5-inch VGA display and 624MHz Intel XScale PXA270 processor. But with both Internet Explorer Mobile…
HTC Advantage X7501 sizes up OQO Model 02
Just about the only thing the HTC Advantage X7501 and the OQO Model 02 have in common is their size. Both sport a 5-inch display and bear such similar dimensions that choosing between power/functionality and portability may actually not be…
One week with the HTC Advantage X7501
Now that it's been a full week since I unboxed the HTC Advantage X7501, I think it's a good time to share some of my early impressions. I've also recorded a short video demonstrating the incredible strength of the magnets…
iPhone SIM could give HTC Advantage HSDPA
Update 10.24.07: AT&T's BroadbandConnect network is now available in Hawaii! I don't know when it happened, but I couldn't get online via wi-fi this morning, so I put my iPhone SIM in the Advantage to crawl on EDGE and watched…
Q&A: HTC Advantage X7501
Unboxing the HTC Advantage the other day generated some great questions and comments that I'd like to address in a good old-fashioned Q&A session.
Unboxing the HTC Advantage X7501
I'm sitting in a beautiful cloud of gadget euphoria right now because the HTC Advantage I first ordered in June, later canceled in favor of the Samsung Q1 Ultra, and ultimately re-ordered has finally arrived. If happiness is contagious and…
Haunted by the HTC Advantage
Choosing the Samsung Q1 Ultra over the HTC Advantage the other day may have been a bad idea. The impulsive decision, spurred by impatience, had been sitting well with me until an email from Buy.com landed in my inbox with…
Trading HTC Advantage for Samsung Q1 Ultra
I just did the unthinkable. I canceled the unlocked HTC Advantage (X7501) I preordered in June and used the money, which was technically already spent, to buy the entry-level Samsung Q1 Ultra (Q1U-EL) instead.
See more news about the HTC Advantage at Pocketables.