Imagining the iriver D26 as a UMPC
The newest addition to iriver's Dicple series of multimedia e-dictionaries is the D26, which bears a striking resemblance to the Atree UD10 that both Steve and jkk have praised for its UMPC-like design.
I've been putting off my review of the D26 for several months now because up until today, I've been unable to figure out how best to approach it. Since there's virtually zero interest in e-dictionaries in the U.S. (they're wildly popular and well received in Asia), I wanted to come at it from a very specific angle. So while I may eventually write a more straightforward review, what follows is a UMPC-slanted look at a unit that isn't but perhaps should be a UMPC.
First, a quick unboxing.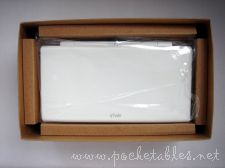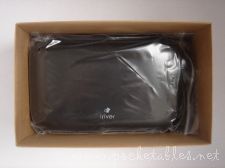 My obsession with cases forces me to offer a closer look at this one.
Like most e-dictionaries these days, the D26 is capable of doubling as a portable media player.

It features an MP3 player, FM radio, voice recorder, PIM functions, e-book reader, and photo viewer. So far, it sounds very much like what Intel's upcoming Mobile Internet Devices (MIDs) will be all about (well, except for the Internet part). And if it weren't for its measly 1.2GB storage capacity, lack of a memory card expansion slot, and all-Korean user interface (UI), the D26 would probably make a killer one.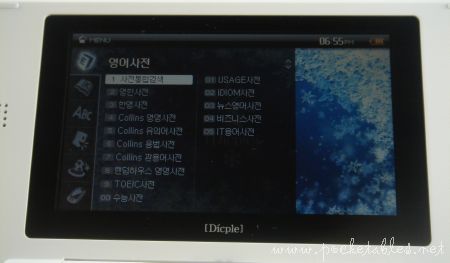 Those may sound like major hurdles, but upping the internal storage (look at the new 20GB Sharp RD-CX300 e-dictionary) would eliminate the need for an expansion slot and if you've got a brand new hard drive in there, you may as well tweak the UI a bit.
Putting logistics aside for a moment, let's imagine that the D26 were in fact a MID, UMPC, and/or handtop. What would it be like? (And actually, iriver entering the UMPC market isn't too far-fetched: remember the 60GB W10 packed with all manners of connectivity?)

If the iriver D26 were a UMPC, it would . . .
Be incredibly pocketable. Although this would likely change with the addition of a hard drive, the clamshell measures 6.4" x 3.3" x 0.8" and weighs 11.1 ounces.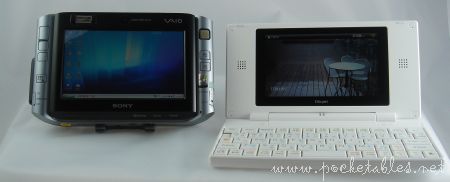 Have a usable thumboard. In line with my earlier "10 reasons UMPCs need keyboards" post, the D26 is equipped with a fantastic thumboard. The keys are easy to reach, offer tactile feedback similar to that of a full-sized keyboard, and can be used with your thumbs (when holding the unit between both hands) and with your index and middle fingers (when resting the unit on a flat surface).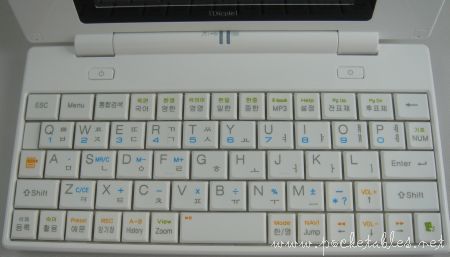 Strike a balance between (limited) productivity and (light) entertainment. The D26 certainly has limitations that wouldn't be tolerated on a smartphone (e.g., no access to email, no MS Office compatibility, etc.), but  it could still feasibly replace an entry-level PDA. The device is equipped with 8 Asian (Korean, Chinese, Japanese) and 8 English dictionaries with text-to-speech functionality, a notepad, a calendar, an address book, a basic unit converter, a voice recorder, and other features to keep track of appointments and important dates.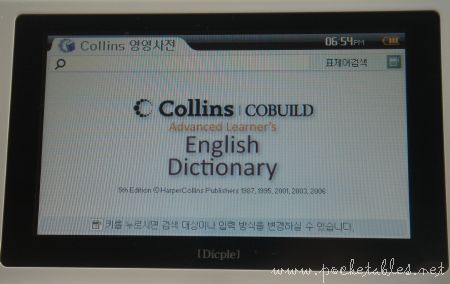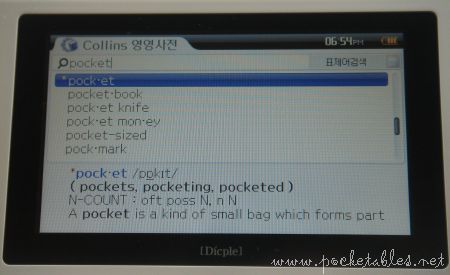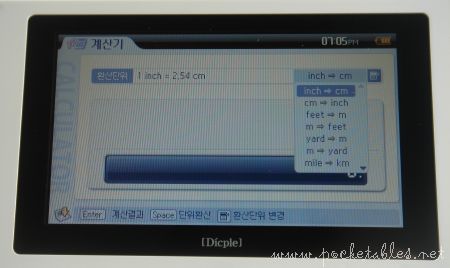 The D26 ships with a program called "iriver D26 Manager," which appears to be a Korean-only application that I assume enables PC access to all of the information input directly into the unit. Without this program, the D26 is a UMS/MSC device that supports basic dragging and dropping of e-books (TXT only), music (MP3, WMA, Ogg Vorbis, ASF), and image (JPG, GIF, BMP) files. This puts a wrench into being able to, say, create/edit documents on the go and then transfer them to a computer for completion, printing, etc., but it makes transferring music and pictures a breeze.
Unlike the Nurian Z1, the D26 isn't wifi-enabled. It can't play videos either, so "entertainment" in this case is limited to a few games (everyone's favorites "Funny Train" and "ZooZoo" come preinstalled), respectable audio codec support with various EQs and SRS sound enhancements, FM radio, and photo viewer. It's very much like a low-capacity flash player with a 4.3-inch TFT (480 x 272, 260K colors) display.
Have excellent battery life. I haven't been able to find any running-time estimates for the non-removable li-polymer battery, but I know for sure that it holds its charge exceptionally well. I've had the D26 since February and have only charged it twice. Obviously this is because I don't use it often or for prolonged periods, but not many devices can hold their charge for months at a time.
Because of its feature set, though, battery life would obviously surpass that of typical UMPCs even when just playing MP3s. For example, in my Vaio UX180P battery tests, music playback time maxed out at 2 hours and 40 minutes. I've looped 192kbps MP3s on the D26 for twice as long without making a significant dent in the battery indicator (yes, yes, the e-dictionary doesn't have an Intel CPU, full-blown OS, or any other power-hungry PC elements).
Be easy on the eyes. Gadget aesthetics may not be important to some people, but they matter to me. I've mentioned before that I choose gadgets based first on their looks and second on their function (ridiculous maybe but to each his own), and I abided by that "rule" when buying the D26. It's just too cute.
The iriver D26 is much too basic to be considered even a low-end UMPC, but its design and (imaginary) handtop potential are enough to make me glad that it's sitting next to me as I write this.
The D26 is available in black and white and can be purchased directly from iriver Korea for 358,000 won, which is about $386. (I got mine from eBay.)