Review: Samsung K3 (YP-K3)
When Samsung unveiled its flash-based K3 digital audio player (YP-K3) earlier this year, it invited us to "imagine a slice of digital delight" and "imagine a slim design with big sound." Ironically, the company's deliberate use of the words "slice" and "slim" ending up leaving very little to the imagination.
Read on to find out if Samsung spoiled anything else about the ultra-thin player.
System specifications
| | |
| --- | --- |
| Capacities: | 2GB, 4GB |
| Supported audio: | MP3, WMA, WMA-DRM |
| Extras: | Photo viewer, FM radio |
| Display: | 1.8" OLED (160 x 128) |
| Dimensions: | 3.78" x 1.73" x 0.27" |
| Weight: | 1.76 ounces |
| Colors: | Black, red, green |
Check out the unboxing gallery to see the K3's packaging and included accessory bundle.
Design
It's easy to see why the Samsung K3 won a CES Innovations 2007 Design & Engineering Showcase award. Fashioned out of stainless steel and fingerprint-hungry plastic, the player is unbelievably chic, impossibly thin, and the epitome of minimalism.

The slightly rounded corners and sloped edges give it a highly stylized look without detracting from its clean and simple design.
Truth be told, I can't help but think of the iPhone.
Despite weighing in at just 1.76 ounces and being a scant 0.27 inches thick, the K3 feels solid and sturdy in the hand. I never felt the need to handle it gently or even very carefully because it neither threatens to snap in half when held nor creaks and crackles when squeezed.
Size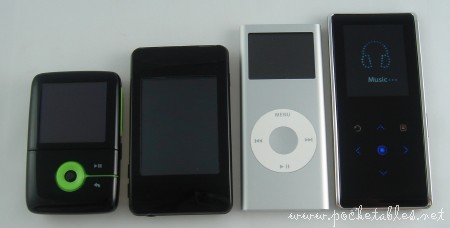 Standing 3.78 inches tall, the K3 is longer than all of its competitors (I think) except the iriver X20, which measures 3.9 inches and is not pictured above with the Creative Zen V, iriver clix 2, and Apple iPod nano.
More than any other player, Samsung's offering seems clearly intended to take on the slightly smaller and lighter iPod nano.
Like the nano, the K3 pulls some of its strength from the common (though, frankly, rather stale) "thin is in" expression.
You can see just how much stock Samsung puts in that belief when looking at the K3 beside a AA battery and a dime.
Controls
The most striking feature of the player is what Samsungs calls the "light emitting touch pad"; I just call it the player's controls, which are entirely touch-based and almost invisible when the backlight is off. The absence of tactile feedback takes some getting used to, particularly if you're largely unfamiliar and/or uncomfortable with touch interfaces, but the controls themselves are responsive and pretty standard.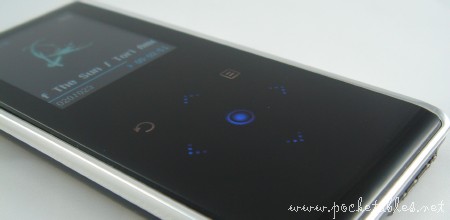 The blue ringed circle surrounded by the arrows made of dots are the K3's main "buttons" and perform the same functions that would commonly be handled by a navigation pad, joystick, or multidirectional controller. For example, tapping the circle is the same as pressing OK/enter and play/pause hardware buttons.
The white circular arrow that looks like a Web browser's refresh icon acts as the player's "previous screen" (short tap) and "back to home" (press and hold) controls; the menu icon opposite the arrow brings up whatever options are available in a particular area of the system. For instance, tapping the icon when listening to music displays sound effects, graphic EQ, and play mode options.
In the absence of hardware controls and tactile feedback, using the K3 blindly is not a feat easily accomplished. There is a setting in the system that enables audible feedback in the form of futuristic-sounding beeps, though, so I suppose blind operation of the player is possible with lots and lots (and lots) of practice.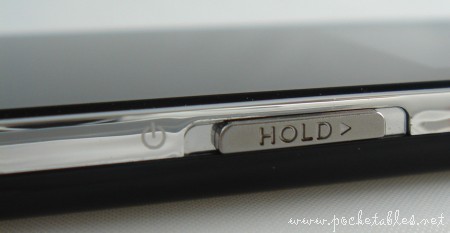 On the right side of the unit is a sliding switch that turns the K3 on/off when pushed to the left and locks the controls to prevent accidental operation when pushed to the right.
The headphone jack and a port for connecting the device to a PC via the proprietary USB 2.0 cable are on the bottom. The placement of the headphone jack is unfortunate, as it either wastes a few inches of earbud cable (possibly restricting your movement) or requires that the player be kept upside down in your pocket.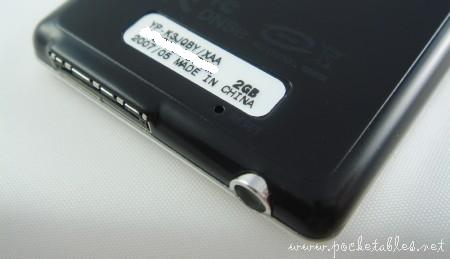 Nothing but the reset hole is worth noting on the back. The system seems really stable (no hangups in 2+ weeks of use so far), so I don't anticipate having to flip the player over very often.
Display
About half of the K3's face is made up of its screen, which is a full-color 1.8-inch OLED with a resolution of 160 x 128 pixels.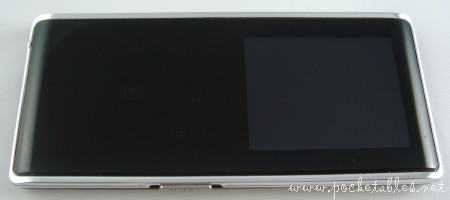 Most of the interface is neon blue and white, which looks great against the black background, but all the other colors it can reproduce really only comes into play when viewing photos. Additional colors are also used in the player's screensavers and music playback visualizations, but there's not as much variety as there are with real images.
Viewing angles are excellent, but the display definitely doesn't shine in terms of color saturation, brightness, or sharpness. OLEDs aren't known for their crispness, clarity, or refresh rates anyway, so this isn't something to make a fuss about.
Graphical user interface
The K3 has a simple GUI that is consistent, straightforward, and easy to use.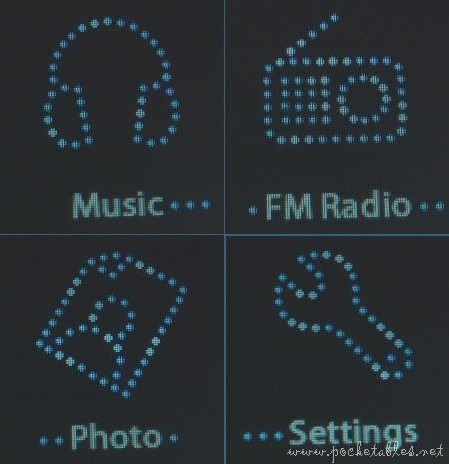 The graphics used in the main menu are made up of sparkling dots that morph into one another when navigating through the system. Though nice and fun to look at, it creates a slight lag between tapping a control and getting to where you want to be. Fortunately, you don't have to wait until the next graphic fully loads to interact with the interface.
Here's the basic menu structure without any of the context menu options (swiped from the user's manual):
My main complaint about the interface is that there doesn't seem to be a quick way to get to the "Now Playing" screen. If pressing and holding the arrow icon can take you to the main menu from anywhere in the system, a similar function for the "Now Playing" screen should be put into place. Having immediate access to playback controls is an absolute must when there are no hardware buttons; hopefully Samsung will address the issue in a firmware upgrade.
Transferring content
The K3 is an MTP device, which means that it only works on Windows computers, specifically those running XP Service Pack 2 or Vista.
If your PC meets the minimum requirements, simply connect the K3 using the supplied (and proprietary) USB 2.0 cable to your computer's USB port.
Once the player is recognized by Windows as an MTP device, music and photos can be dragged and dropped using Windows Explorer (my preferred method) or synced with any number of MTP-based music management programs such as Windows Media Player and MediaMonkey.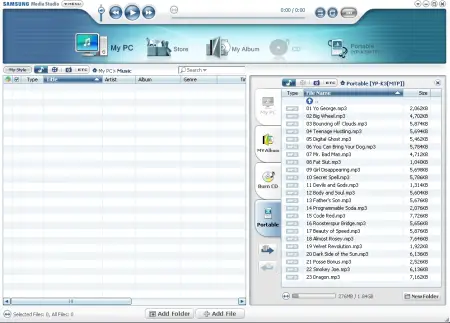 Included on the installation CD that ships with the K3 is Samsung's own jukebox program called Media Studio 5, which can organize and transfer media as well as rip and burn CDs. With other Samsung players, the software can also be used to convert video files. In certain countries (not the U.S.), you can even purchase and download songs from the Media Studio Store.
Although the use of software isn't required to load content onto the K3, it is required to create, manage, and transfer playlists. The player itself has no OTG playlist or even a half-baked "Quick List" function, so if you love playlists, you should start cozying up to a compatible jukebox app.
Audio
The K3 is equipped with Samsung's proprietary DNSe (Digital Natural Sound engine) 3D audio technology, which is designed to virtually surround the listener with higher quality, more accurate, balanced sound. Coupled with a bevy of sound effects to simulate different environments (studio, club, concert hall, etc.) and a 7-band customizable EQ, the DNSe chip promises to deliver a dynamic and rich experience when listening to MP3, WMA, and WMA-DRM tracks downloaded from PlaysForSure subscription services.
I'm sure it's just me, but the first time I plugged my Sennheiser IEMs into the headphone jack, I thought the sound was terrible. After playing around with the sound effects, which are well executed and actually make quite a significant difference in the happiness of my ears, I definitely have to amend my initial assessment.
Sound quality is not terrible . . . but it's not that great either. I lack the technical vocabulary of a true audiophile, so the only way I can describe it is to say that it's slightly above average, though very inconsistent. And by that I mean that there isn't any single sound effect that makes a positive difference on my music. This is obviously the point of the 7-band user EQ, but I always use (and therefore like) preset ones. The K3's sound effects may not be the exact equivalent of preset EQs on other players, but they're incredibly similar.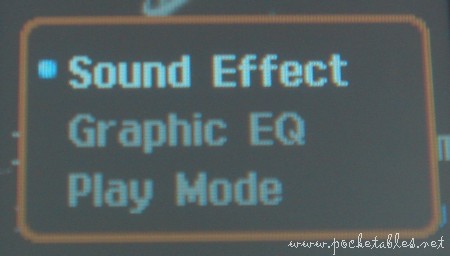 You may have better luck in finding an ideal setup, but I have to call up the music option menu, select "Sound Effect," and choose between the 11 effects each time one song ends and another begins. It's annoying.
The "Graphic EQ" option is what Samsung offers in lieu of supporting album art.
Turning the graphic EQ off displays a different visualization for every single sound effect on the "Now Playing" screen, which acts as compensation for those of us who have to constantly switch between effects when listening to an album.
Turning the graphic EQ on displays, unsurprisingly, a graphic EQ.
When you tire of the visualizations, you can enable one of the preloaded screensavers or a photo of your choice to kick in after preset times (15 seconds, 30 seconds, 1 minute, 3 minutes, or 5 minutes). Alternatively, you can also have the display turn off completely after the same set of intervals. I like to keep the screen at its "always on" setting with the screensavers either disabled or set to the analog clock.
Extras
The K3's extra features are limited to a JPG photo viewer and FM radio.
Photo viewer
I don't know why Samsung even bothered with the photo viewer, as watching slideshows or viewing pictures while listening to music doesn't make sense on a 1.8-inch OLED.
The K3 makes the most of it, though, by serving up thumbnail viewing, zoom functions (up to 400%), and the ability to set any image as a static screensaver.
FM radio
The player doesn't have any recording capabilities, so the FM radio is just an FM radio.
In downtown Honolulu, reception on the K3 is poorer than on most other players I've used. On top of that, the "Auto Preset" option made an absolute mess of my presets (up to 30 can be stored),  saving so many non-stations that it ran out of room before reaching most of the real ones.
Battery life
Samsung rates the K3's non-removable li-polymer battery at 25 hours when listening to 128kbps MP3s at mid-volume with the "normal" sound effect. Based on my use of the player over the last few weeks, real-word usage puts playback time closer to about 20 hours (depending on the display settings), which is still impressive.
Conclusion
The Samsung K3 is a sleek, slim, and stylish flash player that fares better as a trendy accessory to slip into tight pockets than as a workout companion to throw into a gym bag.
On its own, the player is relatively capable, albeit stripped down and not without a few quirks. Although it's reliance on touch-based controls won't appeal to everyone, the device will still manage to turn more than a few heads . . . but unfortunately only because of its ultra-thin profile and impeccably modern design.
Bottom line? The K3 is more about form than function.
The Samsung K3 is available now from most brick-and-mortar stores and online retailers. Amazon sells the black
and red 2GB
players for $110 and the black 4GB
model for $155; Wal-Mart carries the 2GB in all three colors for $120.