Review: Samsung S5 (YP-S5)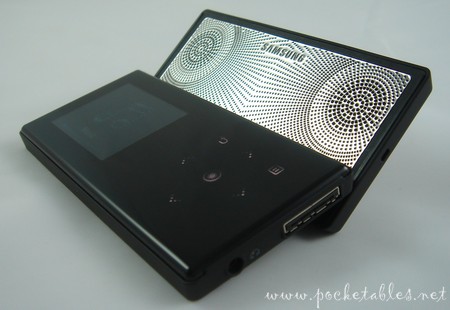 The Samsung S5 (YP-S5) was introduced last year as the more compact, fuller-featured successor to the previous year's K5, a groundbreaking digital media player equipped with a slide-and-tilt speaker that encouraged users to "share a soundtrack." But despite its rich Bluetooth functionality and other notable improvements over its predecessor, the S5 has received very little mainstream attention since its November 2007 release.
Let's not waste another second overlooking it. Read on for my full review.
This review is based on the Samsung S5 running U.S. firmware version 1.07.
System Specifications
Capacities:

2GB, 4GB, 8GB
Supported audio:

MP3, WMA, WMA-DRM, AAC
Supported video:

SVI (MPEG4/MP3, 208 x 176, 15 fps)
Extras:

Slide-out speaker, audio-in, Bluetooth, photo viewer,
FM radio, FM and voice recorder, datacasts, alarm,
text viewer, games, world clock
Display:
1.8" QCIF+ TFT (176 x 220)
Dimensions:
1.83" x 3.78" x 0.59"
Weight:
3 ounces
Colors:

Black, white
See my Samsung S5 unboxing for photos of the player's packaging and included accessories.
Design
The S5 is the thinner nearly-identical twin of the K5, so the slide-out speaker that makes up about half of the player's matte casing is still the stand-out feature of its refined design.
When the speakers are hidden, the player is much chunkier than what most consumers expect to see on the shelves these days. Those who believe the "thin is in" message that other companies are pushing may not be pleased with the S5's thickness, but I find that it actually makes the device more comfortable to hold.
The tapered edges and almost trapezoidal profile keep the S5 from looking too brick- or block-like.
Given that the built-in speaker is what sets the unit apart from the crowd, what it looks when closed is somewhat of a non-issue. The S5 is really meant to be shown off with its speakers exposed. The sliding action and resulting angled posture are the true attention grabbers.
The design is arresting and one that is sure to generate stares and questions from friends, co-workers, and even strangers.
Size
At 0.59 inches thick, the Samsung S5 is chubbier than most (if not all) of its flash-based DAP competitors.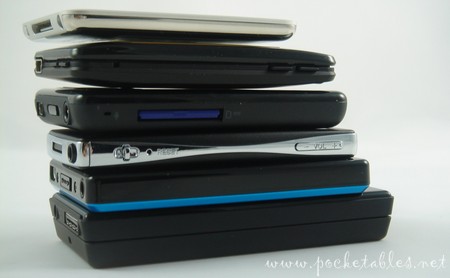 Shown above is the S5 beneath (and to the left of) the Toshiba gigabeat T400, Sony A810 Walkman, Creative ZEN, iriver clix 2, and Apple iPod nano (3G).

The player may be thicker than its rivals and siblings, but it's not the longest player around. It is significantly taller than a lot of other flash DAPs, but others (including the Samsung P2) are dangerously closer to crossing into the "height space" typically held by HDD-based devices.
In short, then, "thin and small" are words not used to describe the S5.
Display
Approximately half of the S5's glossy face is taken up by a 1.8-inch TFT display with QCIF+ resolution (176 x 220).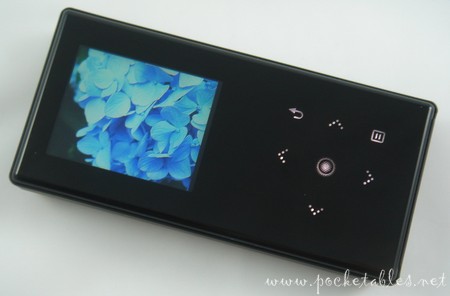 Despite the screen's size and resolution, color accuracy and saturation are good and a decent amount of details are discernible. Viewing angles are unimpressive, but users are only likely to view a screen of this size from the front, anyway.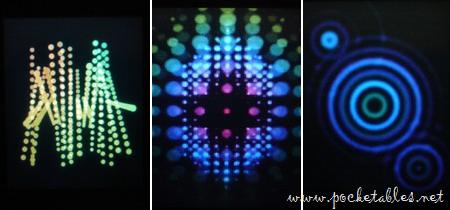 A 1.8-inch display isn't designed for extensive viewing of movies or photos, but it's adequate for navigation, screen savers (three of five shown above), and music playback visualizations. The user interface can be customized with one of three fonts, all of which are easy to read and relatively crisp.
Controls
The same touch-based controls that Samsung called the "light emitting touch pad" on the K3 have been slightly revamped and renamed "touch buttons" for the S5.
These buttons disappear after about eight seconds of non-activity; a quick tap is required to light them back up to interact with the system.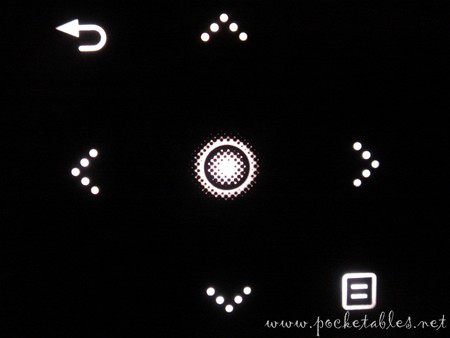 Though they provide no tactile feedback, the touch buttons are straightforward and simple to use. The up and down arrows correspond to volume controls and are also used to move through menu items, tapping the left or right arrows goes to the previous/next item (holding them down rewinds and fast-forwards), and the circle in the center is the OK and play/pause button.
The back arrow in the top left (tap to move to previous screen, hold to return to the main menu) and menu button in the bottom right (tap to launch sub-menus that contain options) rotate when the S5's speakers are slid out and the screen orientation is automatically changed.
Since navigation through menus is handled exclusively by the touch buttons, the player has very little in the way of hardware controls and other ports.
The power/hold switch is located on the top of the S5 when used in portrait mode (it's on the left side when the speakers are exposed).
On the bottom (or the right side) are a standard 3.5mm headphone jack and proprietary port that doubles as both the USB and audio-input connections.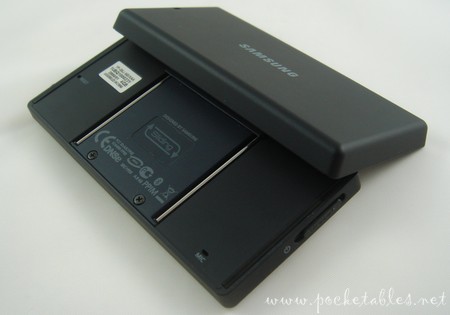 Flanking the sliding mechanism on the back are a reset hole and microphone.
Nothing but a lanyard/strap hole are on the back of the slide-out speaker.
Speaker
And speaking of the speaker . . .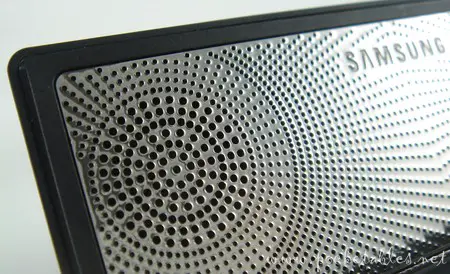 The Samsung S5 is equipped with 1.5W stereo speakers that turn on as soon as they are slid up from beneath the top half of the player. The railed sliding mechanism is smooth and feels like it is spring-loaded: the speakers "spring" into place with a satisfying click once they are manually pushed to about the halfway mark.
The speakers are set on a hinge so that the player can sit up at an angle. Depending on how much experience with slider-style devices you have, pushing down the speaker so that it lays flat before trying to "close" it may take some getting used to. Traditional sliders like various smartphones, UMPCs, and handhelds such as the Nokia N810 or Sony mylo 2 don't require that extra step to put their keyboards back into place, so the tendency to treat the S5's speakers in the same way is something that may be initially tricky to work around. Similarly, when holding the player in both hands, it may feel awkward to push the front half down to expose the speakers if you're accustomed to pushing a standard slider display up to access the keyboard.
That aside, the sound quality of the speakers is quite good. They're obviously not intended to be the sound system at a party, but they're still surprisingly powerful (relatively speaking, of course) and produce clean sound at even the highest volume level. I usually keep the S5 within easy reach while I work (the player is on the coffee table as I write this on the couch, for example), but I can still hear whatever's playing when I walk into another room. At max volume, sound is acceptable from more than 15 feet away, which is I'm sure if farther than what Samsung recommends.
In other words, the S5's slide-out speaker is much more than just a gimmick.
Audio-in connection
A nice bonus feature of the speaker is that it can offer its services to another device.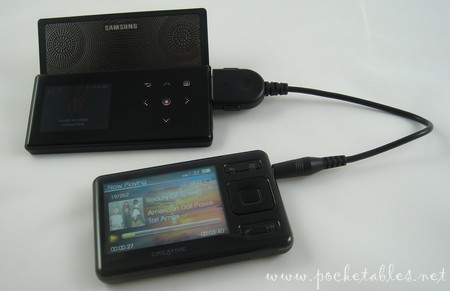 As shown in my S5 unboxing, an audio-in cable is part of the player's accessory bundle. One end of the cable plugs into the proprietary port on the S5, while the other can be connected to anything sporting a 3.5mm headphone jack.
User Interface
Just as on the P2, the Samsung S5 comes with three different menu styles (Stella, My Skin, Crystal). Stella and Crystal are both animated and colorful, while My Skin can be customized with any image stored on the player.
Stella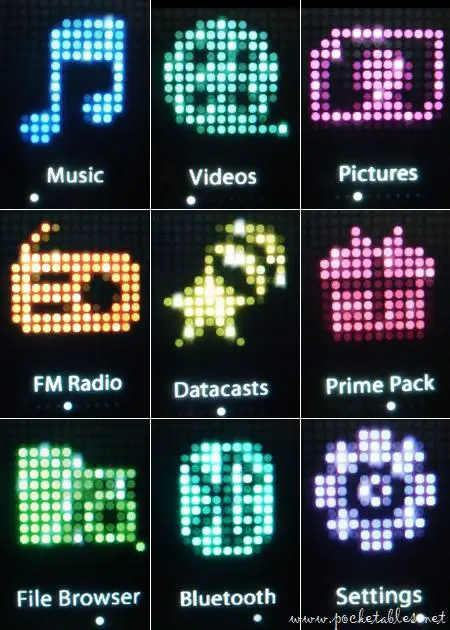 My Skin
Crystal
Each style is an overlay on the same list-based navigational system, so choosing between them is just a matter of personal preference.
Beneath the different menu styles is a consistent, straightforward interface that requires no explanation.
What many users will undoubtedly like about the S5 (it's also on the P2) is that the music menu allows both folder-based and ID3 tag searching. File-tree searching is available on other players as well, but the option is usually separated from the main music area. Another nice feature of the S5's interface is that all audio is kept together. On some DAPs, music is stored in one location, FM recordings are in another, and voice recordings are in another; on the S5, everything is in the same place.
Transferring Content
Firmware from other regions can be installed for cross-platform UMS/MSC compliance, but out of the box in the United States, the S5 is an MTP device that is only compatible with modern Windows operating systems. This is unwelcome news to Mac and Linux users, but anyone with access to a Windows machine has a fair amount of flexibility when it comes to software.
Samsung's own Media Studio program is supplied with the S5, but other music management software (e.g., Windows Media Player, MediaMonkey) and drag-and-drop through Windows Explorer are supported. These options should make getting content onto the S5 familiar and easy for most users.
Five on-the-go playlists (each containing up to 100 tracks) can be created on the player itself, but software is needed for anything beyond that. Samsung Media Studio, for example, is required to create, rename, and manage an unlimited amount of additional playlists that can each contain up to 999 tracks.
Audio
Like other Samsung players, the S5 is packed with the company's DNSe (Digital Natural Sound engine) 2.0 audio technology to offer the "best sonic experience to the end user" and simulate various environments (e.g., studio, concert hall).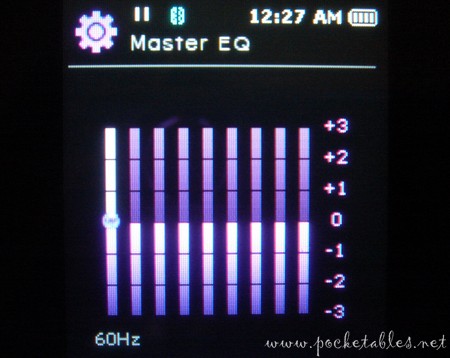 DNSe 2.0, a 9-band user EQ, 3D and bass settings, and "street mode" and "clarity" effects make the S5's sound quality highly customizable and good enough to suit most listeners' preferences. DNSe 2.0 is a significant improvement over 1.0 (used on the K3, whose sound I was not happy with), so I've been pleased with the way the S5 sounds.
The simulated environments are rather impressive. I've been listening to live recordings lately and have been happy with the "concert hall" setting, which adds that realistic echo commonly heard in arenas a nd other live venues.
As always, keep in mind that because my opinion is based solely on my ears and Sennheiser CX300S IEMs, your ears and headphones may not agree with my assessment.
Video
I don't understand the value of video playback on a 1.8-inch display with QCIF+ resolution (176 x 220); I suspect the functionality is there to keep up with the Joneses or protect the player from critical outcries of "It can't even play videos!"
So the capability is there for those who want it. Videos aren't unwatchable, but the pleasure of the experience is obviously hampered by the low frame rate (15 fps) and small screen size. If you can get past that, you'll have a nice selection of video options to choose from: bookmarking (one bookmark per video, up to 50 bookmarks total), DNSe sound technology optimized for videos (normal, drama, action), and screen brightness.
Extras
The Samsung S5 has an incredible amount of extra features.
Bluetooth
Undoubtedly the most noteworthy of these features is the inclusion of Bluetooth 1.2.
Unlike the P2, which has Bluetooth 2.0, the S5 ships with all the Bluetooth functionality that the P2 only got through a Bluewave firmware update several months after its release. This is a moot point now, but still worth mentioning.
Bluetooth on the S5 means that it can be connected to a Bluetooth stereo headset and used to make/receive calls when connected to a Bluetooth-enabled cell phone. Files can also be transferred between the S5 and compatible Bluetooth devices such as computers, phones, and MP3 players. At the time of this writing, the S5 and P2 are unable to send files to each other; the functionality could be added in a future firmware update.
Photo viewer
The S5's photo viewer is exactly what you'd expect to find on a digital audio player. JPG files up to 3MB can be rotated, zoomed into, set as wallpaper, and viewed in three-speed slideshows with or without music.
FM radio
The FM tuner is also standard fare.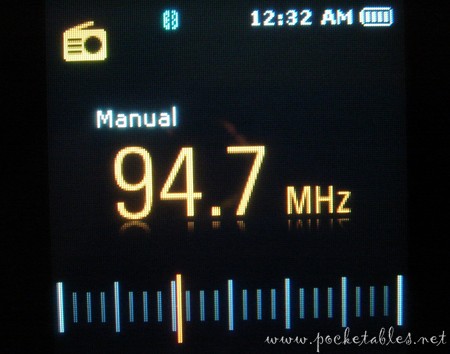 It can search for frequencies and save up to 30 preset stations that are manually added or automatically found. Headphones serve as the player's antenna, so they should be connected even when listening to the radio through the S5's speakers or a Bluetooth stereo headset.
FM and voice recorder
The Samsung S5 has two recording functions: FM radio and voice. Recordings are in MP3 format and can be made in three qualities: Normal (128kbps for FM, 64kbps for voice), High (160kbps for FM, 96kbps for voice), and Super High (192kbps for FM, 128kbps for voice).
Datacasts
"Datacasts" is what Samsung calls RSS feeds, which can be transferred to and stored as text files on the S5. Though some may find the feature useful, I think it's incredibly gimmicky. Feed content must be transferred individually and manually using Samsung Media Studio, so you can't just transfer all of a channel's posts at once. You need to select each post and move it over one-by-one. No thanks.
Alarm
The slide-out speaker makes the S5 a great alarm clock.
Up to seven alarms can be set with various frequencies (once, everyday, Mon-Fri, Mon-Sat, Sat-Sun) and alarm sounds, including the FM radio and any music file stored on the player.
Prime Pack
As on the P2, Samsung groups most extra features under what it calls the Prime Pack.
The audio-in function, voice recorder, and alarm are given their own sections in this review, but they're actually all part of the Prime Pack.
Also included are five games (three shown above), a text viewer (TXT files only) that supports bookmarks and can be used while listening to music, and a world clock.
Battery Life
The S5's non-removable li-polymer battery receives a full charge via USB in about three hours. While charging, the player is inoperable (unless plugged into a wall outlet).
Samsung gives a fully charged battery the following runtime estimates:
Earphones: up to 24 hours for music, up to 4 hours for video
Speakers: up to 5 hours for music, up to 3 hours for video
Actual operation times vary according to screen brightness, file bitrate, and other settings.
Conclusion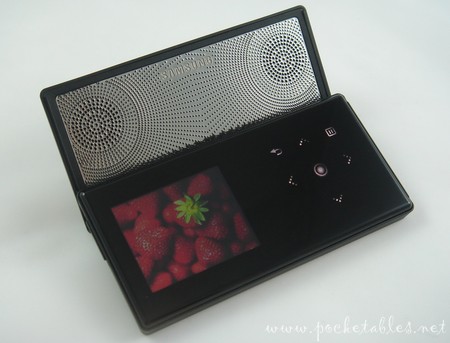 Although some of its features (e.g., video playback, datacasts) are superfluous to the point of overkill, the Samsung S5 digital audio player is a sweet and solid device with good sound quality, a unique design, usable slide-out speakers, and integrated Bluetooth that supports stereo headsets, unrestricted file transfer, and mobile-phone connectivity that allows the player to make and receive phone calls.
It may be priced above most other flash-based DAPs, but its rich feature set makes it worth the extra cost.
The Samsung S5 is available now from a variety of online and brick-and-mortar retailers. The best prices can usually be found at Amazon, which is currently selling the 4GB model for $170
.