Review: Nokia N810 Internet Tablet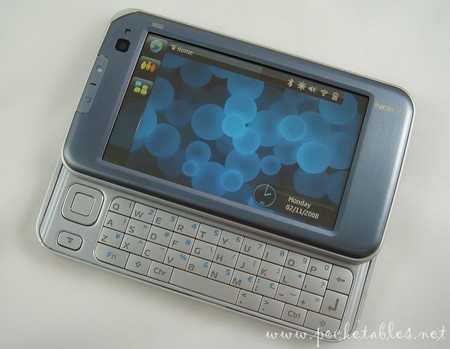 The newest Linux-based handheld in the Nokia Internet Tablet series is the N810. Launched in October 2007 at the Web 2.0 Summit in California, the N810 improves on its N800 predecessor by offering a handful of new functions, GPS receiver, and stylish slider design that includes a QWERTY keyboard. Some of the new features seem to have been added at the expense of what many liked about the N800, but for a certain kind of user, those compromises may have been worthwhile.
Let me show you what I mean in my full Nokia N810 review below.
This review is based on the Nokia N810 running OS2008, firmware version 2.2007.50-2 (released in December 2007).
System Specifications
CPU

400MHz Texas Instruments OMAP2420
OS
Internet Tablet OS2008 (Maemo Linux)
Memory
128MB RAM, 256MB Flash
Storage
2GB internal memory
Expansion
MiniSD card slot (supports up to 32GB)
Compatible with miniSD and microSD (with adapter)
Supported
file formats
Audio: AAC, AMR, M4A, MP2, MP3, WAV, WMA
Video: 3GP, AVI, H.263, H.264, MPEG-4, RV, ASF, WMV9
Photo: BMP, GIF, ICO, JPG, PNG, SVG Tiny, TIFF, WBMP
Optional applications support DivX, XviD, Ogg Vorbis, etc.
Wireless
802.11b/g, Bluetooth 2.0+EDR, GPS
Display
4.13" touchscreen (800 x 480, 65K colors)
Size
5.04" x 2.83" x 0.55"
Weight
7.97 ounces
Click over to my Nokia N810 unboxing to see photos of the gadget's packaging and substantial accessory bundle.
Design
Although not aimed squarely at the average consumer, the N810's hardware still carries some serious mainstream appeal.
The multi-toned all-metal body is simply exquisite with subtle contours, a brushed finish, streamlined design, and an incredible sleekness that is sure to turn a lot of heads.
For what is essentially a full-fledged Linux computer, the N810 is impressively compact and thin without feeling fragile. Build quality is exceptional; the device is sturdy and durable.
To me, the brushed metal finishes, silvery blue color scheme, and general design make the N810 one of the best-looking mobile devices on the market right now. Even when I don't actually pick it up to use, the unit is still something I always admire and want to touch. It just has an undefinable quality that I find ridiculously appealing.
Size
The N810 is slightly smaller than its predecessor, the Nokia N800, and nicely sized for a purse, bag, or jacket pocket.

To see the device alongside a series of other gadgets and some common household items, please take a look at my Nokia N810 size comparisons gallery.
Display
Like the N800, the N810 is equipped with a 4.13-inch touchscreen that displays 65K colors and sports an 800 x 480 resolution.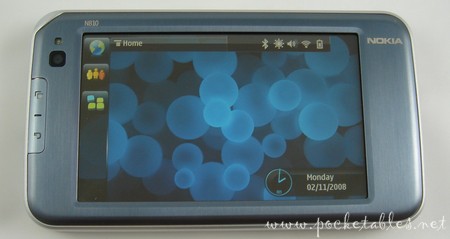 An increase in the number of colors the Internet Tablet could reproduce would've been nice (16.7M ideally, but even 262K would've been a welcomed improvement), as color banding is sometimes an issue when viewing natural gradients, but the screen is still one of the device's high points.
For use as a portable media player, the display is enormous and great for watching movies. It's also ideal for web browsing, as the resolution allows a good deal of content to fit on the screen without compromising text readability and image clarity.
Touchscreen responsiveness is significantly better on the N810 than it was on the N800, but the large "oil spot" that I assumed was a defect on my N800 screen (see "Display" section of my Nokia N800 review for more details) has sadly found its way to the N810. My old Archos AV420 used to develop a tiny spot like this when used for too long, but the rather enormous pool of colorfulness shown above (and throughout this review) is definitely not heat-related. It's just always there.
Fortunately, it's only visible when the backlight is off and the device is held at an angle. So although I'd rather it not be there, at least it doesn't negatively affect standard usage and normal viewing.
Controls
Although much of the N810's navigation can be done with the touchscreen, an assortment of hardware buttons and other physical features are also present to make using the device fairly intuitive and flexible.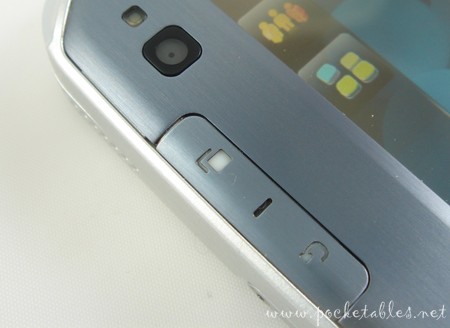 On the left side of the display are an ambient light sensor (automatically adjusts screen brightness and keyboard backlighting), VGA web camera, swap key (switches between open applications), and escape key.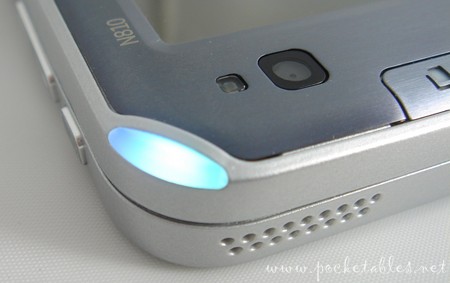 Above all of that is an LED indicator that glows and pulses according to what it's trying to tell you. It can be turned off completely or used as notification for when the device is on, email and instant messages are received, and calls are missed.
Sliding up the display panel reveals an integrated keyboard (more on this below), 4-way directional pad (Nokia calls this square bu tton "scroll keys"; they can be used for scrolling when held down, but I still think of it as a standard d-pad), and menu key (opens context menu containing various options). These buttons are too recessed for my liking and are therefore a bit difficult to use.
Their location also means that they're inaccessible when the keyboard is not exposed. The sliding mechanism is smooth and the display glides up effortlessly, but if all you're doing is reading news or a long document, you don't need the keyboard. A scroll wheel placed on the side may not have been a bad idea.
And while the N810's thinness is one of its strong points, holding it by the keyboard for extended periods becomes uncomfortable for me because it's a little too thin (which worsens the button-placement "issue").
At the top of the N810 are a sliding lock key, power button, zoom/volume rocker, and (fantastic) full-screen key. As on the N800, the full-screen key is absolutely indispensable to me. Pressing it instantly toggles between normal- and full-screen modes, which is particularly useful during web browsing.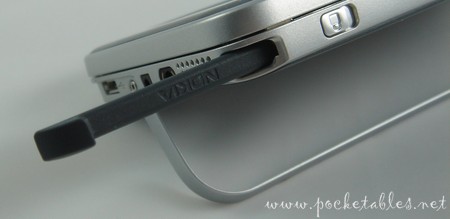 Also at the top is a dedicated stylus slot. Although the device is largely optimized for finger use and the hardware keyboard takes care of most data input, the stylus is still needed for handwriting recognition and can be used to hunt-and-peck on the virtual keyboard and to select icons that are not so finger-friendly.
Below the stylus slot on the right side of the unit are a micro USB port, charger connector, headphone jack, and one of two loudspeakers.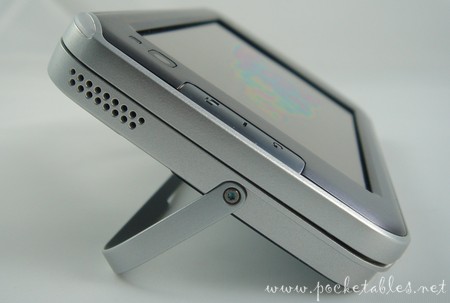 The other loudspeaker is on the left side.
At the bottom of the Nokia N810 are the battery release switch, microphone, and miniSD card slot (the N800 has two full-size SD card slots).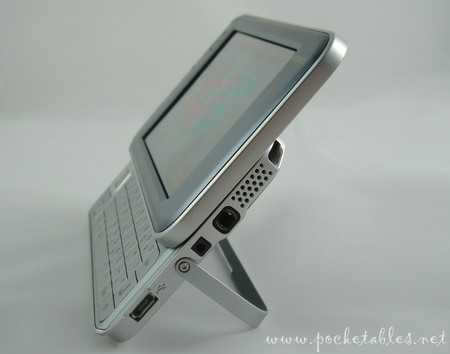 Attached at both sides of the device is a desk stand that "clicks" into three positions.
Keyboard
The N810 is the first Nokia Internet Tablet to feature an integrated QWERTY keyboard.

A total of 40 backlit keys (most double- and some triple-mapped) are situated in an area measuring 3.75 x 1.0 inches. There is very little spacing between keys, so long-nailed thumb typists will undoubtedly have some trouble with accuracy.

Typing is already tricky because the keys are incredibly flat and lay almost flush against the casing. The top row is also placed too close to the bottom of the display panel, putting larger thumbs at the mercy of quite a lot of bumping.
Typing Speed
Even though tactile feedback is fairly decent, my thumbs don't bump into the display panel, and I cut my nails, I still have some trouble using the N810's keyboard. After two weeks of regular use, I was only able to type at 35% of my average touch-typing speed. You can see from my mobile device keyboard typing speeds chart that this is the same rate at which I could type on the iPhone after two weeks of use.
My typing speed is slightly better now that I've had the N810 for over eight weeks, but I'm still typing slower than I can on the AT&T Tilt, HTC Advantage, and Sony Vaio UX180P, all of which have thumboards that look a lot less promising than the N810's.
The funny thing is that although typing is actually slow, it doesn't feel that way. I know my thumbs aren't on fire or anything, but while I'm typing, it feels like I'm doing so at a reasonable rate. I don't have to stretch to reach anything or be very careful with my key presses. What I'm saying, then, is that while your experience may vary, the keyboard doesn't feel as bad as it may actually be.
User Interface
Along with the N810, Nokia introduced Internet Tablet OS2008. The new operating system is available as an update for the N800, which natively runs OS2007 (see "User interface" section of my Nokia N800 review for more details), but comes preinstalled on the N810.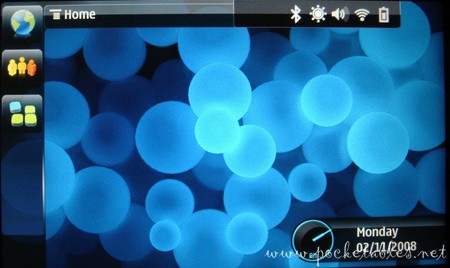 OS2008 maintains the same layout and general functionality of OS2007 but is undeniably prettier and better optimized for the finger.
In the task navigator column on the left are new icons corresponding to the same feature set (web browser at the top, contacts in the middle, applications at the bottom) that open finger-friendly cascading menus that can be personalized to suit individual preferences. Applets and the row of status indicators have also carried over from OS2007, though they too sport an updated look and some additional functionality.
I'm not sure that the tech newbie would be able to pick up the N810 and use it with no problem in its out-of-box state (where applets take up every inch of the home screen), but then again, the Nokia Internet Tablets aren't exactly mainstream consumer devices. That being said, once you get the hang of it and learn where everything is, the N810 is straightforward to use. The interface is clean, inviting, and highly customizable with themes and other personal touches.
Applications
Preinstalled on the device is a well rounded set of applications for web browsing, instant messaging, internet calls, email, multimedia playback, and image viewing. A PDF reader, notes application, games, maps, sketch program, RSS feed reader, Skype, and Rhapsody are also included.
If that's not enough, you can also develop your own programs (if you have the know-how) and install just about anything you can find through the Application Manager. I'm pretty satisfied with the preloaded titles, so I've only installed a handful of additional apps: Canola2, MPlayer, Gizmo, and a few games.
Connectivity
Internet
While fully capable of doing much more (especially in the hands of a Linux guru), the Nokia N810 Internet Tablet is primarily designed for accessing the internet. It can do so in two ways: 802.11b/g wi-fi and Bluetooth DUN (tethering tutorial).
Unlike the N800, which shipped with an Opera-based browser, the N810 comes with the Mozilla-based MicroB web browser. I've already done an OS2007 vs. OS2008 website load times comparison between both browsers (and the MicroB Beta), so you know that in terms of speed, MicroB isn't a whole lot faster than Opera. What it is, though, is a lot more robust.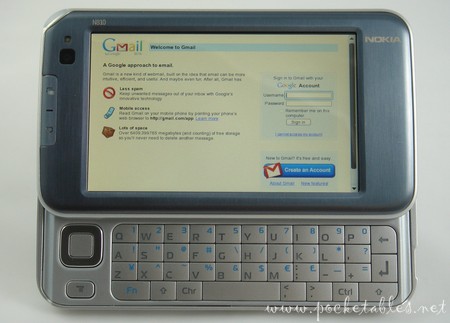 Full AJAX and Flash 9 support make Gmail, Google Reader, YouTube, and other Web 2.0 sites fully accessible on the N810. Performance is acceptable though not quite up to desktop standards in terms of smoothness of streaming video and general snappiness.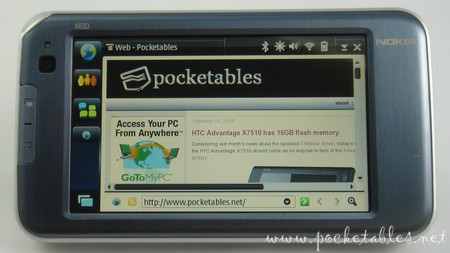 Still, compared to what's out there at the moment, the Nokia N810 does offer the best browsing experience on an ARM-based mobile device. Its 800 x 480 resolution is considered by many to be the minimum requirement for a true internet experience and is generally unmatched by any other portable gadget (excluding UMPCs and MIDs, of course). Text is readable at this resolution for me, but others may feel the need to use the dedicated zoom buttons at the top of the device.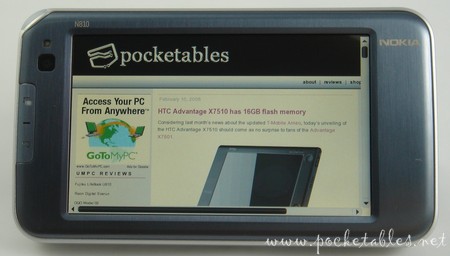 Navigating the web in both normal- and full-screen mode can be achieved using the stylus/finger (panning and scrolling), scroll keys (scrolling), on-screen input methods, and/or hardware keyboard.
GPS
The N810's internal GPS receiver and maps applications allows you to browse maps, look up street addresses, and find various points of interest. Voice-guided driving directions and route-planning are available through Wayfinder, which costs $130 for a three-year license. For an almost 18-minute video demo of Wayfinder on the N810, check out this YouTube video from thoughtfix.
Communication
Although the N810 can't be used to make phone calls (it's not a phone), it's still a powerful communications device.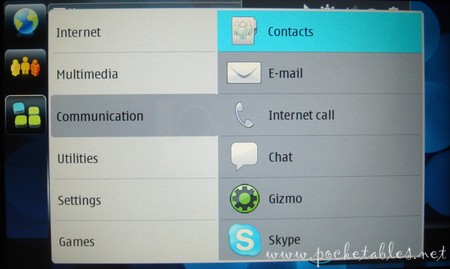 It supports POP3 and IMAP4 email accounts, web-based email, internet calls via Skype/Gizmo and Nokia's own VoIP application (with video), and instant messaging using various third-party applications (Pidgin) and Nokia's own chat program (Google Talk, Jabber). Not much has changed from the N800's inclusion of these functions, so please refer to the "Communication" section in part 2 of my Nokia N800 review.
Multimedia
In addition to functioning as a UPnP client, which enables connections to media servers to share content, the N810 is a pretty serious portable digital media player.
It's got internet radio, Rhapsody, and a bare-bones media application that supports the video formats listed in the specs chart at the beginning of this review and plays them back fluidly and virtually stutter-free (depending on bitrate).
Nokia has recently made available an Internet Tablet Video Converter that converts videos for the N810, but since I try to avoid transcoding whenever possible, I downloaded and installed Canola2 and MPlayer instead. Together, there's basically no video codec in the world that can't be played.
Videos don't look as colorful as on, say, an Archos PMP (the N810 has only a 65K-color screen, after all), but they're still a joy to watch on the unit's large, vibrant display.
Sound quality isn't on the same level as a "typical" MP3 player, but it should be sufficient for casual listeners. Ironically, the loudspeakers are a bit on the quiet side.
Battery Life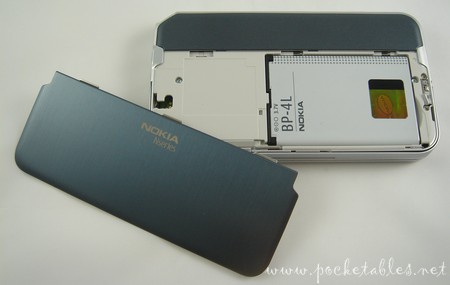 Estimated runtime of the N810's removable battery is as follows:
Continuous usage (display on, wireless LAN active): up to 4 hours
Music playback: up to 10 hours
Always online time: up to 5 days
Standby time: up to 14 days
These are best estimates given by Nokia, so actual operating times depend on screen brightness and other settings.
Conclusion
The Nokia N810 Internet Tablet is a noteworthy improvement over its predecessor in terms of design, internal storage, and processor speed. Functionality, however, has remained mostly unchanged. The N800 doesn't have an integrated GPS receiver or a hardware keyboard, but its extra expansion card slot and the fact that OS2008 is available as an update makes upgrading to the N810 more of a superfluous option than a necessity.
Even so, the N810 is still an incredibly versatile, capable, and impressive mobile device.
The Nokia N810 carries an MSRP of $480 but can often be purchased for much less on Amazon.
More Nokia N810 coverage on Pocketables: