At CES 2008, iriver unveiled a panoply of new digital media players it planned to release in various regions throughout the year. First out of the gate in select countries and scheduled for a U.S. debut by early April is the iriver E100. In addition to being the company's first device to natively support FLAC, the E100 has built-in stereo speakers, line-in recording capabilities, and a microSD card slot.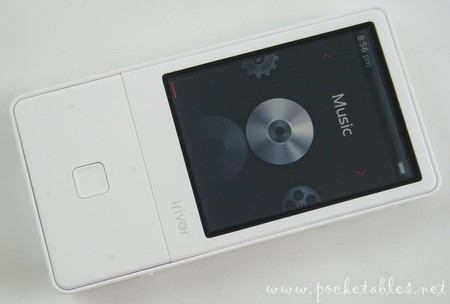 Read my full review below to decide if you'll be first in line to pick up an E100. And if you can't wait for the official release, Warehouse123.com is standing by with 2GB, 4GB, and 8GB models in stock and ready to be shipped to you today.
This review is based on the E100 running firmware version 1.03.
System Specifications
Capacities:

2GB, 4GB, 8GB
Expansion:

MicroSD card
Supported audio:

MP3, WMA, ASF, OGG, FLAC
Supported video:

MPEG4-SP (less than 30fps, 2Mbps, 320 x 240)
WMV9 (less than 30fps, 768kbps, 320 x 240)
Supported photo:

JPG, BMP, PNG, GIF
Extras:

Photo viewer, FM radio, FM & voice recorder,
line-in recording, stereo speakers, text viewer
Display:
2.4" TFT (320 x 240)
Dimensions:
3.65" x 1.88" x 0.44"
Weight:
2.09 ounces
Colors:

Black, white, chocolate, pink, sky blue
Packaging
More so than in previous years, iriver seems to have really considered the importance of presentation and a user's first impression.
While last year's players were packed like luncheon meat in "snappable" molded hard plastic, the E100 (and presumably the rest of the new line-up, including the Mplayer portable speaker) appears to "float" inside a clear plastic box.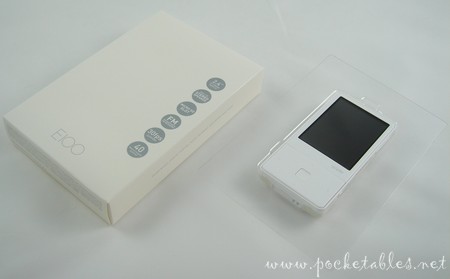 The low-tech effect is achieved by setting the player into a plastic divider that sits in front of a white cardboard box full of accessories. It's simplicity without sacrificing style.
Contents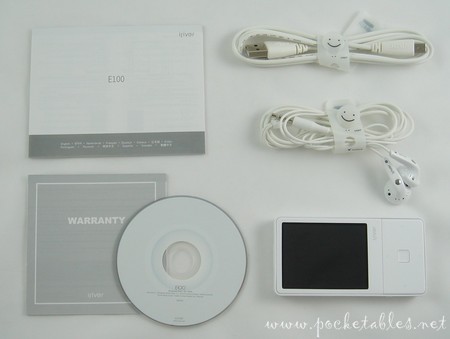 Inside the accessory box are a USB 2.0 cable, earphones, mini software CD, warranty pamphlet, and quick start guide.
Design
The E100 itself is equally simple and stylish, with rounded corners, no contrasting color, and a clean face. Although the player feels slightly toy-like because of its lightweight plastic casing, it still lives up to iriver's usual standards of quality.
The plastic is smooth, durable, and in the case of the white model (sky blue, chocolate, black, and pink also available), resistant to fingerprints and scratches.
Size
The iriver E100 is rather unremarkable in size. At 3.65 x 1.88 x 0.44 inches,  it isn't the world's smallest, thinnest, biggest, thickest, or longest flash player.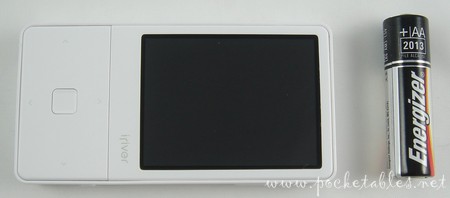 It's about mid-sized for a flash player, something that probably wouldn't generate negative or positive comments from those who have never seen it before.
Shown above is the E100 sandwiched between the SanDisk Sansa View, Samsung P2, Sony A810, and iriver clix 2.
Display
Gracing the front of the player is a 2.4-inch TFT QVGA (320 x 240) display. Colors are bright and accurate, but viewing angles could use some improvement. Truth be told, it's difficult to be impressed by the E100's screen after being spoiled by the glorious AMOLED used on the clix 2.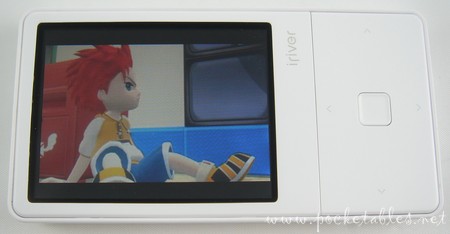 Videos automatically switch the screen orientation to right-handed landscape mode, while photos can be manually rotated in 90-, 180-, and 270-degree increments. The rest of the system (as well as the main menu) is locked in portrait mode.
Controls
Beneath the display are the E100's main controls.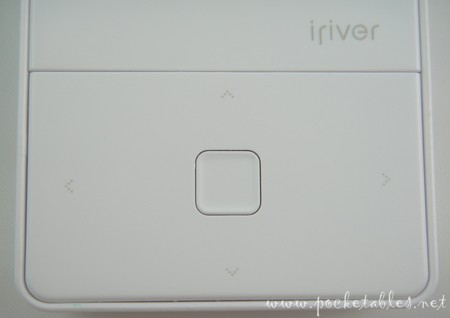 Early details indicated that the player would utilize the same D-Click navigation system found on the clix 2 and other devices, but iriver never mentions it by name in the product manual and it's confined to the bottom third of the unit.
In other words, the E100 doesn't have traditional D-Click controls that make use of a DAP's edges. Instead, the menu buttons (as iriver calls them) are housed beneath a plastic plate so that each printed arrow is easily and satisfyingly clickable; the recessed square in the middle is the OK button.
Icons and text displayed on the screen indicate what action each menu button will perform in various areas of the system. There's no visual guide for what will happen when a button is pressed and held down, but the right button typically opens an options menu and the left usually brings you back to the main menu.
Additional controls and I/O ports can be found on all four sides of the E100.

On the right side are a power button, microphone, and volume rocker.
A reset pinhole and hold switch are on the left.

At the top is a covered microSD card slot that iriver says can support cards up to 4GB in size. I only have a 2GB card at my disposal, but Jeff from MisticRiver has confirmed for me that SDHC cards up to 8GB are compatible as well.
I'll go into more detail below, but since you're looking at the card slot right now, I should mention that content stored on microSD is not integrated with the E100's internal memory.
A line-in jack, covered mini USB 2.0 port, lanyard loops, and headphone jack are at the bottom of the device.
And as on the iriver X20, the E100's stereo speakers are located on the back.
User Interface
Many will notice the similarity between the horizontally "sliding" icons used in the E100's main menu system and the Cover Flow interface Apple uses to display album art in iTunes (and various iPods).
Before upgrading to the latest firmware (version 1.0.3 as of this writing), the interface experienced a slight lag when cycling through the icons. Since the upgrade, however, responsiveness is greatly improved.
The largely monochromatic UI is not skinnable, theme-able, or wallpaper-able, but it's straightforward and fairly easy to use. Accessing media is not a simple click away, though, so beginners may need some guidance when picking up the E100 for the first time.
The primary stumbling block is that the microSD card's contents are not integrated with the internal storage. Because of this, most areas of the system include a "Dir List" option that brings up "Internal Memory" and "External Memory" items when clicked.
Having to select where content is stored adds an extra step between finding what you want and playing it. For example, here's the path to watch a video:
Use the left/right menu buttons to navigate to "Videos" in the main menu.
Click the OK button to select it.
Use the down menu button to highlight "Dir List."
Click the OK button or the right menu button.
Select "Internal Memory" or "External Memory," depending on where the desired video is located.
Find the video file and press the OK button to play it.
Note: Everything stored on the microSD card will be listed if "External Memory" is chosen, so  pre-transfer organization is important if you don't want to scroll through long lists of loose mixed media files.
The music menu is the most well organized because it reads ID3 tags and appropriately categorizes audio stored on the E100's internal memory. Music on a microSD card still needs to be accessed through the "Dir List" (or the File Manager in the main menu), but at least everything on internal storage is sorted by artist, album, genre, etc.
Transferring Content
The E100 is both MTP and UMS/MSC-compliant, so there are a variety of methods for transferring content from a PC or Mac. Switching between transfer types can be done through Settings -> Advanced -> Connection Type.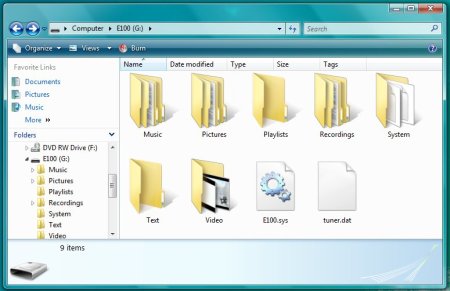 Selecting UMS/MSC ensures compatibility across platforms and enables the E100 to appear on your Mac or PC as standard removable storage (just like a USB flash drive). A folder structure is already present on the player, so transferring content is as simple as dragging supported file formats into the correct folders.
Drag-and-drop is also available in MTP mode through Windows Explorer.
If you prefer the software route, the mini CD supplied with the E100 contains both iriver plus 3 (MSC connection required) and Windows Media Player 11 (MTP connection required). Software is required for creating and managing playlists, as on-the-go playlists or quick lists cannot be created directly on the E100.
Iriver supplies Movie Converter to transcode videos into an E100-compatible format and recommends iriver plus 3 to transfer them to the player. Having been unsatisfied with Movie Converter's performance in the past, however, I would recommend skipping it entirely and using either CloneDVD mobile, iriverter, or SUPER. For help on getting videos on the E100, please visit the MisticRiver forums.
Audio
The iriver E100 supports music purchased/downloaded from online services such as Napster to Go and Rhapsody, as well as unprotected MP3, WMA, ASF, OGG, and FLAC formats.
Playback features include A-B repeat, play modes (normal, repeat, repeat one, shuffle, shuffle + repeat), presets EQs (normal, rock, pop, classic, soft, jazz), a 5-band custom EQ, SRS WOW HD audio enhancements (SRS, TruBass, Focus, WOW, Definition), fade-in, scan speeds, ratings, and bookmarks. As stated earlier, playlists cannot be created directly on the E100; they must be created, managed, and transferred with software.
Like with the clix 2, skipping to the next/previous track is managed by the up and down menu buttons (rather than the more logical left and right buttons). Unfamiliarity with the layout will result in frequent user error at first, but learning the new system doesn't take much getting used to.
Sound quality
I've always been really pleased with iriver's sound quality in the past, but my ears and Ultimate Ears super.fi 5 Pro in-ear monitors are a bit . . . well . . . underwhelmed by how the E100 sounds. It should be more than satisfying for casual listeners who use the earphones supplied with the player, but those with more discerning ears or experience with other DAPs may long for richer and perhaps cleaner sound.
I still maintain that iriver produces players with above-average sound quality, but I'm just not as blown away by it as I used to be. In a purely subjective side-by-side comparison (same song playing with no EQ or other enhancement enabled) between the E100, Sony A810, Toshiba gigabeat T400, and Creative ZEN, my ears and UE super.fi give top honors to the gigabeat. Your experience may vary, but I'd put the E100 in last place compared to the others.
Video
The preloaded video clips are a bit pixelated so they don't adequately showcase the E100's video capabilities, which are actually quite good.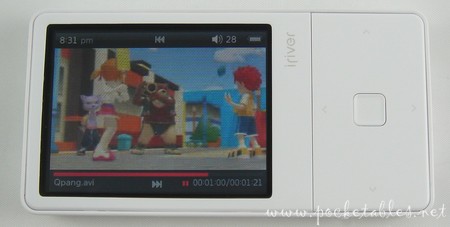 Colors are nicely saturated, playback is smooth, and the size of the display makes extended viewing pretty comfortable. In addition to being able to delete videos directly from the device, the E100 features video bookmarking, sequential playback, and scan speeds up to 32X.
Extras
Photo viewer
The iriver E100 supports JPG, BMP, PNG, and GIF photo files and can display them individually or in a slideshow. Photos can be rotated, zoomed in, and deleted from the player without the use of a computer. Pretty standard stuff.
FM radio
The FM radio is also standard fare.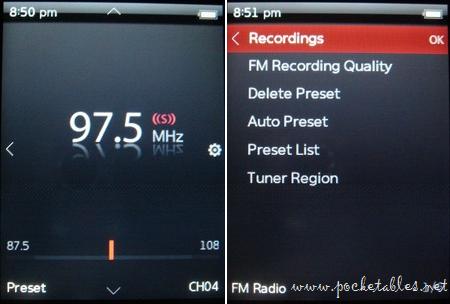 Tuner sensitivity cannot be adjusted, but it seems to be perfect where it is. It doesn't pick up those static-filled in-between stations that some tuners find and save as presets, so there isn't anything to be undone after an automatic scan.
Reception will vary by location, but here in Honolulu it's crisp and clear.
FM and voice recorder
FM and voice recordings are saved in WMA format and vary in bitrate according to recording quality settings: high (192kbps), medium (128kbps), low (96kbps).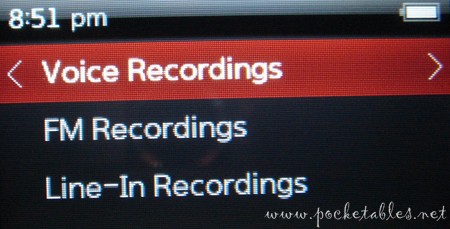 Saved files are kept together and can be accessed through Music -> Saved Recordings.
Line-in recording
One of the E100's stand-out extra features is its line-in recording function.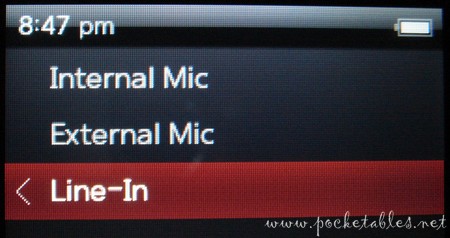 When hooked up to an external device via the line-in jack, the E100 can record audio played on the external unit in three qualities (96kbps, 128kbps, 192kbps). Like FM and voice recordings, line-in recordings are saved in WMA format and accessible through Music -> Saved Recordings.
Stereo speakers
The line-in jack also allows other DAPs to use the E100's stereo speakers. Sound quality is poor, but I suppose it's better than nothing.
The speakers can also be put to use by the E100 itself, of course. Unfortunately, they don't sound much better than when used with an external device. By comparison, the built-in speakers on the Samsung S5 are louder, clearer, and generally just superior.
The E100's speakers are sufficient for personal use in a quiet room, but the volume needs to cranked up really high for anything to be comfortably audible.
Text viewer
TXT files under 10MB can be opened and read on the E100, which offers automatic scrolling in 3- to 7-second increments, font sizes (small, medium, large), bookmarking, and file deletion directly from the player.
Player in Action
Battery Life
The E100's non-removable lithium-polymer battery has an estimated runtime of up to 5 hours for video and 25 hours for audio playback. Actual runtime will vary according to screen brightness, bitrate, and other factors, but based on my usage of the player, iriver's estimates are generally accurate.
Conclusion
The iriver E100 is a stylish digital audio player that ups the ante with native FLAC support, built-in stereo speakers, microSD card expansion slot, and line-in recording functions on top of the usual feature set many expect to find on modern DAPs.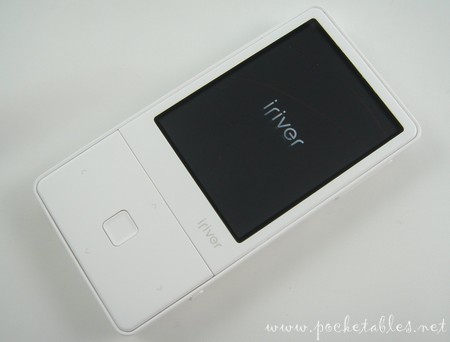 Unfortunately, some of what sets the E100 apart from the crowd isn't done as well as it should be (e.g., speaker sound quality, non-integration of microSD card contents), turning what would normally be considered strong points into part of the player's weaknesses.
The E100 is still a solid player that does many things well, but it isn't the stellar DAP many were hoping for when details were first revealed at CES 2008. Most users will be pleased by the unit's sound quality, battery life, design, and extra features, but some (like me) will be left wanting more. The iriver E100 is undeniably good . . . but it's not great.
Scheduled for release in the U.S. in late March/early April, the iriver E100 can already be purchased with a chamude pouch from Warehouse123.com in 2GB ($110), 4GB ($139), and 8GB ($190) capacities.
UPDATE: 4GB ($110)
and 8GB ($160)
now available at Amazon.