Withings ScanWatch vs Fitbit Sense week 5ish
Because I think it's probably the height of fashion, I've been pitting the (right arm,) Withings Scanwatch vs Fitbit Sense (left arm,) in a head to head battle for about five weeks now. Today I'm sharing some of my observations on a $199 Fitbit Sense vs a $280 "clinically verified" Withings Scanwatch.
I have no financial dog in the game of which one wins – I purchased the Sense after much research, I was given the ScanWatch after a PR email. Here's where each one wins at 5ish weeks in. Above links go to Amazon pages that would make us a buck or two if you purchased literally anything.
Accuracy
Idle winner: Withings ScanWatch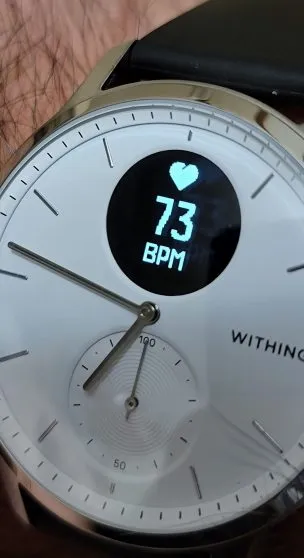 The Fitbit Sense is constantly overcrediting my steps and therefor my calories expended. This wouldn't be an issue if it were 5-20%, but it's regularly crediting me 30% higher steps than taken, a fact I verified while spending a day doing next to nothing.
The Fitbit Sense only does it badly when I'm not moving much, which is leading me to remove the watch for anything other than exercise. Setting stride length, changing my height, weight, arm, wrist orientation, strap tightness, etc doesn't do anything to change the idle step count.
This morning I'm looking at probably 37% overcounted steps as I really have not taken a whole bunch. This will drop as I will be walking a lot later and when you're walking it's within 2% accurate as counted out in a 500 steps march I did.
Exercise winner: Fitbit Sense (by a hair)
Counting steps in exercise modes or just walking was fun – The Scanwatch was a little under (1%) and the Sense was a little over (1%) – this seemed to be the case with any attempt I made. Withings didn't count a couple of steps, Sense counted a bit more. The only substantive difference seemed to be in idle mode.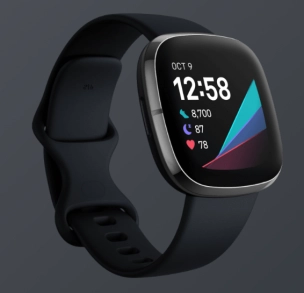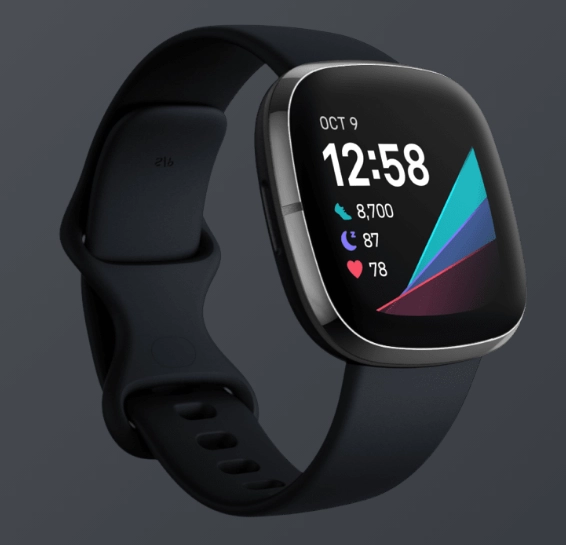 The only thing the Sense seemed to be a clear winner in was swimming. There the Withings Scanwatch would award me absurdly for hanging out in a pool standing while keeping 6yo from going under. Three times it was some exercise (like 200-300 additional calories the Sense claimed,) not the near 1000 that the Scanwatch regularly gave me.
I have been unable to locate another exercise yet that the Sense or ScanWatch are substantially different.
GPS: Probably the Withings ScanWatch
On the produced maps and for overall noting when it's connected and when it's not, it appears the ScanWatch is slightly better at GPSing. I don't see the jumps that regularly occur on the Sense maps, nor do I get that it's unable to connect to GPS nearly as much. Does this matter? Not particularly.
Withings ScanWatch vs Fitbit Sense Features
Sensor winner: Withings ScanWatch
I purchased the Fitbit Sense because I wanted an SpO2 sensor-enabled smartwatch specifically, and it was listed as having that capability. It doesn't. I mean, it does, but only for when you've been asleep. Like if I wanted to get an SpO2 reading right now, nope. Only measures it while you're sleeping.
The watch has the capability, but no way to trigger it manually. From what I can tell if I could, it would be about a tie on sensors. I want to know what my SpO2 is, I go to the Scanwatch.
I've tested with a SpO2 fingertip sensor and other than when I was on the pre-release software everything's been where it should be.
I will note that the ECG on either of these appears to be about the same thing. I'm not a medical doctor but they look about the same, and can be exported about the same.
Apps on device winner: Fitbit Sense
There's really nothing you can play or do on the Withings ScanWatch. Tiny screen, one control. It's a rotary phone compared to the Sense's touchscreen-enabled app-installable world.
There has been very little app-wise that I'm interested in on the Fitbit Sense however. Your experience may vary, but I don't really feel the need to pay bills with my watch, talk on my wrist, etc.
Apps off the watch winner: Tie
Fitbit has a long list of services and membership options. You'll need to pay for some of these features eventually. Withings doesn't appear to offer subscription classes. Both apps sync to the phone occasionally, then to the cloud. Both have web versions.
Sort of depends on what you actually want. Withings is minimalist, Fitbit is feature packed, and while I say generally go for feature packed a lot of the Fitbit features are rolled out as subscription-only items.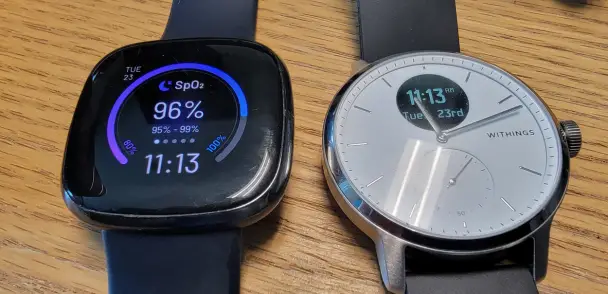 The Experience winner: Withings ScanWatch
Battery: I'm not entirely sure how long the battery lasts on the Withings ScanWatch. I usually charge it every second or third time I'm charging the Sense. The ScanWatch claims it can go for 30 days in average use. If I'm not mistaken I've run the ScanWatch for about 12 days in a row and gotten the battery to just under 50%.
Look: The ScanWatch is classic, I like it
Controls: physical controls are better for water related activities.
Build: So far I've had to have a charging cable replaced for the Sense that didn't move more than 5 inches in its life. It's not a great design, but doesn't affect the watch. The bands that come with the watches, the Withings beats the Fitbit slightly in terms of quality IMO.
Dietary: I'm stating here that I'm annoyed with Fitbit. I probably should be annoyed with myself for not monitoring my monitor more closely, but that's too meta. I was attempting to do a slow weight loss and guiding my caloric intake by what I expended minus x amount of calories. It didn't work, and several months later because Fitbit was overcounting by 30% regularly before I caught it and I'm pretty much where I was at the start.
I assumed initially it was my metabolism going into sloth mode, but nope. You have a 500 calorie reduction and get credited for 375 calories worth of steps you didn't take, it's not good.
That's where we're at now, will see if anything changes. I'm opening a support case with Fitbit on the step overcounting which I'm entirely unenthused about doing as the forums tend to indicate there have been the same issues forever with multiple versions of their watches.
I added an updated review at 15 weeks here.
And at the end of April 2022, Fitbit's food tracker web page is *still* requiring Adobe Flash in order to run. You know, the thing that was discontinued in 2007 and finally killed off all support in January 2021.