The iriver T5 was quietly released alongside the T6 a few weeks ago and is the second USB stick-style digital audio player the company has put out since the summer. It sports a slightly different design than the T7 Volcano/Stix and has a stopwatch function, but did iriver really need another USB stick player (and one with a lower model number, no less)?
The answer is fairly obvious but with prices starting at under $40, it wouldn't hurt to at least glance at my full iriver T5 review below.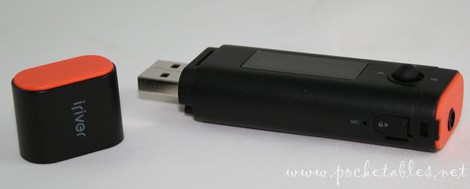 This review is based on the iriver T5 running firmware version 1.20.
System Specifications
| | |
| --- | --- |
| Capacities: | 2GB, 4GB |
| Supported audio: | MP3, WMA, OGG |
| Extras: | FM radio, FM & voice recorder, stopwatch |
| Display: | 1" two-line OLED (64 x 128) |
| Dimensions: | 3" x 1" x 0.5" |
| Weight: | 0.9 ounces |
| Colors: | Black, silver |
Contents
Inside the box you'll find a pair of earphones, quick start guide, warranty booklet, installation CD, clear plastic clip, and of course the T5.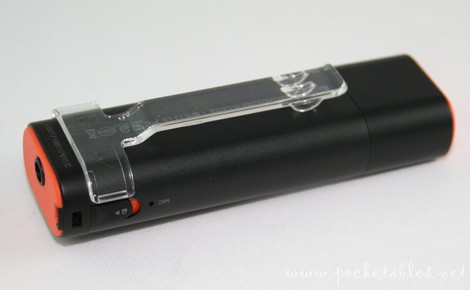 The plastic clip attaches to the back and "locks" into place thanks to the grooves/notches located on either side of the device.
Design
Unlike the iriver T7, the T5 looks almost exactly like a USB flash drive.
The casing feels much sturdier than most flash drives, though, as it doesn't creak, wiggle, or feel like it could be pried open. The hard plastic is smooth and thick; even the USB cap feels incredibly durable: it would take a lot of force to crack it.
Though the form factor itself isn't awe-inspiring, there are still some design flourishes present. The orange accents and purely decorative curved line around the little joystick are prime examples of this. I wouldn't go so far as to say that the T5 is stylish, but its design isn't mind-numbingly boring.
Size
The T5 may look like a standard USB drive, but it's actually much bigger.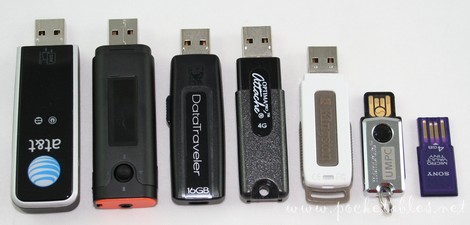 Here you can see that it's closer in size to the AT&T USBConnect Mercury (3G modem) than regular thumb drives.

Left to right: Cowon S9, Microsoft Zune 4, iriver T6, Creative ZEN, SanDisk Sansa Fuze, iriver T5, iriver Lplayer, SanDisk Sansa Clip, and iriver S10.
Display
The display area has a diagonal measurement of about 1.2 inches, but the OLED itself has only a 1-inch diagonal. Needless to say, it's very small.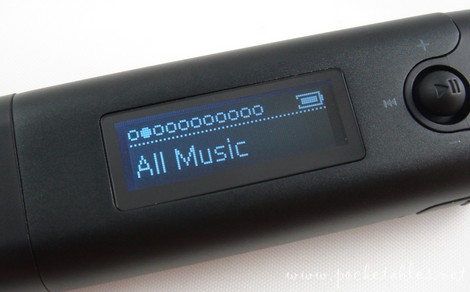 Brightness and backlight timer settings are the extent of the customizations available to the user, as the black background, white text, and font size are all fixed. The display is big enough to be readable, but its usefulness is limited because it only supports two lines of text. This makes searching for a particular song/album quite tedious (even though the player maxes out at 4GB, it can still hold hundreds of songs).
Controls
The most obvious navigational control on the T5 is the ~0.25-inch joystick.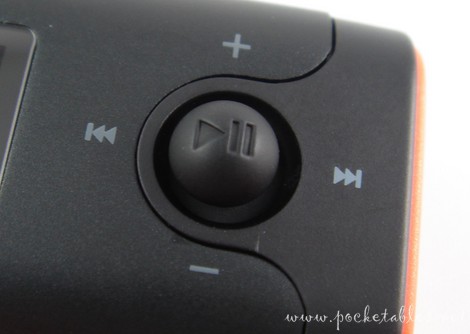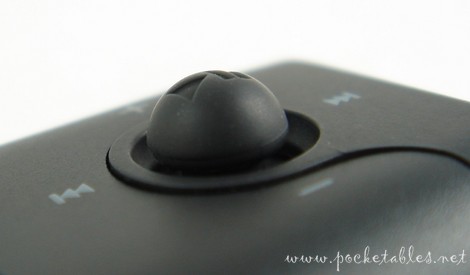 It protrudes quite a bit from the casing, so it's easy to find and use blindly. Its movement is more accurate than the iriver T50/T60 joystick and though only five directions are recognized by the player (left, right, up, down, center), the control moves freely within the recessed circle cut-out it sits in.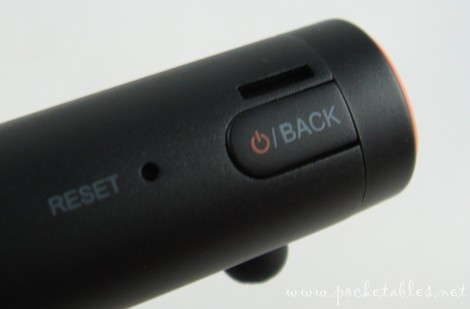 The joystick shares its navigational duties with the power/back button on the top of the player. In addition to turning the T5 on/off and moving to a previous screen/level, the button is also used to bring up the main menu screen. Though it lays flush against the casing, tactile feedback is good enough to never cause the user to question whether the button-press has been registered.
The rectangular hole above the power/back button is one of the two notches used to hold the detachable clip in place. Beside the button, as you can plainly see, is the reset pinhole.
Continuing the hardware tour, you'll see the mic, hold switch, and second clip notch on the bottom of the player and a lanyard loop and 3.5mm headphone jack on the right.
Transferring Content
USB stick-style players may be lacking in design and features, but they sure make connecting to a computer and transferring media convenient.
With the USB jack built into the unit, there's obviously no need to carry around a connection cable. Just plug it directly into a computer's USB port and there it is, listed as removable storage just like a memory card, flash drive, or any other MSC/UMS device.
Once the T5 is recognized by the computer, loading content is as straightforward as can be via drag-and-drop.
Audio
Contrary to what you might expect from a stick DAP, the iriver T5 delivers surprisingly good sound quality. Even with my Ultimate Ears triple.fi 10 Pro, which carry an MSRP of $400 but are now on sale for $300, the T5 sounds fairly good and better than expected.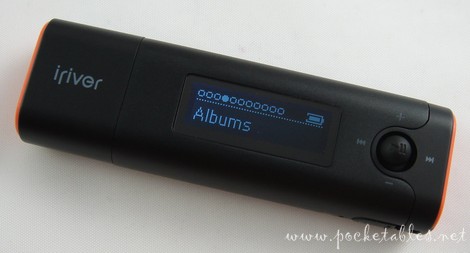 My ears find it significantly better than the T6 they were listening to earlier, though their happiness could be due to the T5's emphasis on the midrange, which is nice and smooth. Bass is a tad exaggerated, even with a flat/normal EQ, and not as clean as on DAPs with better sound quality (e.g., Sansa Clip), but there's definitely still a sense of depth there. Treble lacks detail and sounds as though it's a bit "under" the other frequencies, though, so the T5's soundstage obviously isn't the best you'll come across in a budget DAP. If your ears, headphones, and personal tastes are less nitpicky, however, they should be more than satisfied with the T5.
Playback features include six preset EQs (normal, classic, jazz, rock, xbass, pop) and five play modes (normal, repeat one, repeat, shuffle, shuffle + repeat).
Extras
Like just about every other DAP on the market not made by Apple, the iriver T5 has an FM radio and recording functions (FM and voice, WAV format). Their capabilities are exactly the same as they always are, so they aren't worth discussing here.
One of the more "unique" extras that is often found on Apple products and not always on other DAPs is a stopwatch. The T5's stopwatch is basic, but it supports multiple laps and is a handy feature to use while running (the player's clip is nicely suited for this task as well).
Battery Life
The T5's non-removable battery has an estimated runtime of 13 hours. Not great, sure, but good enough for a full day's use. And if used solely as a gym companion, the player could probably stand to be charged just once a week (depending on the frequency and length of your workouts, of course).
Conclusion
The iriver T5 doesn't offer anything new or exciting to the DAP world, but it's not too bad for less than $40. The convenience of having a USB jack built in and being able to wear the player using the detachable plastic clip can't be denied either. Sound quality, design, and build quality all score respectable marks as well.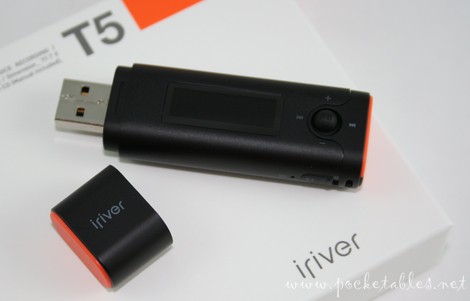 The player would've made a nice stocking stuffer a few days ago and I can see it being a doorprize at an office party, but unless you plan to give it away or you get it as a gift, there isn't a compelling reason to go out and buy one. If iriver didn't already have the T7, it would be easier to see the value of the something like the T5. Releasing the two players within six months of each other, however, doesn't make sense unless consumers were clamoring for a wearable stopwatch that plays music.
In short, the T5 is good but unnecessary in iriver's lineup. Keep it if you get it for free, but if you've got about $40 to spend on a supplemental DAP, get the Sansa Clip instead.
The iriver T5 is available now from Warehouse123 and other retailers.