Nest Wifi's slogan is "Strong connection. Every direction." As a spoiler, that's correct.
Update links at bottom July 30
I received the Nest Wifi + mesh unit for review (read: I did not purchase,) while I was away on vacation and just got around to setting it up yesterday. Changing my network WiFi used to involve moving mountains of wiring and setting up port forwarding assignments, but these days I'm down to only one device needing port forwarding so it seemed like a good time to try.
Quick note, Nest Wifi is the spelling and capitalization choices they've made. Wi-Fi or WiFi are the common spellings/capitalizations. This isn't me miscapping it.
I did something interesting during the setup in that I ran it to set up my network (we'll call it Pocketables for this article,) while my Portal WiFi was still engaged and running a network of the same name. My goal was to swap the Portal WiFi for the Nest Wifi and see if I could get by with zero end-device config.
Setting up probably would have been a breeze had I not been broadcasting a competing WiFi of the same name. But as I was I had a couple of hiccups, the most interesting one being it asking me to disable Samsung Smart Switch in settings.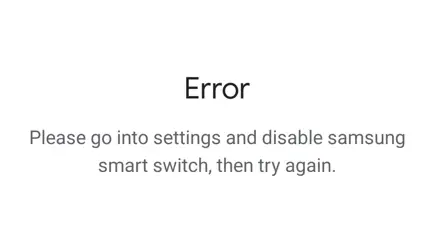 This error kept popping up until I pulled power from the old WiFi. No idea, I was doing things differently.
WiFi set up, had two devices refuse to join it without intervention but that involved turning WiFi off and on again to fix. I joined most of my network back and was testing that out when I realized I was not done with setup and had forgotten the Mesh.
Mesh setup was less smooth, but the fix seemed to be to wait a couple of minutes. It had not been powered on most of the setup and I think I just started before it had a chance to boot up.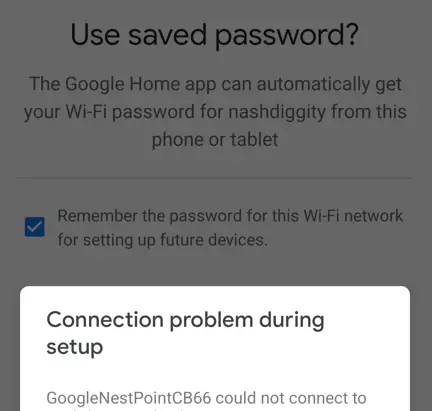 Once the setup for the Mesh completed, it was time to install a software update. It claims 5-7 minutes for this. Believe it. It is not locked up. My phone went to sleep many times during this and I thought with the days of high speed and over-estimating times something was wrong. It wasn't.
Nest Wifi set up, mesh set up, I went around to test things and discovered one smart bulb didn't reconnect, and both my TVs and computer, all on LAN, were not working. Both TVs came up with a reboot, and I noted the computer had the old internal IP address. As all of these were connected to a switch that was connected to the Nest Wifi my guess is they never got the message that there had been a disconnect/reconnect and didn't bother to DHCP.
A quick check on the wired computer showed I was getting pretty decent speeds on the LAN side, but who gets a WiFi router for LAN speeds… other than me?
My first speed test on my phone connected to the Nest Wifi was abysmal. Second and third as well. I checked the connection and I was connected for some reason on the 2.4ghz band at 144mhz which meant my top speed was extremely low. I turned the WiFi on my phone off and on again, bam, great speed.
Speeds in the same room matched what I was getting with my beloved Portal WiFi. As I roamed around the house I noted that speeds were reduced, but significantly more stable. Like the entire west side of my house is a good 40mbit slower than the best the Portal could do, but it's all the same speed now as the mesh unit covers half the house perfectly and the base unit covers half the house.
Having run several thousand speed tests in my life I can tell when I'm being covered by the Mesh unit as uploads are different. Still fast, but more uneven ramping up on Ookla's Speedtest. What I'd expect from a mesh/repeater.
What I didn't expect was that the Mesh unit had Google Assistant built in and now I've got yet another little unit that can pick up requests. Unexpected benefit.
In a totally "feels" moment – feels like WiFi video calls are slightly better. I don't have a good metric for this however.
End of day one – works well, even with my overly complex and crazy system with 50+ IoT devices.
Follow-ups
The Home test
Day 1 – initial impressions
Week 1 – the first lockup
Week 3 – the thing operated ok
Week 5 – Yikes, it's so unreliable I'm going to replace it
Week 6 – Playing with Family Safety / restricted while trying to fix the thing
Week 6+ – all the lockups I've had with the unit
Week 7 – after a suggestion from a reader lockups appear to have resolved – yeah, no, they didn't 15 hours later
Week 7 – have removed the unit from my network and purchased a different brand router because it just wasn't stable

After giving up, the corporate test
Day 1 – initial impressions in commercial world (day 55)
Day 7 – locks up with next to no usage, no devices connected (day 62) – this one contains a possible retraction
Sometime after day 7 – soapbox, I am on it.
Day 21 – Mesh unit disappears, two reboots later it's back (day 83)
Day 30 or so, giving up
Related to the product line
The Nest Wifi Pro having issues – how utterly shocking

Product links: Amazon, Google Nest Store