The Nest Wifi + Mesh review – week 3
This is the third installment in my running Nest Wifi + Mesh review. When last we left I had managed to evidently lock the unit up once, and I believe I know how I did it. This is what happened over the next two weeks of servicing 60+ WiFi devices running nonstop.
The units appeared solid. I have noticed nothing with either the base or the Mesh, although there was something weird that happened while I was asleep where I got an email from AT&T claiming a device plugged into an ethernet port on my fiber modem had failed. There are 4 things plugged into it and all of them were working, but remembering when I'd lost internet connection at 4am one time (where I believe I locked the unit up,) it made me wonder.
With 60+ devices running all the time and a basement that has 10 smart bulbs, I'm used to one or two saying it doesn't work. These cheap WiFi bulbs from various mfgs will fail randomly, and just need to be power cycled occasionally. They drop WiFi when they want. That said, I've never had more than two out at any given time and I'm getting reports that four are out.
I go and ask to turn them on, all turn on, Google apologizes that four are unreachable. I do not know if this is Google, Google Home, or the Nest Wifi at this point.
I now get notified when a new device joins my network. Sometimes the notifications come in pretty delayed but I've been unable to determine if this is Samsung, Android, or the Google Home app. So far it has not been an issue but I'm mentioning it.
Some notifications that something new has joined, when tapped tell you nothing useful. No data filled out, no names, nada… just something joined, here's a blank info sheet about them…use your imagination.
I will be trying out the kid controls shortly, but at this point I've been pretty busy this week with my car, kids, and trying to get Pocketables on a different ad network (it's been a pain with the caching and site optimization tools that evidently killed parts of the site somehow.)
End of week 3 I find that I have not had anything to really complain about since week 1, I don't know what the deal is with the 4 lights that claim they don't work but obviously do as they freaking turn on and off. I suspect the email I got from AT&T was about the router as it came about the same 4am timeframe that I'd seen the lockup that one time.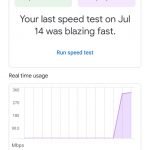 I really like the real time bandwidth chart and ability to know what any device has done. I unfortunately ran up against Comcast / XFinity back in the day when the bandwidth cap was 250 gig and *something* was taking over that. Turned out it was a webcam that was paired with another in a weird configuration, and that other webcam was at a different location. Spent months trying to track down what was happening before pulling wireshark out. If I'd had this, well, I'd have known in about two minutes.
End of week 3 / past 2 weeks – satisfied. Software needs a little work with the new device alerts, and I'd like a web page interface, but solid at the moment. Could use some logging options for when internet fails or updates happen, and I don't see those yet. Overall enjoying it as a replacement for my Portal.
Future / previous Nest Wifi + Mesh articles
The Home test
Day 1 – initial impressions
Week 1 – the first lockup
Week 3 – the thing operated ok
Week 5 – Yikes, it's so unreliable I'm going to replace it
Week 6 – Playing with Family Safety / restricted while trying to fix the thing
Week 6+ – all the lockups I've had with the unit
Week 7 – after a suggestion from a reader lockups appear to have resolved – yeah, no, they didn't 15 hours later
Week 7 – have removed the unit from my network and purchased a different brand router because it just wasn't stable

After giving up, the corporate test
Day 1 – initial impressions in commercial world (day 55)
Day 7 – locks up with next to no usage, no devices connected (day 62) – this one contains a possible retraction
Sometime after day 7 – soapbox, I am on it.
Day 21 – Mesh unit disappears, two reboots later it's back (day 83)
Day 30 or so, giving up
Related to the product line
The Nest Wifi Pro having issues – how utterly shocking

Product links: Amazon, Google Nest Store