Another Fujitsu LifeBook U810 finds a home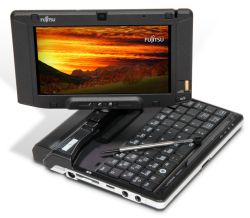 Mine!
Although I wasn't really interested in the Fujitsu LifeBook U810 mini convertible when it was first shown at IDF in April and introduced in other regions as the FMV-U8240 and U1010, I just bought one from Best Buy for Business for a very nice $836, plus an outrageous $80 in taxes and shipping. The 5.6-inch handtop normally sells for $929 there (original MSRP is $999) but I had a 10% off coupon. My previous UMPC-purchasing plans for this year were to buy the Samsung Q1 Ultra (which I sort of did) and HTC Shift; however, after the Sony Vaio TZ ultraportable notebook swept into my life and all but carried me away, I realized that 7-inch slates and UMPCs just weren't for me.
As shown in my Vaio TZ unboxing, my 7-inch Samsung Q1P with organizer and keyboard is twice as thick and nearly the same size as the notebook, therefore negating the portability advantage it's supposed to have. Since I've never taken to inking and have always been a proponent of keyboarded UMPCs, I decided to move on from the 7 inchers (for good) and sell my Q1P package.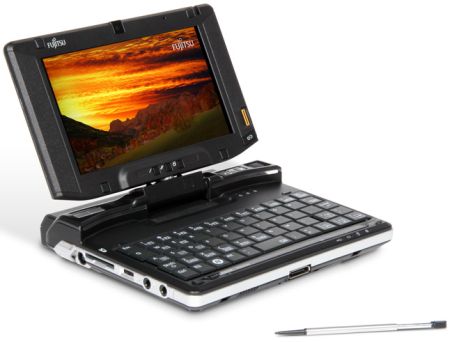 Before this turns into a memoir of my journey to the Fujitsu U810, which it's already threatening to become, I'll get to the point and confess that what really brought me to the U810 was the OQO Model 02. Even though the two devices have very little (if anything) in common, it was my brief but lovely time with the 02 that ultimately pushed me to buying the U810 today.
Why the U810 and not the Model 02?
Price. The mid-range configuration of the OQO plus the digital pen and extended battery would weigh my shopping cart down by about $2000. This is more than double what I paid for the Fujitsu, which doesn't require a special pen (it has a passive touchscreen) and includes the extended battery as a standard accessory.
Battery life. The included 4-cell extended battery, though a bit unsightly and heavier than the 2-cell standard battery of its U1010 counterpart, has an estimated runtime of up to 5.5 hours. Actual battery life varies according to usage, of course, but the estimate is still about two times more than that of the OQO's standard battery.
Display. Since I really enjoyed the 1024 x 600 resolution on the FlipStart's 5.6-inch display, I know I'll be happier with the U810's identically sized display (also 1024 x 600) than with the OQO's 5-inch 800 x 480 screen. I also prefer passive touchscreens to active digitizers, as I have oodles of styli around the house and can also use my fingertips (the U810 also has a dedicated stylus slot).
Keyboard. The OQO Model 02 is equipped with one of the best thumboards I've ever used, but I like the versatility of the keyboard on the Fujitsu U810. Although I've read several "too big for thumb typing, too small for touch typing" comments from users and reviewers, I think the keyboard's usability depends on practice and the size of your hands. I'll reserve judgment on its usefulness after I've had several weeks to try it out.
Like the HTC Advantage X7501 keyboard, what draws me to the U810's keyboard is that it can be used in both typical two-handed UMPC and on-a-desk laptop mode.
Form factor. The U810's convertible design makes it highly adaptable to a wide range of usage scenarios. It can easily be set atop a flat surface for hands-free viewing of movies (the Model 02 doesn't have a built-in stand) and used fully in slate, UMPC, and laptop modes because its navigational controls are accessible with or without the keyboard exposed (pointer and mouse buttons are on the 02's keyboard).
I do think the 02 is sleeker and more stylish, but for my needs, the U810 is more functional. It will likely be less powerful with its Intel A110 processor, but my primary app (and on some days the only one I use) is just Firefox.
Card slots. The U810 has a Compact Flash slot on its right side and an SD card slot on its left. Always handy.
So that's why I chose the U810 as my next UMPC.
Assuming it arrives in time (availability was listed as "usually ships in 1 to 2 weeks"), I'll be taking it and the HTC Advantage on my next trip to see how they fare as a mobile office. The Vaio TZ is still on track to be my CES 2008 companion, but I think it's overkill for a vacation.
Besides, it won't fit in my purse.